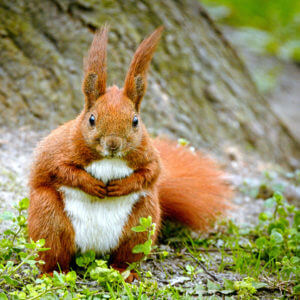 "The apostolic church is a church of the heart. When you steal from it you steal the heart. Hence the theft is easy, and amends are long and hard." A strange way to sum up a story of erotic love. Nonetheless, it was Scruton's way, as he described, in the second half of his essay, Stealing from Churches, the thwarted love affair that taught him a "narrative of transubstantiation" transmuting body into soul. In truth, the love affair wasn't thwarted at all, but one that fulfilled its purpose, a purpose his stubborn young beloved, Basia (pronounced "Basha"), saw more clearly than he did.
Scruton had organized a subversive summer school for the Catholic University in Poland, bringing together Polish and English philosophy students to resist communism. Under the codename "Squirrel" (in Polish "Wiewiorka", for his red hair) and tailed by at least one jug-eared agent, Scruton had stumbled into more James-Bond mystique than most ginger-haired philosophy dons could hope for. It would be almost cliche, then, for an exotic young thing to throw herself at him. Wry-smiling, stunning Basia was no cliche, though. Or rather, if she were, it would be the cliche in a kind of story too little told these days to count as cliche anymore.
Basia, at 26, the oldest, most academically-advanced of the bright young things attending Scruton's summer lectures and their unofficial leader, was an uppity young woman with a checkered past. She wasted little time with Scruton: after his second day in Kazimierz, she waylaid him in the woods to announce she noticed no ring on his finger. Such a frank admission of desire seems likely to end in embarrassment all round whether the desire is reciprocated or not, and perhaps it would have if it weren't accompanied by her equally frank admission that consummating desire was not her aim:
"It is not for a woman to tell feelings woman must hide, otherwise she is cheap. But you come here for truth, I think. So it is much worse than I tell. I love you. I want to be yours. And it is impossible. This is God's work for me. [H]ow do you say 'come over' my love?"

"Overcome."

"Yes, overcome," she said with a self-deprecating laugh.
Because Basia was young, Scruton mused, "her first need was to confess." Before pursuing a degree in "one of those arcane syntheses of Thomism and phenomenology that enable its adepts to speak incessantly about Being, Becoming, and Eternity while drawing ever-larger circles on a blackboard", Basia had been a nanny overseas, seduced by the household's father, returning home to her mother in shame to bear his child. Basia confessed,
"I had this thought once that there is no hope, that this salvation is a nonsense. And almost I committed a suicide. I was such a small shrinked person. But He did not accept. He hunted me, He found me, He was there in dark corner where I go to hide. And now you see, He gives me you for a rescue."
"He," Christ, gave her him "for a rescue." Scruton noticed, "the crazy idea had also come into her head that she could help me to salvation." Uppity: how often is someone's — much less some woman's — self-declared mission to save another anything more than delusional hubris? Byron was not wrong to observe, in Don Juan, the likely result of such ambitions:
Love, then, but love within its proper limits,

Was Julia's innocent determination

In young Don Juan's favour, and to him its

Exertion might be useful on occasion;

And, lighted at too pure a shrine to dim its

Ethereal lustre, with what sweet persuasion

He might be taught, by love and her together—

I really don't know what, nor Julia either.
Donna Julia, despite her initial pieties, "whispering 'I will ne'er consent'–consented."
Still, what Byron's pious Donna Julia did not know, Basia did. So began a salvific friendship, conducted mostly by letter, with
our few brief meetings [] troubled and painful. Without chastity there was no sense to our relationship. But chastity was hard, like an examination for which we were always insufficiently prepared. It was thanks to her that we got through these times undamaged
Marriage, the only chaste means of consummating their desire, proved impossible. Basia had become who she was when Scruton met her by becoming devoutly Catholic, and Scruton had already divorced from a Catholic marriage.
***
Of those souls, like Basia's, who resisted communism, Scruton said,
In those orderly souls who stood upright in the flow of lies you saw how civilizations survive…. [T]heir effort was of a piece with that labour of the soul described to Socrates by Diotima, and which marked Basia's every gesture towards me: the effort of erotic love. The erotic and the personal belong together: they are temples built above the roar of animal life, into which we scramble in desperation from the flood. Here we find refuge, are idealized and made whole. But only by our own work are these temples constructed, and when the work is neglected, chaos supervenes. In those communist backwaters the contests between person and animal, eros and sex, law and calculation, religion and appetite, were felt as one single contest, and every word, every gesture fed the aims of one or other protagonist in a fight to the death.
Basia, Scruton said,
brought home to me, then and subsequently, what is perhaps the most important truth conveyed by religion… that sex is either consecration or desecration, with no neutral territory between, and that nothing matters more than the customs, ceremonies and rites with which we lift the body above its material need and reshape it as soul… Basia phrased it in the pure, simple, liturgical language of her church, and showed through her emotion that she had re-made herself… Perhaps she should have been a nun; but it was too late for that. Now her first thought was to encounter the temptation that I presented, not to flee from it, but to vanquish it.
I'm not sure "sex is either consecration or desecration" is religion's most important truth, unless religion is reduced to a purely instrumental means of social control. The larger point of lifting up the body to reshape it as soul seems nearer the mark. The word "soul", as Scruton observes,
is a useful, indeed a necessary word, since it reminds us of what we are for each other. And what we are for each other is a large part of what we are. The soul is what one person elicits in another, when he sees the other as a free, self-conscious, self-governed and answerable being. This is the true mystery of the Annunciation… a simple woman surprised by an angel, who addresses her I to I.
Basia, Scruton says, "entered my life like an annunciation," as "a messenger from another realm, an angel in the original meaning of the term", though she herself remained a simple woman, self-consciously, self-governing accepting the grace God first had given her.
***
Despite my having extensively quoted Scruton's tale of her, Basia herself may seem like a cipher at this point. What, after all, does it mean to call another person an angel, an annunciation, a vessel of God's grace? Especially someone counted as a friend? Aren't friends particular people, marking their friendship with their particular quirks? Isn't reducing them to such exalted generalities depersonalizing?
It is, which may not be Scruton's fault, but the fault of my summary, which transmits Scruton's quotable Big Ideas, rather than his little asides about how Basia sang to her child, cut her hair, or caroused with friends. Basia was a particular person to Scruton in a way she cannot be to us because she was his friend, his stubborn companion who convinced the both of them to want more from and for each other than mere instinct — and the modern idea that sex is love's highest expression — would have wanted.
Feminists might complain Scruton's story of Basia adheres to the tired trope of a woman not existing for herself, but merely as an instrument to serve men — as muse, as caretaker. Scruton ends his account of Basia by subverting that trope, though: yes, Basia is a caretaker — just like one old man, Maronite priest of his Lebanese village, whom Scruton met one winter after Basia, a man whose gift of love shed light on Basia's gift. Despite persecution ending in maiming, this priest had extended pastoral care to everyone around his village, including Muslims. Scruton "asked him at last why the Christians had done so much for the Shiites, if [destruction] was their only reward." The priest replied:
"C'était notre apostolat."
That is, "That was our apostolate," our mission. Scruton muses, "Rightly or wrongly, Basia had seen me as her apostolate: in caring for me she was following Him." As Scruton says, "what we are for each other is a large part of what we are." If Scruton defined women in large part by what they are for others, so did he define men. So should we all define ourselves.
***
Basia was, by Scruton's standards, poor and oppressed, though by the standards of her immediate circumstances, gifted and even somewhat lucky: how many unwed mothers in even a free country (and hers was not) get the chance to pursue an advanced degree in a philosophy even Scruton admits he can't understand?
Basia was also, in the most important sense, a liberated woman. It's easy for conservatives to mock today's consent culture, its hollow silence on what consent is for. For the Christian sexual ethic, consent is merely a starting point, though it's needed as the starting point. Else how would we "see[] the other as a free, self-conscious, self-governed and answerable being"? How would we see one another as souls? Stories about women who want sex on their own terms, who are strong enough to rebuff unwanted advances while also cultivating nonsexual friendships with men, aren't inherently PC: they also describe stories of exemplary Christian women. A woman free to choose sex on her own terms is free to choose chastity as her terms. Not chastity born from mere fear of shame, either, but chastity born of recognizing how important non-sexual love is for cultivating souls. To live peaceably with one another, we should love a far greater number of people than we knock boots with.
Basia had already lived her shame. From the hard-nosed viewpoint which justifies chastity as social control, Basia was already damaged goods. If "sex is either consecration or desecration, with no neutral territory between, and [] nothing matters more than the customs, ceremonies, and rites" controlling it, Basia was already desecrated.
In reacting to the chaotic encroachment of all that threatens to undermine our "customs, ceremonies and rites", it can be easy to forget those rites aren't for control, but for redemption. But Basia could not forget. And thanks to her, Scruton could not, either. Basia offered Scruton "faith [as] an invitation to re-work the human body as a sacred vessel, to transubstantiate ourselves in thought, from appetite to will, and from flesh to spirit." Byronic cynicism isn't wrong in pointing out how spectacularly offers to transubstantiate eros into chaste friendship can fail. It's easy, moreover, for conservatives to retreat into cynicism's shell. Thank God retreat isn't all there is.
*****************
Scruton's essay extensively quoted in this post, "Stealing from Churches", appears to have been scanned in from a paper copy at the Catholic Education Resource Center, losing punctuation along the way. I made my best guess at restoring punctuation in quoting the essay, for readability's sake omitting most square brackets around my guesses. My summary of Scruton's essay was inspired by a post of @garymcvey's from July 2019, and began as a comment there. Cropped image of Polish red squirrel licensed under creative commons, photographer hedera.baltica.

Published in General