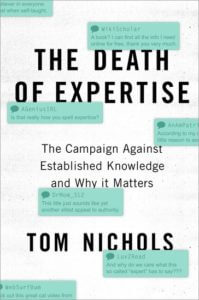 Much ink has been spilled and many teeth gnashed among the media and academic class over the last year over the death or experts and expertise. According to, oddly enough "experts", the popular will is overthrowing the proper rule of experts and creating a world without real expertise. That is the thesis of Tom Nichols' The Death of Expertise: The Campaign Against Established Knowledge and Why It Matters. 
This is complete nonsense. What is happening is not the death of expertise but the rational pushback against the overreach of experts.
To understand this backlash, you have to understand the various types of authority. Authority comes in three forms; expert authority, moral authority and legal authority. Legal authority is just the brute legal power to do something. Expert authority is the authority over the how. Expert authority tells you whether your house is built on a proper foundation, or whether your not feeling well is a case of the flu or something more serious. Moral authority is the authority of the should. An engineer has expert authority on how to build a bridge, but does not necessarily have any moral authority over whether the bridge can be built.
Two things have combined to create a backlash against "experts." First, experts have tried to assert expert authority over value questions which should be ruled by moral authority. Economics is a good example of this. Economists do have expert authority over the expected effects of a given economic policy. They can tell you that a tariff will cause the price of consumer goods to go up by a given price. And that opinion should hold some weight. What they cannot tell you is whether the tariff is a good or a bad idea. That is not an expert question. That is a value question.
Maybe higher consumer goods prices is a price worth paying for greater employment security or to ensure that the US maintains a certain manufacturing capacity for national security reasons or whatever. Deciding which interest should win out is a moral and political question and not something that economists have any special authority over answering. Yet, time and again a particular economic policy is said to not just be best but the only legitimate answer because "economists say so" as if they have any sort of special authority over larger questions about what kind of an economy or society we should have or which economic interests within it should be rewarded.
Health experts are another example of this sort of overreach. Health experts can tell you that this or that activity creates a greater risk of a heart attack or some other bad outcome. But that knowledge and authority does not translate into any moral authority to tell people how they should or should not live. That is up to the individual. If a person finds that the pleasure of smoking or drinking or eating good food outweighs the risk associated with the activity, no health expert has any moral authority to tell the person they are wrong. Yet time and again the expert authority to explain risk is translated into the moral authority to tell someone what choice they must make.
When experts in a field, be it health, economics, or any other start to claim their expert authority over a subject gives them moral authority over the decisions relating to that subject, people who are affected by such decisions and who do have moral authority over them understandably reject the "expert" advice. This is not a rejection of expertise. It is a rejection of expertise conferring moral authority over an issue.
The second reason people are rejecting experts is that many of our self appointed "experts" are experts in fields that either do not lend themselves to expert authority or are so underdeveloped that they are scarcely better than cargo cults. There is a push and pull between science and collective folk wisdom. Science looks beyond mere trial and error and our perceptions and finds a deeper truth. If we went by our perceptions, we might still think the earth is flat or that bad humors caused illness.
Folk wisdom, in contrast, is the collective wisdom of trial and error. It doesn't know why its answers are right or wrong but through trial and error often gets the right answer. To understand this, think of the state of medicine today and in the 18th century. Today, medicine is a real science with real answers and understanding of the problems it seeks to solve. Today, only a nut would seek a folk remedy over modern medicine. In the 18th century, however, medicine was still in its infancy and doctors barely knew how to keep from killing their patients and more often than not did more harm than good. Folk remedies in contrast at least didn't kill you and often did some good, though no one understood why. In the 18th century, you would have been a nut to go to a doctor and were better off sticking with the folk remedy.
Pretty much all of the social sciences are about where medicine was in the 18th century. Before he became a performance artist, Paul Krugman described the state of economics as about the same as medicine in the late 19th century. Economists, like Victorian doctors, had figured out how not to kill their patients, they know for example that printing huge sums of paper money or a government not honoring its debts or enforcing contract and property rights would kill an economy, but they really have little idea how economies really work or how to fix a bad economy that isn't the victim of the government trying to destroy it. He is about right. And economics is probably the most advanced social science. The rest are even worse. Yet self appointed "experts" in these fields expect their expert authority to be treated the same way as an M.D.'s expert authority in telling you that you have cancer or diabetes.
This of course is absurd and people know it. Just like the folk remedy worked better than the treatments of the trained doctor in the 18th century, today the parent or the local teacher often knows more about how to educate the children they are responsible for than any self appointed expert in "education."
Richard Feynman pointed this phenomenon out 40 years ago in his famous "cargo cult" speech. He stated:
So I found things that even more people believe, such as that we have some knowledge of how to educate. There are big schools of reading methods and mathematics methods, and so forth, but if you notice, you'll see the reading scores keep going down—or hardly going up—in spite of the fact that we continually use these same people to improve the methods. There's a witch doctor remedy that doesn't work. It ought to be looked into: how do they know that their method should work? Another example is how to treat criminals. We obviously have made no progress—lots of theory, but no progress—in decreasing the amount of crime by the method that we use to handle criminals.

Yet these things are said to be scientific. We study them. And I think ordinary people with commonsense ideas are intimidated by this pseudoscience. A teacher who has some good idea of how to teach her children to read is forced by the school system to do it some other way—or is even fooled by the school system into thinking that her method is not necessarily a good one. Or a parent of bad boys, after disciplining them in one way or another, feels guilty for the rest of her life because she didn't do "the right thing," according to the experts.
What we are seeing is not the "death of experts." We are seeing people no longer being intimidated by pseudo science and rejecting the claim that even real expertise in a subject confers moral authority over the decisions made relating to that subject.