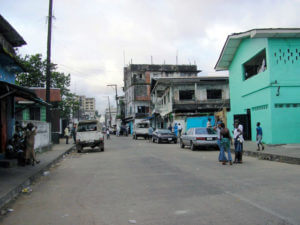 Imagine you didn't have squat. You live in a dirt-floored, corrugated zinc-roofed hut. You work and save and you finally get the opportunity to get a little something for yourself; let's say an el cheapo transistor radio, so you can listen to the VoA or Liberia Today. Then somebody steals the little gimcrack you spent months saving for. How would you react?
Back in the '80s, Liberians didn't react well. When the call "Rogue!" went out, people came boiling out of their huts and shacks to chase, apprehend, and mete out rough justice to the rogue.
Thus, it was at/about 14 years of age, I first saw a man die by violence.
All the third-country kids (get of the diplomatic corps, international businessmen, and the Lebanese diaspora) went to the American Cooperative School in Liberia. About 200 kids, K-12, from 30 different countries. The ACS was located on Old Road, next to the Old Road Fish Market, where we'd buy road-baked fish (four for a dollar) that was amazingly good, once you batted the flies off.
There was a traditional big yellow school bus that would truck all the embassy kids from "embassy row" (Sekou Torre Ave.) to school and back. I'd been in-country for about two weeks and our bus was trundling home one afternoon down Old Road, when we had to stop for an insta-mob; hundreds of people shouting "Rogue!" The subject of the yelling was a 20-something looking guy, and the crowd was knocking the snot out of him right by our bus. I don't know what the guy had done—or had allegedly done—but the crowd was relentless.
My bus-mates and I hung out the windows with a bird's eye view of the mob beatdown. Eventually, a soldier showed up to take control of the situation. Wearing a ragtag uniform, literal hobnailed boots, and carrying an AK-47, he started putting his boots to the rogue. After a couple of minutes (seconds?) of mercilessly kicking the rogue, the soldier handed off his AK to a member of the crowd (!) and swinging both arms for momentum, he jumped up, and came down.
Most of my bus-mates screamed, some immediately puked; I just remember thinking that brains didn't look at all like I imagined they would. Instead of the light, fluffy grey that textbooks depicted, they were dark, storm-cloud grey, with maroon and purple whorls. Yuck.
About a year-and-a-half later, I had Liberia dialed in. I knew all the places a young man could go to get into trouble. I knew and spoke the local patois. I had a deep love of the people.
One weekend evening, me and my buddy Dave were stumbling down Gurlry Street (the Monrovian red-light/bar district) getting ready to shamble home before curfew — not a parental curfew, but the citywide curfew Master Sergeant Samuel K. Doe had put in place upon taking the reins of state via coup d'etat. We'd usually go to Dave's house, which was on the beach, walk into the ocean fully clothed, and scrub down with sand to eliminate any olfactory evidence of our misadventures. Then we'd hang our clothes over the wall of his house, and sit on the beach until we were dry enough and sober enough to tiptoe into the house and rack out.
On our way off of Gurley Street, a guy started pestering us: asking us for money, offering to show us "de bes' places" (Dude, I'm wearing a dashiki and talking to you in Liberian English — do I look like I need a tour guide?), and generally being a pain in the tuchus. Finally I wheeled on him and deployed "Ey, my man, how you can be humbugging me so?" He punched me in the chest, and took off running. Instinctively, I lit out after him. I knew within a step what he'd done.
Dad, on his travels, had picked up gold jewelry for my brother and me. The reason, he said, was that someday we might have to make it over a border or back to the Embassy unsupported; cash may not work, but gold will. I can't remember what my brother got, but I'd gotten a lion's claw, encased in a golden web, on a gold necklace. On the first stride of my chase, I knew he'd stolen my chain when I didn't feel it thump against my chest. Son of a…
I chased him for a couple blocks, right behind him (y'know, it's only after starting these Africa Journals that I realized how much running I had to do back in the day). He finally figured he wasn't going to outrun me, close behind him and screaming "Rogue!" at the top of my lungs, and turned off onto an eroded dirt alley. I could see the end of the alley ahead of us. Half of the back end was occluded by a white, clapboard building. The other half led into one of the intermittent strips of jungle one found all through the city. He hits that jungle, he's gone.
I upped my speed, reached out and grabbed the waistband of his trousers, picked him up, and ran us both into the white clapboard at full speed. It's a technique. We both scrambled to our feet. I don't know about him, but my bell was a little rung. He grabbed me by the throat with his free, not-holding-my-damn-necklace hand. Bad decision, wasted effort. Let me show you how it's done. I punched him in the throat and he dropped; the paroxysms of a traumatized trachea can be pretty debilitating. I stomped on his exposed, palm-up forearm, and recovered my necklace.
Just before I could turn and make my egress out of the alley, a hand that was about the size and weight of a canned ham fell on my shoulder and turned me around. The owner of the hand was huge and hugely muscled. He didn't have a shirt on, just a leather vest. And he had a leather eye patch over one eye. A frikkin' leather eye patch.
Please don't be his big brother, please don't be his big brother…
"Ey, my man, t'enk you for catching the rogue."
Not a problem, sir.
About then Dave came stumbling around the corner. "What're we doing?"
We getting the hella outta here.