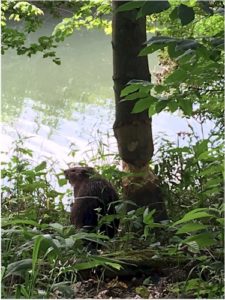 Almost three months ago, I wrote a little post musing about the damage to some trees in and about the stream by the side of our little rural road, along the route that I take for my daily walks. It's a delightful setting, a place where I can imagine Ratty and Mole adventuring and Toad decompensating over the smallest things, while Badger wanders around lugubriously trying to pick up all the pieces, sort everyone out, and carry on as normal. I have no doubt Mrs. Tiggy-Winkle's cottage is in the undergrowth somewhere, and I think I've seen Jeremy Fisher sitting on the bank catching flies with his tongue.
So I was somewhat alarmed to see my little paradise disturbed as the trees were being systematically felled, one by one. I posited beavers as the culprits and wrote a short post, asking for feedback and opinions as to what was going on. With a singular (and spiritedly argumentative but ultimately unconvincing) exception, you all agreed with me that the damage was being caused by beavers.
Since then, I've had a little trail camera set up at what looked like one active condestruction site or another, trying to grab a stealthy photo of the guys at work. No dice. Clearly, these beavers know how to evade the paparazzi. They are the Greta Garbo of beaverdom. All they want is to be left alone. They've chewed through the strap holding the camera to the tree trunk. They've flung the thing five or six feet in the wrong direction. They've unmoored it from whatever was fastening it to the ground, or whatever was propping it up, and carefully placed it face down, times without number.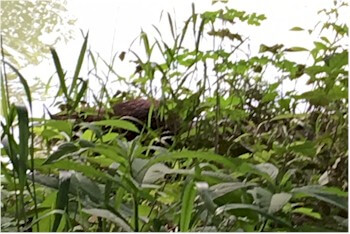 But, today, for once in my life, I got lucky. Actually, I'm lucky almost every day on these walks. In the past week, I've seen innumerable deer, three or four different kinds of ducks, including a couple of little duck families swimming around with their babies, a heron standing on one leg and darting its head under the water to catch whatever it is that heron catch, a flock or two of geese, and a mink crossing the road right in front of me. Oh, and a couple of baby muskrats playing on the stream bank.
Today, though, I thought was rather a dull day, until I turned at the halfway point and headed for home. A minute or two later, et voila!  Beaver. Two of them actually. Snapped a photo with my phone, just before they caught sight of me and splashed their way back into the water.
So mystery (not that there was much of one) solved.
Beaver.