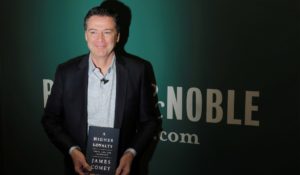 So … the James Comey Book Tour has had its first week. An extremely rocky voyage so far. It seems to this observer that it is about to hit an iceberg, a la the Titanic.
Just today, we have Kim Strassel at the WSJ [paywall] with 11 questions (her column had space restrictions for adding more) that an honest interviewer would ask the former head of the FBI. We have Jim Geraghty at NR [link] echoing Mike Wallace about the catty gossipiness and pointing out the yuge blanks that need filling about Hillary, McCabe, and Lynch. At The Hill … Jonathan Turley appropriately titles his article … FBI A House Of Lies In Comey Era.
And at The Federalist, we have the esteemed Mollie Hemingway [Comey's memos indicate the dossier briefing of Trump was a setup] who takes apart the now recently published memos of this disgrace of a man and a former head of the FBI. Sad.
Ms. Hemingway makes a very effective case that this man set up the incoming President of the United States for the public reporting of the most salacious details of what Comey also testified to Congress was "unverified," and that although he intentionally omitted it from his testimony, he knew it was produced by the Hillary Clinton campaign as "opposition research."
Here's Mollie's concluding paragraph:
That [Comey's firing by Trump] led to Comey leaking multiple memos in order to get a special counsel appointed out of revenge. That special counsel has utterly distracted multiple agencies and embroiled all three branches of government at the highest levels. All over a document that was secretly funded by Hillary Clinton and the DNC, contracted by a Democrat research firm with ties to the Kremlin, and authored by a shady foreign spy whose relationship with the FBI was terminated because he lied to them.
Treason, by any other name, is still treason.