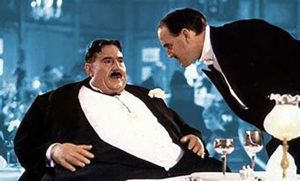 Terry Jones, a member of the Monty Python comedy troupe has passed away. He co-wrote and co-directed Monty Python & The Holy Grail, The Life of Brian (no relation), and Monty Python's Meaning of Life, as well as a few episodes of George Lucas' Young Indiana Jones and other shows and documentaries. Those familiar with the Pythons irreverent humor are aware that nothing seemed out of bounds to poke fun of and make ridiculous – from terrorism, transgenderism, politicians, know-it-all dinosaur experts, housewives, the knights of the Round Table, the Catholic Church, Americans, Australians, the French, the proper usage and grammar of Latin, to excessive dining. Mr. Jones is now the second Python to have passed away following Graham Chapman's passing. I suddenly feel very old.
As I noted on another post:
Clearly his work and the work of his other Python cohorts have influenced a great deal of comedy and been an endless source of commentary on our age – and even more relevant today as it's applied to our "woke" culture.
From The Guardian:
In 2016, Jones and his family revealed he had been diagnosed with frontotemporal dementia a year earlier, and he became a public face of the illness – appearing at a Bafta Cymru awards ceremony to highlight its effects and being interviewed in conjunction with longtime friend and collaborator Michael Palin in 2017. Jeremy Hughes, chief executive of Alzheimer's Society paid tribute, saying: "We were lucky enough to work with Terry and his family when he joined us for our London Memory Walk in 2017 and his support really helped inspire others to unite against dementia. We are truly grateful for his aid in raising awareness and much-needed funds."
And here is Michael Palin paying tribute to his friend and colleague:
Sir Michael Palin has paid tribute to his fellow Monty Python star Terry Jones.

This is heartbreaking. pic.twitter.com/qzguEbZ25t

— Cinephilia & Beyond (@LaFamiliaFilm) January 22, 2020
.
Published in General