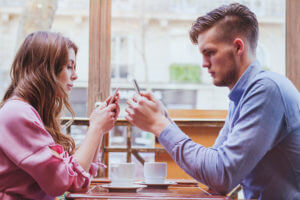 Tomorrow is Valentine's Day, perhaps the one holiday hated by everyone — the one day when all singles long to be coupled and all couples long to be single. With Valentine's Day come obligations and expectations: Christmas, but without the music, gingerbread cookies, and living-room conifers. ("I bought her a box of chocolates last year — and a bottle of sauvignon the year before that. Hmm. What to get her? I guess a Trumpy Bear will have to do.")
No doubt, the Internet will soon be awash in articles about the dating scene, which, like the weather, is something everybody complains about … but nobody does something about. It's frankly a wonder that a problem so universally acknowledged should be in want of a solution. Yet here we are.
Why is it so hard to date in 2020? Why does every single person feel compelled to submit to the ongoing pain and humiliation of online dating? Why does my generation's romantic pessimism make Greta Thunberg look like a climate optimist? The reasons are simple, really — (a) we've failed to develop the requisite social habits, (b) we've lost the institutions capable of guiding us toward marriage, and (c) we have standards.
---
First, habits. By "habit," I mean roughly what Aristotle meant by "virtue" — a tendency or disposition to act rightly. Seldom do such tendencies arise of their own accord. Instead, they're formed by practice and repetition (as any technical skill is), and their proper development requires overseeing by those who are themselves rightly formed. Social habits, as all habits, can be good or bad, and they tend to stick around once developed. On a large scale, they acquire a ritual quality.
In matters of romance, we modern people are, quite simply, out of practice. Feminists may dislike the elaborate rituals which once surrounded courtship, but these rituals did serve a purpose: They made "going through the motions" a darned good way of finding someone. They rendered explicit the implicit rules of the social world — rules which still exist today, in equally complex form, but without any coherent articulation. People in times past were well-versed in the art of decoding these rules, and they knew exactly what to expect from each other. My generation lacks such knowledge. Left alone, we settle into the comfortable pattern of staring at a succession of screens, wondering why the world's bounty doesn't fall into our laps. And when it does fall into our laps, we haven't the slightest idea what to say in return.
---
Next, and related to the first cause, the death of institutions. This subject is so popular a theme among the conservative intelligentsia that it's hardly worth elaborating here. But elaborate I shall, since the decline of institutions, religious and secular, tracks closely with our growing social pathologies. Western literature is rich in descriptions of these institutions as they related to social life — the soiree, the ball, the dance. All these have gone, except among the most countercultural of sects. Fitzgerald's world now seems as quaint and alien as Austen's.
What's more, the "infinite art" of American associational life described by Tocqueville has given way to one finite and feeble. The Internet has absorbed not only the public square, but also the city around it. Hobbyists of all kinds have migrated to the web — to places like Reddit and Ricochet, where they spread their thoughts and accomplishments far, wide, and thin. What once took scores of men ages to accomplish can now be done in two hours by one pajama-clad basement-dweller with Excel and an ethernet cable. If social institutions have fallen out of fashion, the other kinds of institutions have fallen into obsolescence. But necessity is the mother of institutions — so it's no wonder that our attempts to connect become all the more futile even as they grow more intentional. The more desperately lonely we become, the less attractive we are — as would-be friends or would-be lovers. The postmodern maze turns out to have no exit.
---
Lastly, and vastly underrated as a cause, are standards. As anyone who's performed even cursory genealogical research knows, it used to be commonplace for neighbors to marry neighbors. Little Jeff Johnston wed little Nell Nelson, who happened to live on the farm just across the road. It mattered not that Nell was plain or that Jeff had a paunch, or that the two shared nothing in common beyond age and proximity. Nevertheless, they married, lived, and died. Their tastes and expectations were formed by experience, just as our tastes and expectations are formed by our experience. But our experience is one of endless choice and infinite knowledge. We judge prospective partners not against the background of our township or village or church community, but against the background of Earth itself. Who can compete with that?
And so, in dating, as in so many spheres, modern man finds himself paralyzed in his abundance.
Published in Culture, Marriage