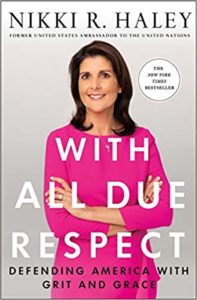 Ambassador Nikki Haley believes America is the greatest country in the world, and she'll tell you why. She thinks well of our society and people, while being clear that she has seen and experienced real racism and sexism and that socialism is making a troubling resurgence in popularity. In her account of her time in the Trump administration, Amb. Haley raises concerns, which she raised publicly while in office, about the arrogance of mere appointed officials, carrying no independent constitutional authority or accountability, while contending that the real Donald J. Trump is always willing to listen and respects respectful, professional, direct expressions of disagreement. Nikki Haley puts this all together in a slim, readable volume: With All Due Respect: Defending America with Grit and Grace.
The title comes from a small but significant moment in the former South Carolina governor's tenure as United States ambassador to the United Nations. She had gone out on a national show and spoken the last known administration position on new Russia sanctions. However, President Trump made a different decision when the staffed recommendation came to him, before Amb. Haley's media appearance.
Instead of the Chief of Staff John Kelly, National Security Advisor Bolton, or Larry Kudlow simply speaking the truth, they went into avoidance mode, until Kudlow made the mistake of saying on the record that Nikki Haley must have just been confused. This painted the only woman in the loop, the U.N. ambassador President Trump had elevated to cabinet-level and given direct access to National Security Council deliberations, as confused, not really in the loop.
After giving Larry Kudlow one last chance to man up, Haley called Dana Perino of Fox News The Five just before showtime and said she had a brief statement for the record: "With all due respect, I don't get confused." This brought Larry Kudlow back to the phone, where he still tried to weasel out, until she put his back to the wall, whereupon he called the New York Times to completely retract his, and Kelly's position: "She was certainly not confused, I was wrong to say that–totally wrong."
Ultimately, this happened because everyone understood that President Trump had Amb. Haley's back, because she was truly following her oath of office by working for the elected President of the United States, instead of substituting her or her staff's judgment in the false and self-serving name of "the Constitution."
with (all due) respect
(also with (the greatest) respect)
used to express polite disagreement in a formal situation
This account is tucked in the middle of the book, yet got more attention than any other part except the account of the confrontation between herself, Chief of Staff John Kelly, and Secretary of State Tillerson. That incident has been repeated in every media forum. The passage has sufficient specificity to allow Kelly to deny what he is claimed to have said with specificity. He has not, going instead for an indirect reprise of the "Nikki must be confused" gambit. Indeed, it is telling that when a disloyal administration official boasted in the New York Times "I Am Part of the Resistance," it was not John Kelly but Nikki Haley who responded with a counter opinion piece in the Washington Post: "When I challenge the president, I do it directly. My anonymous colleague should have, too."
John Kelly was brought in as Chief of Staff to impose some order, yet appears not to have got that Cabinet officials do not work for, or report to, the Chief of Staff. This is a contrast to most military organizations, where there is a senior staff officer who rates all the other senior staff. Not getting that Ivanka Trump was literally raised in her father's offices, that the President had invested his time in his first-born and informally tutored her in business from the time she started walking, was a bad mistake. Underestimating a woman with a lifetime of training in running a cut-throat business is foolish. Comments on the record from John Kelly, in the midst of the Deep State and Democrats' Ukraine impeachment hoax, tend to make him look more disconnected from political reality and a bit self-serving–indirectly reinforcing Nikki Haley's claims.
Meanwhile, President Trump and his hand-picked U.N. ambassador, Nikki Haley, are being proven more and more right on the Middle East generally and Iran in particular. It is the senior men who quit or were abruptly dismissed who are looking more like the foolish ones, wedded to received wisdom and the safety of the herd, the foreign policy "consensus." Yes, it is too soon to tell, and events can go in many bad directions, but the ayatollahs and their bully boys, the IRGC, have responded poorly to a real high-pressure policy, losing their senior strategic leader, then shooting down a third country's civilian airliner, then lying about it, prompting both domestic and European negative responses. The regime looks unsure, its primary enforcers grossly incompetent, hinting at internal vulnerability.
As for America, Nikki Haley is clear-eyed about the danger of the rising generation embracing what they are being fed about socialism. She shows how quickly a country can spiral into despotism and squalor under socialism, laying out the case of Venezuela. She walks us through a bad cop wrongly killing a truly innocent and harmless black man, and the white supremacist who walked into a historic black church, sat with them as they included him in their prayer service, then coldly blew away as many as he could.
She brings us back to her childhood as a brown child in a black-and-white town. She and her sister were disqualified from the town pageant because the town always picked a black and a white winner and the two little girls in the middle did not belong to either group. She briefly cites both white and black politicians attacking her racially in the midst of state politics. And.
Nikki Haley loves America as it already is. She loves the opportunities afforded her parents as immigrants to a small Southern town. She loves the opportunities afforded to her. She loves how the people of South Carolina responded to the sort of situations that resulted in polarization and rancor elsewhere the country. I'll put her down in the camp of clear-eyed optimists.
Be prepared to agree with some points and disagree about others in this brief, readable book, well organized and including a brief index. With All Due Respect: Defending America with Grit and Grace is not co-written, but a close reading of the acknowledgments suggests Ambassador Haley relied upon Jessica Gavora,* who wrote Ambassador Haley's U.N. speeches, after helping Sarah Palin with a book and helping Governor Haley with her 2012 book, Can't is Not an Option: My American Story. Whatever the future holds for Nikki Haley and this country, we can count on her responding with a Southern woman's "grit and grace."
---
* It is worth noting that Jessica Gavora is married to Jonah Goldberg but has her hand in both Sarah Palin's and Nikki Haley's public cases against the establishment. I take this as an instance of professionalism and as a counterexample against the natural inclination to attribute motive and viewpoint by association.
Published in Literature, Politics