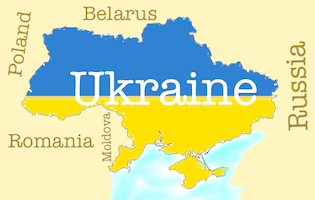 We were repeatedly treated to lies about Ukraine during the first week of the Democrats' congressional clown show "impeachment inquiry." The central lie was that Ukraine was a key security partner against Russia for many years. It is a lie that Ukraine has ever been a key security partner and it is a further lie that Ukraine has been the focus of US policy intended to check Russian re-expansion. Everyone knows this, you know this, at least in your gut. Here are the facts, which do not care about anyone's feelings:
1991: Ukraine votes for and declares independence from the Union of Soviet Socialist States. Ukraine has over 1,000 nuclear warheads, allegedly without the control and arming codes, but with significant technical knowledge in-house. Weeks before the independence vote, President George H.W. Bush delivers an infamous speech in Kiev, written by Russia and Eastern Europe expert Condoleezza Rice, in which he warned about "suicidal nationalism." William Safire branded this the "Chicken Kiev speech." Bush feared that small states declaring their independence would provoke the Russian population, destabilizing the supposedly democratizing new Russia.
The elder President Bush's most memorable foreign-policy blunder took place in Kiev in 1991, then under Communist rule. With the Soviet Union coming apart, the U.S. president — badly advised by the stability-obsessed "realist" Brent Scowcroft — made a speech urging Ukrainians yearning for independence to beware of "suicidal nationalism." His speech, which he now insists meant only "not so fast," was widely taken as advice to remain loyal to Moscow's empire.

I dubbed this the "Chicken Kiev" speech. That so infuriated Bush, who mistakenly saw the phrase as imputing cowardice rather than charging colossal misjudgment, that he has not spoken to me since.
[Note that famous Bush family behavior towards effective criticism from conservatives.]
1992: The United States establishes an embassy in Kiev. That is the last entry on the US State Department's page on the history of diplomatic relations with Ukraine. Consider this State Department double-speak:
The United States has traditionally sought to promote Ukrainian political and economic stability since the Ukraine declared independence from Russia. U.S. relations with the Ukraine have, however, been complicated by Ukraine's historical relationship with Russia.
1994: Ukraine agrees to give up all of its nuclear weapons in return for a non-treaty paper "guarantee" of territorial integrity, signed by Russia, the UK, and the US. Notice that we had zero interest in using Ukraine as any sort of check against Russia. President Clinton was president. We were hoping for cooperation with a new democratic Russia, just as our "experts" and "foreign policy consensus," held that China was sure to liberalize due to economic development.
Harold Coyle writes an important alternative military history novel, The Ten Thousand, in which US and Russian special forces launch a coordinated strategic raid into Ukraine to seize nuclear warheads before they could be sold to an unknown third party. Things go rapidly, radically sideways. Ukraine is seen as a weak state, prone to dangerous corruption, not an important security partner to check Russia.
Through the rest of the Clinton administration, agreed-upon money flows to Ukraine, effectively a series of settlement payments for Ukraine giving up its nuclear arsenal.
2001: President Bush the Younger looks in Vladimir Putin's eyes.
2001-2008: Payments to Ukraine drop under George W. Bush. It appears, from foreign assistance data, that payments to Ukraine dropped under the new US administration. There were real concerns about real corruption in Ukraine.
2008: President George W. Bush responds to Putin's invasion of the country of Georgia with logistical and non-lethal support intervention, signaling the limits of American power or interests, even against a still recovering Russia.
2009: Vice President Joe Biden announces the "reset button" and the foreign policy establishment approves, if it goes far enough:
Three weeks ago, Joseph Biden, U.S. vice-president, made headlines by proclaiming the Obama administration's intention to "press the reset button" in U.S.-Russian relations. Next week, Hillary Clinton, secretary of state, will sit down in Geneva with Sergei Lavrov, Russia's foreign minister, to figure out what that metaphor means.

While there are plenty of specifics to talk about, the overarching concern in Washington and European capitals is that Russia is cracking down at home and throwing its weight around abroad. Not surprisingly, many are worried about a new cold war. However, that is not a useful way to think about what is happening.
President Obama makes this reset real in September, announcing the cancellation of a European missile defense system that was to be built in Poland and the Czech Republic:
Obama announced the reversal officially at a news conference today. "This new approach will provide capabilities sooner, build on proven systems to offer greater defences to the threat of attack than the 2007 European missile defence programme," he said.

He phoned the leaders of Poland and the Czech Republic last night to tell them he had dropped plans to site missile interceptors and a radar station in their respective countries. Russia had furiously opposed the project, claiming it targeted Moscow's nuclear arsenal.
Of course, no such "greater defenses" were afforded the Europeans. Russia got the message, and so did the countries that had once been under Moscow's rule.
2009-2015: Non-lethal, development aid roughly doubles from President George W. Bush's level of support, moving from the previous administration's preferred level to the Obama administration's preferred level.
2014: Putin uses "little green men," Russian troops pretending to be private or Ukrainian partisan fighters, to seize Crimea from Ukraine.
Ukraine's president flies to America to beg for sale of arms and ammunition:
[President] Poroshenko pleaded his case during remarks Thursday to a rare joint meeting of Congress. While he thanked the U.S. for the nonlethal equipment it is providing his country's beleaguered military, he said more was needed to stop provocations near the Russian border.

"Blankets and night vision goggles are important, but one cannot win a war with a blanket," he said during a 40-minute address that was repeatedly interrupted by applause from lawmakers.

Hours later, Poroshenko arrived at the White House for discussions with President Barack Obama, a meeting meant to send a message to Russian President Vladimir Putin about the West's support for Ukraine.

"The picture of President Poroshenko sitting in the Oval Office will be worth at least a thousand words — both in English and Russian," White House spokesman Josh Earnest said.
Congress passes and President Obama signs a bill authorizing but not mandating lethal aid to Ukraine. President Obama does not exercise this authorization, denying Ukraine needed weapons, leaving them heavily outgunned by the Russian proxy troops.
2015: A former George W. Bush administration official urges restraint in Ukraine as the only realistic policy, a position that supports President Obama:
Most important, being honest with ourselves, with our allies and with Ukrainians does not mean acquiescing to Russia's conduct or giving up. On the contrary, it is the first step in building a policy that can work in protecting U.S. national interests and strengthening European security. Reckless rhetoric or—worse—reckless action helps no one but the Kremlin hawks looking for an excuse to escalate the fighting and a means to distract attention from their own failings. Washington should discourage Kiev from providing either.
2016: Politico pronounces President Obama's Ukraine policy "in shambles":
President Barack Obama's effort to rescue Ukraine from Russia's military grip has stalled, and turmoil inside Ukraine's government may hand Russian President Vladimir Putin a victory in a conflict that Obama has said involves "the most basic principles of our international system."

Two years after the pro-western protests that toppled Kyiv's government, enraged Putin, and caused an international crisis, Obama's Ukraine policy is foundering — the victim of Putin's steely determination, the distractions of Syria and ISIL, and wavering support from European allies eager to move past the conflict.
2016: Still non-lethal US aid to Ukraine spikes up in the presidential election year.
2017: President Trump orders the delivery of real military support, of "lethal aid," to Ukraine so they could fight back against Russian aggression:
Another senior Trump administration official said that Trump personally approved the decision to allow the issuing of the license after being presented a decision memo by Defense Secretary Jim Mattis and Secretary of State Rex Tillerson. While there was never a formal ban on such weapons transfers, the decision was discussed internally as a lifting of the de facto Obama administration restrictions, the official said.
The foreign policy establishment, the "experts," and the "foreign policy consensus," think that this is a very bad idea, sure to "contribute to escalated violence." The same idea appeared in establishment publications like the National Interest:
In 2015, after spending several months in the frontline zone I wrote that Ukraine desperately needs a "lousy peace" and not an arms race. Two years and several thousand deaths later, the idea of supplying Ukraine with U.S. arms has resurfaced.
2018: President Trump orders the sale of effective weapons, anti-tank missiles that were needed from the first day of the "little green men" in 2014.
The U.S. State Department has approved the sale of anti-tank missiles to Ukraine, the first lethal weaponry the U.S. has sold to Ukraine since Russia's invasion of Crimea in 2014.

The State Department formally approved the sale Thursday of 210 Javelin anti-tank missiles to Ukraine, in a move long expected to upset Russia.

[…]

Kyiv has been asking Washington for lethal military aid since the Russian invasion, but the Obama administration offered only training and support equipment rather than contribute to escalated violence.
This timeline is limited in detail by space and the time I can impose upon your busy life. It does not consider non-military instruments of national power, especially the powerful energy market influences arising from US domestic and foreign policy. What this timeline should suffice to show is the balance that every American president has tried to strike since 1991, never once treating Ukraine as a serious check to Russian westward re-expansion. Nor has NATO done so, as you can discern from the volume of words and paucity of action since 1991, shown in NATO's own timeline of relations with Ukraine.
Published in Politics