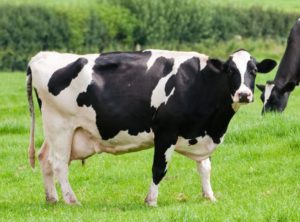 We all giggled, guffawed, or groaned at the Green New Deal's line about cow flatulence causing the end of the world. We wiped up the coffee we had spewed over our phone or keyboard. Then we went about our lives as if this was not a clear and present danger.
Well, the dairy farmers of Wisconsin, the state built on (dairy cow) cheese and beer, are not laughing now. No farmer across this country should be in anything but full fight mode now. There is no flight option. John Hinderaker of PowerLine Blog has the story [emphasis added]:
The Green New Deal, and similar environmental initiatives, have little to do with the environment and much to do with the Left's desire to control every aspect of our lives. Because everything we do, beginning with breathing, involves emission of carbon dioxide or other "greenhouse gases." AOC's Green New Deal specifically proposed, among other things, that all air travel be banned and that all cows be done away with because they produce methane.

…Today's decision from the Minnesota Court of Appeals (which may have been justified by a completely different issue that the Court addressed) should be a wake-up call to all Americans that liberals aren't kidding when they say they want to prevent us from eating meat, or drinking milk or consuming other dairy products, in the name of "climate change." The battle has been joined, and if normal Americans don't get engaged, the Left will win. As they did today.
Read the rest at the link. The case is In the Matter of the Decision on the Need for an Environmental Impact Statement for the Proposed Daley Farms of Lewiston, LLP – 2018 Dairy Expansion Utica Township. While no federal court is bound by this case, count on this being cited as persuasive authority in every state court across the country where Lab Coat Leftist professional litigants spot a judge sympathetic to the fundamental transformation of America.
Published in Environment