Democrat strategist and poll-watcher Nate Silver, has been cautioning his followers on Twitter about the unlikelihood of impeaching Donald Trump before the election because, well, a substantial portion of the Democrat electorate isn't in favor of it, based on a recent Monmouth University poll he cites.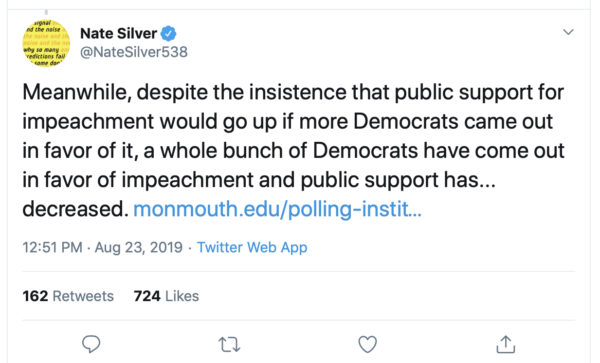 Naturally, because it's Twitter (a.k.a., the first level of Hell) many of the more excitable followers weren't having any of it and like enraged chimpanzees began throwing stinky vitriolic tweets in Mr. Silver's general direction.
Silver followed up his first comment with a tweet that, my sense is, he hoped might soften the intensity of his Twitter mob by offering:
Also the rationale for impeachment seems to have shifted from Russia to "Trump is generally unhinged" or "RBG has cancer" or "he's unduly attempting to influence the Federal Reserve Chairman" or a million other things.
Now it seems to me that for many of Silver's followers and many of the other rather rabid Democrats sprinkled hither and thither in the yon armed security-patrolled boroughs of Chicago, posh apartments of San Francisco, Manhattan, the stately homes of Bel-Air and the Holmby Hills who are holding satanic rituals and slaughtering kittens or knifing piñatas of Donald Trump in hopes of bringing forth an impeachment proceeding to materialize from the fiery furnaces that burn in the brains of their respective representatives in the House of Representatives — that their collective obsession is really based on panic.
Panic because their exuberance and confidence in a 99-percent chance for victory for Hillary Clinton steadily eroded before their eyes on Election Night 2016 until there was a great gnashing of teeth, rending of "I'm With Hillary" apparel, and primal screaming up to the heavens where angels perched on the edge of puffy clouds were probably scarfing down popcorn and enjoying the spectacle. (Warning: Offensive Language)
Panic also because they are witnessing, as each day passes, the steady mental collapse of their gaffe-prone and often confused septuagenarian and former Vice-President of these here United States frontrunner, Joe Biden. On Saturday, Joe was in New Hampshire even though he thought he was in Vermont. Shhh … don't tell him. It's better that way.
Biden, who is in New Hampshire, thinks he is in Vermont

At some point, the media is going to have to stop calling this "gaffes" https://t.co/Dhno1WN2rU

— Ryan Saavedra (@RealSaavedra) August 24, 2019
Then they turn to the other two septuagenarians, dancing Elizabeth Warren but not red-faced that she lied about being a well … and angry Bernie Sanders screaming and getting so red-faced that paramedics ought to be standing by whenever he speaks, and Democrats grit their collective teeth and cling to one another like a crowd at an amusement park who were just strapped into a rusty, old rollercoaster ride and noticed that a few of the corroded support beams have come loose.
And finally, panic because the also running, also-rans, those younger more idealistic communists masquerading as Democrats who might actually live through a first term as president before being committed or hand-fed by a nurse with an at-the-ready drool towel in the White House, who Dems were hoping would break through into double-digit territory and gather their Big Mo and thunder onto the nomination…well, aren't. Naturally, some are leaving realizing that, well, nobody really likes them, sometimes not even their own parents who will be voting for Trump. One-issue, Washington State Governor Jay Inslee just announced his departure from the race and Gaia became verklempt. And some other lesser known candidate pulled up stakes and left. He had a name, too. But I'm too tired to look it up. Doesn't matter anyway. Not like I'm ever going to be tested on it.
Never mind that among all these stellar candidates that they all agree to a greater or lesser degree on spending an even greater portion of your hard earned income on the Green New Deal or vast portions thereof, Medicare For All – give or take a few provisions, free healthcare for millions who are in the country illegally, Free College Tuition, Reparations for Slavery, and have flirted with the idea of Universal Basic Income…all of which totals something northward of $158 Trillion with capital 'T" and that rhymes with…well… "T" and that spells trouble, my friends, trouble right here in River – sorry, where was I?
Or as the late, great Senator Everett Dirksen quipped, "A few trillion here, a few trillion there, after a while it's almost like real money." Except The Dirkster actually said "few billion" not "few trillion." Not a big deal. My sister was once bitten by a llama. Have you considered a vacation to Venezuela this year?
Anyhoo, all this rank-smelling panic in Democrat ranks puts them in a desperate and foul mood. And rather than actually just running a candidate on their (often dubious) résumé and presumed merits of policy proposals that usher in trillions of new spending who might actually have to sell those whack ideas to the rest of the nation in a few debates with the Donald — they'd like to impeach Trump anyway…for something, anything he might have done including making fun of various Democrat candidates which Snopes, the truth verification service, has stated is actually an impeachable offense. Well, no they haven't…as yet.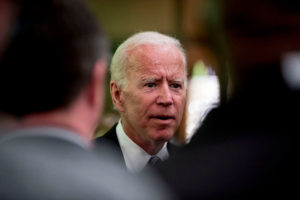 Impeachment is all panicked Democrats have since the Mueller Russian Collusion Witch Hunt non-investigation-investigation blew up in their collective faces. And as most things in life that has a link to a Monty Python sketch or movie moment, the current Democrat dilemma conjures up the witch scene from Monty Python and the Holy Grail, when the rabid peasant mob had to admit that they had indeed dressed up the accused woman as a witch but then scream to have her burned anyway.
When you can't win on ideas because your ideas are patently absurd and so astronomically expensive; when you're not at all confident you can win because well, you're watching your doddering front runner who doesn't know where he is at any given time or what decade he's in, and the rest of the Democrat candidates in all their glory — then all you have left is to wound the big bad orange bear with impeachment in hopes of dissuading him from coming back to eat you for lunch.
But it's important to note that the bear also smells your panic.
Okay, fine…here's the Monty Python clip:
.
Published in General