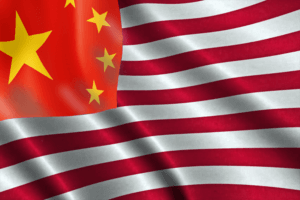 In case of rhetorical emergency, break glass and use the following:
"Today the whole world witnessed [insert bad thing here], and on behalf of [insert your department/organization/government here] we are here to condemn [insert action here or person] in the strongest terms possible."
More likely than not, the only thing that's possible when you're using that phrase is using that phrase. It's a political crutch and has been used for decades and is totally bipartisan in it's usage. Its origins are unknown, although some like to try to peg it to a Monty Python sketch. ("Dear Sir, I wish to complain in the strongest possible terms about the song you have just broadcast about the lumberjack who wears women's clothes. Many of my best friends are lumberjacks, and only a few of them are transvestites.")
The phrase was used in the December 1942 Allied statement that acknowledged the ongoing genocide in Nazi Germany. But since those nations were already committed to full scale war against Hitler that statement had some teeth in it. But not more recently. 
Barack Obama used it the day after the murders in Benghazi. Bernie Sanders used it the morning one of his supporters shot Congressman Steve Scalise. Donald Trump used it after Charlottesville. Virtually every time the phrase is used it has the crackle of Confederate currency. It's physically there but totally worthless.
Which brings us to Communist China and the situation in Hong Kong. Critics from both the left and the right are disappointed that Trump has not been more vocal about supporting the Hong Kong protesters. CNN went as far as to claim that the President promised his silence on the issue as a matter of trade negotiations. And when Trump did back the protesters in his latest speech at the United Nations, his critics brushed it off as inadequate.
So what exactly would be satisfying? It's hard to say. Since his critics on the right have no stomach for tariffs, are they really going to be happy with serious economic sanctions? If you're worried about higher prices on the trinkets you buy at Walmart, or if you're complaining about subsidies to American farmers, I doubt that you're going to welcome trade embargoes or the freezing of Chinese assets in the United States. I'm not sure that anyone on the right is even serious about guaranteeing Taiwan's independence, let alone Hong Kong's. And we're sure as hell not going to be landing any Marines on the shores of Hong Kong or launching ICBMs toward Beijing any time soon.
Let's face it. In the long run the US policy towards Communist China has been a rolling bipartisan disaster. In 2018 America did $659.8B worth of business with one of the most murderous, reprehensible regimes in history, and on terms that benefited them by a 5-to-1 margin. Imagine Ronald Reagan deciding to send jobs to the Soviets and borrowing money from the Evil Empire. You can't? Well, this is what we've done with China. We made the Communists rich and then we borrowed from them to finance our government. What kind of unholy hell is it that we borrow to finance our military and the interest we send them ($99,511,068 per day) finances the People's Liberation Army?
All we're left with is the empty rhetoric of condemnation. But, of course, in the strongest terms possible.
Published in Foreign Policy