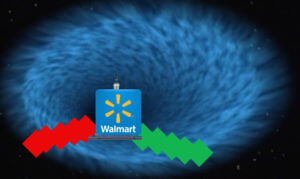 Anyone who values the Constitution, let alone gun ownership and the right to effective self-defense, will immediately punish Walmart, shifting all purchases to:
Dollar stores
Grocery stores
Hardware stores
Auto part stores
…
Even Amazon. Yes, Amazon is also hostile, but this is allying with Soviet Russia to crush Nazi Germany.
We cannot afford to wait and see if "Walmart's virtue signal" in its announcement that it will "stop selling 'short-barrel rifle ammunition,'" will somehow organically, cosmically balance out in our favor. Things can and will get much worse unless Walmart is made an example of, for all corporations that depend on normal Americans' dollars for their business success.
We have no power over Amazon, Apple, or Google. If the left can even hijack Walmart against the bitter clingers, against women with handguns for self-defense, then soft tyranny is our near future. As the NRA finally realized in the last presidential election cycle, the Second Amendment is not going to stand or fall alone. Rather, it is part of a larger set of issues with common enemies. The same crew after your guns also explains "shut up," until they invent governmental and quasi-governmental tools to compel you to affirm them and denounce what they want denounced. Starbucks is not vulnerable to push-back, to any cultural counter-attack. Walmart is. This is the most likely chance to effectively fight back.
The Walmart CEO tipped his hand in a published internal memo. He is eliminating handguns and handgun ammunition as a category that a socially responsible business would carry. He is doing the same with the most popular self-defense long-gun ammunition 5.56/.223). He is using his position to push a new "assault weapon" ban. He privileges people feeling "unsafe" when they merely see a gun. The icing on the cake is the total gun-grabber tell of professing respect for the tradition of hunting and outdoor sports with supposedly traditional rifles and shotguns. He could have got that from Joe Biden.
Walmart is vulnerable. They are desperately trying not to go the way of Sears. Their customers can crush their current corporatist leftist CEO, Doug McMillon, who has allied himself with the New York Times, and quickly force a turn back to Americanism. The rule is simple: no shopping, and no allowing people who shop there to bring Walmart bags or house brand stuff to your dwelling, your office, your picnic.
African-Americans won with this technique in the 1955-1956 Montgomery bus boycott. They won by ruthlessly self-policing. It is disempowering nonsense to assert that boycotts are ineffective. They simply take real grass-roots will, with a bit of organizing direction. It is no answer to say the issues are different or that the level of contemporary oppression differ greatly. Such objections seek to divert from the study of an effective campaign, dropping us back into the business-as-usual of slowly losing rear-guard actions.
I say it is worth showing respect by studying success. It took a whole year to win local bus desegregation. It cost every man and woman in the boycott hours of lost time, outside of work, each day. In a day before cheap sneakers, it cost shoe leather and physical discomfort added on top of already hard physical existences. How do you get people to hang together, when any one person abstaining, choosing to rest their tired feet for an hour, would seem not to matter so much? It was a classic collective action problem.
Now, we can say that everyone felt a sense of community, and we can say the same for labor unions in the early days. But, it is still human nature to free-ride. So, behind the sense of community, you must have effective social sanctions. Can such sanctions work across the heartland, when there are so many stores? I believe people still have the power.
The only boycott exception, where legal, might be to get in the CEO's face with open carry. Carry politely, legally, openly. Then, expecting confrontation by employees, have a partner obviously employing a cell phone or GoPro camera to capture everything. This is fraught with risk, so should be carefully managed in a larger campaign, not free-lanced. It truly is public street theater.
People do not normally carry long arms on their persons while in town. By contrast, many carry pistols. If there was a public theater act, it should most certainly be part of a messaging campaign. Any long gun should be visibly safed, no magazine, and the action open. Such acts would challenge the real position of the current Walmart CEO, with a "hunting" rifle, bolt-action or lever-action. The actors would best be "people of color," women, or sexual minorities. The scripted messaging would be about real "safety" for vulnerable communities.
The Starbucks case is instructive. People started having constitutional carry meet-ups to celebrate Starbucks being a coffee shop that permitted open carry. Gun control groups reacted. Because the gun-grabbers made open carry an issue, Starbucks then took what is now the Walmart position, with an open letter on open carry from CEO Howard Schultz:
Recently, however, we've seen the "open carry" debate become increasingly uncivil and, in some cases, even threatening. Pro-gun activists have used our stores as a political stage for media events misleadingly called "Starbucks Appreciation Days" that disingenuously portray Starbucks as a champion of "open carry." To be clear: we do not want these events in our stores. Some anti-gun activists have also played a role in ratcheting up the rhetoric and friction, including soliciting and confronting our customers and partners.

For these reasons, today we are respectfully requesting that customers no longer bring firearms into our stores or outdoor seating areas—even in states where "open carry" is permitted—unless they are authorized law enforcement personnel.
In response, a gun-grabber showed the rest of the left's hand:
"We think that this is not just a huge win for American moms who are realizing their voices matter in gun reform, but also this is a sea change for gun culture in general," founder Shannon Watts told Co.Exist. "You have a worldwide business icon saying after decades it's no longer acceptable to bring guns in his stores. This is just the beginning of making guns in stores just as distasteful as smoking and drunk driving."
Gradual pressure by individuals will be lost in the noise of other economic and business signals. A sharp, large drop in both floor traffic and online sales, corresponding with increased sales for corporate rivals, is needed to shock the corporate board into removing the gun-grabber CEO (no handguns, no self-defense long-guns, guns as objects of public fear and shame, "hunting" offered as cover and as the old gun community wedge issue).
Effectively, immediately, socially shame anyone who slacks off and goes to Walmart. This can and should be polite, educating friends and family while simply not accepting Walmart bags and brands in your area of control. The aim must be driving the CEO, who publicly announced a larger gun-grabbing initiative, out of his job on the worst possible terms. Contrary to David French, Walmart is not a 50/50 customer base. It is not even close, as everybody knows. It should not take a year, and should not require closing stores, rather the revenue hit should be constantly reinforced with the clear, disciplined demand for policy "roll-back" and CEO sanctioning.
In the age of social media, can such a campaign be organized from the grassroots, or brassroots? Are there other social media campaigns from which to learn? Does it still take an organization with leadership? If so, what group or leader is most likely?
We have the power, and we will use it to rescue Walmart, starting to turn the corporate tide, or we will buy the rope to hang ourselves one shopping receipt at a time. The left has already signaled delight in Walmart as a leader providing cover and pressure for the complete removal of firearms from the public sphere, except of course for those in the hands of agents of the state and the private security forces of the elite. MAGA politicians, starting at the top, need to recognize the threat and start fixing the Walmart CEO at the center of negative public relations attention. Perhaps they could start with quoting and posting Tucker Carlson video clip remarks, or refer to his extended remarks at RealClearPolitics on Walmart.
And: we need to take a friend or relative to the range, with pistols, and maybe one of those "scary" guns with the mild recoil of .223 ammunition. Another Ricochet member has this just right:
We are being othered once again and backed into a (cultural corner). It's the same playbook they used on smoking: We know they would use it, and yet we are letting them win.

We need to make gun ownership normal. It's up to us, not the NRA, not the politicians, not anyone else. Take someone shooting. When we do that, we win. It's that easy.
Rock out to Snap! on the way to the range: "(I've Got) The Power."
And: Perhaps even make it a range afternoon, after weekly worship services. As another Ricochet member, a friend, pointed out in another of my political posts, what we really need is people looking up from themselves towards the divine. It is a heart condition problem, not a material tool problem.
[8 September 2019: Thanks to great constructive, critical feedback, I offer this extensively revised, expanded argument on my 5 September base piece. For an extended, thoughtful rebuttal, "So, who am I boycotting this week?" see our Member Feed. Not yet a member? You are really missing out! Try it out, and I believe you will agree.]
Published in Guns