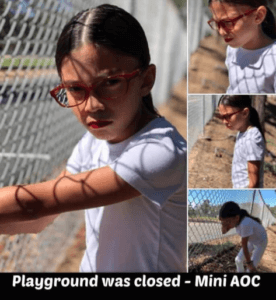 Leftist thugs bullied and threatened the life of an 8-year-old girl for daring to parody, to expose to laughter, their leader AOC. The leftists, who have so far faced no criminal or even social media company sanction, have proven, once again, that totalitarians cannot tolerate laughter at them or their ideas. Yet, if AOC could only chill out and seize the obvious pop-culture reference, couldn't she gain a broader and deeper cultural cool cred?
The Mini AOC social media accounts were created by a father and mother with an 8-year-old daughter who had the acting chops, the presence, to gently satirize Congresswoman Alexandria Ocasio-Cortez. They did not seek anonymity. Rather, they acted as Americans who expect to be able to poke fun at our politicians.
This went on for some months until AOC was exposed for having staged, with the full collusion of the leftist media, a fake crying session. It was fake on every level, including the location, which was a chain link fence in front of an almost empty parking lot. The left's standard position in such cases is that it was fake but true, that political theater is "true" if it communicates the politically correct message. 
Mini AOC fundamentally disrupted this message by daring to parody AOC's poses, "crying" in front of a fence that keeps her off a playground. This fundamentally rejects the "fake but true" claim, as the parody dares to expose AOC to laughter, to expose her pretensions, instead of granting that we must accept the political theater, however absurd, as morally serious. Here, a child gently mocks the adults claiming to weep for "the children." 
AOC, as a humorless leftist, appears happy to benefit from her leftist social media street thugs. After all, she is all over Twitter and Instagram when she wants to be, and instantly engages with any who dare challenge her. Silence, here, is approval, as the "Mini AOC" parody videos have been deleted due to death threats, and the accounts deleted, by the little girl's parents.
Understand, this young girl was on a path to be a minor child celebrity, like thousands of child actors over the decades. She was getting her start in short form visual and video comedy. There is no "asking for it" or "should have known better" here, unless you have signed on to the left's absolute moral right to totalitarian control, to unchallenged supremacy in the public square.
Oh, and the Department of Justice and Federal Bureau of Investigations are completely negligent here. The threats are federal crimes and the feds have the resources to find and prosecute the perpetrators. It is time for the president or the Attorney General to force the nearly-100% Democrat careerists to act against their #resistance agenda. Time to go heavy on leftist thugs and their social media company enablers, especially with such a sympathetic victim. 
If AOC was not the leftist hack that she is, she would have already flown, virtually and literally, to the defense of this little girl. In fact, she would have already arranged a live event together, on one of the late-night leftist propaganda platforms formerly known as TV talk shows. Think Mike Myers as Dr. Evil with his Mini-me, the likely source of the "Mini AOC" persona. Now think an SNL skit with the two telegenic performers, one a Congresswoman and the other a little girl dressed up like her.
This would absolutely kill in the ratings. It would draw the sting of well-deserved parodies. It would make AOC an even more formidable public force. A young politician with AOC's physical presence and an ability to laugh at herself? That would be widely appealing and disarming. It would be Bill Clinton on steroids. So, can AOC chill out for wide and deep cultural cool cred?
Published in Group Writing