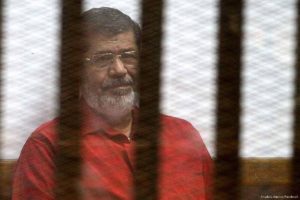 Mohammad Morsi, who was elected president of Egypt leading an Islamist party, died in court late Monday. He had been deposed by the military after imposing an Islamist constitution and showing his ties to the Muslim Brotherhood more clearly. The military acted after a second wave of popular unrest showed people wanted change, but not quite the change Morsi seemed to be delivering.
France24 reports Morsi was buried Tuesday, in keeping with the custom of burial as soon after death as possible:
Egypt's public prosecutor said Morsi was pronounced dead in hospital at 4:50pm local time. He said the medical report showed no apparent sign of recent injuries.

The former leader was buried in a solemn ceremony attended by his family in Cairo's western district of Nasr City early on Tuesday, one of his lawyers, Abdul-Moneim Abdel-Maqsoud, told the AP.
Both France24 and Deutsche Welle produced short summary videos. They are markedly different in content and tone, reflecting sharply different national policies and politics.
The French report seems like straight news reporting. You hear about a new constitution as evidence supporting concerns about the direction he was taking the country. Contrast this with Berlin's view, omitting the detail about the new constitution and rolling out a series of attacks on the current Egyptian government, hinting at foul play.
Maybe this is one more dot in the growing collection pointing to the wisdom of shifting our military presence in Europe from Germany to more compatible states like Poland. Perhaps these two official narratives form two more points building up the pointillist image of Southwest Asian geopolitics. Of course, watching coverage and responses from inside and outside Egypt, an alternate headline could be: "With Death of Morsi, Mischief May Ensue."
Published in Foreign Policy