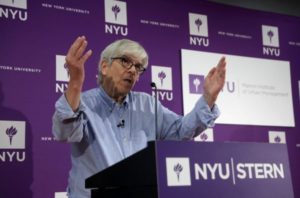 Is Big Tech today as dangerous as Big Money a decade ago? Economist and Nobel laureate Paul Romer seems to think there are disturbing similarities. In a New York Times op-ed, Romer advocates taxing revenue from the sales of targeted digital ads to check the size and power of "dominate digital platforms," specifically Facebook and Google. "Our digital platforms may not be too big to fail," he writes. "But they are too big to trust." Romer's policy goal is to nudge these companies away from the original sin of advertising-driven business models, and Romer sees a Pigovian tax as a more efficient way to reduce their size and influence than antitrust or regulation. He doesn't like targeted ads, nor the financial power they generate.
Romer's approach toward Big Tech might sound familiar to anyone who followed the post-Financial Crisis debate about Wall Street and "too big to fail." Among the policy options for taming the megabanks and de-risking their business models were regulation, antitrust, or higher capital requirements. That last one, advocates argued, was the most efficient and market-friendly way of making failure less likely, potentially serving as a de facto tax on bigness, or even spurring a self-initiated breakup.
Similarly, Romer thinks his tax would spur a shift from ad-driven business models to one based on subscriptions — otherwise, firms would face ever higher taxes. The progressive nature of the ad revenue tax "would have the added benefit of creating a corporate version of a marriage penalty. When two companies combine, their total tax bill would go up," according to Romer. Or a large company "might reduce its tax bill by breaking itself into several smaller companies." With this tax in place, Big Tech would also be less likely to scoop up potential competitors. Congress could even create a Dodd-Frank for tech, Romer adds, defining "systemically important social media platforms that would be required to meet stringent transparency standards."
Romer won that Nobel for his work on technological progress and economic growth. And when someone whose scholarship helps explain the power and impact of Silicon Valley calls Big Tech a "threat to our social and political way of life," it's worth taking seriously. But Big Tech is different than Big Money. The harms from the Financial Crisis were real, measurable, and massive. And recall Paul Volcker's 2009 quip that while bank risk-taking almost caused a depression, their only useful innovation over the previous 20 years was the ATM.
Less obvious are the supposed harms from Big Tech — at least ones amenable by tax law — as firms continue to create jobs, boost consumer welfare, and spend billions on innovation. All that thanks to the ad-driven business model, the fabulously successful grand bargain of user data in exchange for free services. And what a bargain — at least according to studies which find users say they would need to be paid hundreds or thousands of dollars to abandon search and social media offerings that are currently free.
A different business model might well make different demands on user data and privacy, but social media might also continue to be, as Romer describes it, "a haven for dangerous misinformation and hate speech that has undermined trust in democratic institutions." And it's not like tech companies aren't already thinking hard about pivoting to new business models. Romer has proposed a clever idea, but its simple elegance hides some potentially messy and complicated consequences.
Published in Economics, Technology