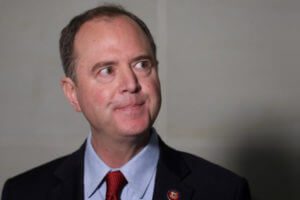 I am still confused by Rep. Schiff's repeated claim that Trump must be impeached for attempting to interfere in the 2020 election. I know that Jen Rubin, Bill Kristol, and the wider NeverTrump universe are in near-orgasmic agreement with whatever Schiff says in his anointed role as Trump-Slayer-in-Chief (a title formerly held by Robert Mueller) but I find the logic of this particular charge convoluted. I don't get it.
Let's assume that the leadership of Ukraine capitulated to the pressure they did not know was being applied and began the investigations that Trump had requested (which have not yet begun and for which inaction there was never a consequence as would be expected in a quid pro quo— but never mind that now). [Note: See Comment #4 from @kozak below Turns out they were already investigating prior to the Trump request.]
If the investigation were to find nothing, then Mr. Biden not only suffers zero adverse political consequences but could then argue that he and his family were unfairly targeted—a political plus for being a victim. The only way Trump gains an advantage is if the Bidens are in fact dirty, i.e., the absurdly exorbitant payments to Biden the younger did, in fact, purchase the desired influence and protection from Biden the Elder in his role as point man for the US on Ukraine policy. Given the broad, detailed involvement of the Obama administration in the selection of investigative targets subject to Ukrainian anti-corruption law enforcement, it is entirely reasonable to believe that such an investigation is warranted and would be fruitful.
To be clear, Trump could only meaningfully affect the 2020 election if the Bidens are, in fact, dirty as revealed by further investigation. So, Schiff's charge comes down to a really weird assertion that the President of the United States had no right (despite a treaty of express cooperation in investigative matters) to request/demand an investigation of apparent wrongdoing involving Americans if one or more of those Americans had a reasonable shot at securing the nomination of the Democratic Party, no matter how reasonable such an investigative request would be otherwise.
But let's further assume that President Trump was gleeful at the prospect of a scandal bringing down his prospective rival. If there are other lawful considerations at work in delaying the aid, does the existence of this allegedly impure motive negate them? If he is antagonistic to and suspicious of Ukrainians in general for their overt assistance to the Clinton campaign and their widespread corruption, and he believes that such corruption is ongoing and pervasive, can he delay aid while insisting on a demonstration of serious anti-corruption actions of which the Biden investigation would be only a part? (Past presidents have tried to impound or delay spending they believed to be wasteful or misguided, including Obama, and have imposed conditions on its release. Not usually lawful but never regarded as a high crime until now.)
The transcripts of the phone calls (which Schiff clearly did not expect to be released) did not include a quid pro quo, yet in the Schiffian mental universe, we know it was there, somewhere in Trump's mind because it had to be. The "whistleblower" had provided Schiff with an inaccurate, third-hand account of the phone call which formed the basis for the Schiff Impeachment drive. This continued despite expressly contrary evidence and a distinct lack of factual support because we know that bad intent thing is somewhere in Trump's mind, which also helps explain why the search for evidence will be eternal.
We need to be clear that, because there were no unlawful actions, the prosecution has to come up with some kind of corrupt, unlawful intent behind otherwise lawful actions. The dispositive fact is that if President Trump reasonably believed the Bidens are dirty and an investigation was warranted on the facts, then it was not possible to have an improper intent, even if he simultaneously thought there was a potential political benefit in uncovering their bad actions.
The mental gymnastics required to ignore this simple truth and stay in Orange-Man-Bad mode must be tiring. It is certainly tiresome.
Published in Law, Politics