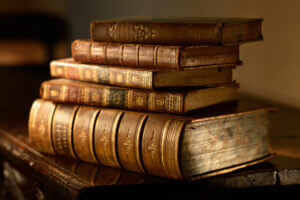 A year ago I wrote an article called "Keeping Up" (published elsewhere) about my reading plan for 2019. I noted that since I have fewer reading years ahead of me than behind me, it would be a good use of my time to plan the coming year. It is part of my winter of discontent that I failed to keep that plan.
Not that my plan wasn't good. To quote myself:
Next, read categories: This year you will read classics, next year economics. I know it is important to read broadly, but not indiscriminately. When I do that, my reading descends into pulp fiction or works of slight worth.

Next year I plan to read long books. This is because, in my effort to read many books this year, I drifted toward shorter ones. Some of them (like The Usefulness of Useless Knowledge, by Abraham Flexner) were of great value, others were not. So next year's list includes The City of God, Witness, Chemnitz's Two Natures in Christ, and maybe even Infinite Jest. Make that my list for the next two years.
Bleah. I did read Two Natures, so in a way, the whole plan was worth it. And I finished and restarted Infinite Jest, showing that I get the joke. But I made it all of two pages in City of God, and I'm only halfway through Witness. I also filled a lot of time with the shorter books I vowed not to read. (I finished 32 books, which was 20 more than I wanted.) I guess it's "do as I say, and not as I do."
My advice wasn't done, though: 
I have also committed to reading slowly. A pastor friend once told a group of us that for him the chief benefit of reading texts in Greek and Hebrew was that this forced him to slow down. He could take in each word, phrase, or unit of meaning, and so fully exploit the text. . . I've been working on The Waste Land for a month now. I'm through the dedication and the first six lines. That may seem like (pardon the pun) a waste, but all I can say is, try it. You'll be pleased how a sip of great wine satisfies more than a bottle of Manischewitz.
No, I'm not a prig. Or am I?
Next, read the classics. We all know about Don Quixote, but not all of us have read Cervantes. Or if we've tried, we gagged on the wooden translation. The good news is that many of those classics are now being rendered anew by able translators. I've started The Three Musketeers in Lawrence Ellsworth's translation. It's a rip-roaring read, and not the snore-fest I remembered.
And I'll stand by this last: 
My last tip is to reread. Probably ten per cent of the books I read I've read before, sometimes years before. I'm shocked by what I remember and what I've forgotten. The joy of rereading matches the joy of listening again to a song you love.
What's the plan for this year? Poetry, excluding Shakespeare's plays (they will get a year to themselves). I'm including Homer, The Aeneid, The Divine Comedy, Donne, Milton, Browning's The Ring and the Book, as much Blake and Keats and Byron as I can handle, some Eliot, and (new to me entirely) Micheal O'Siadhail's Five Quintets. I'm throwing in Tolkien's The Fall of Arthur too.
Looking further, I hope to have a year of reading US history (with Paul Johnson and Jill Lepore at the top of the list, along with biographies by the likes of Niall Ferguson and Ron Chernow), a year of reading Faulkner, and a year of reading the stuff on my bookshelves I haven't gotten to yet. If I'm still alive after that, I intend to tackle The Anatomy of Melancholy. And on and on and on.
Looking at these lists it appears I've learned nothing. Except that we readers are doomed to our discontent, winter or summer.
Published in Group Writing, Literature