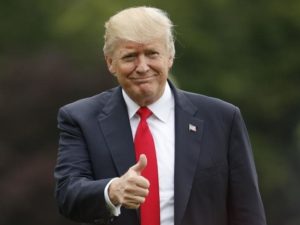 President Trump is the most conservative president of my lifetime, including President Reagan. This is true, as a matter of fact, across all three of the legs of the old conservative coalition stool: economy, national defense, and social conservatism. With an impressive record of promises kept, despite the worst efforts of Democrats and Conservatism Inc., American voters have a real choice in 2020.
President Trump has done more to strengthen NATO, as opposed to papering over other nations' hiding under our nuclear umbrella and so shifting the burden onto our taxpayers and our cities under ICBM target designations. He has, without a massive military build-up (despite his hyping of our latest purchases), imposed more economic pain on bad actors (Russia, China, North Korea, and Iran) than any president since at least Reagan, and done so to the advantage of American working families. President Trump's policies have paid off in growing NATO member states spending at least 2 percent of their GDP on their own defense, from two to eight members, outside the United States. This satisfies Americans' basic sense of fairness, building a reasonable basis for continued commitment to an alliance that is finally showing signs of taking itself seriously. Such a substantial demonstration of commitment also serves notice to Russia and China that NATO is not a paper tiger.
President Trump has similarly pushed the United Nations to really live up to its fine phrases, its written aspirations. Far from abandoning the world or merely patronizing other nations, he has treated them as adults, as sovereign states who are entitled to pursue their interests while we pursue ours. He made that point again in hosting an on-camera meeting of the U.N. Security Council members. Read or watch the remarks and you will see even China engaging in a mutually respectful manner.
President Trump is the first president since the New Deal to actually attack the onerous burden and unconstitutional arrogation of authority in the regulatory state, resulting in a massive effective tax cut entirely outside of the budget process. The latest jobs report smashed "experts" expectations and provided the occasion for the Office of Management and Budget to trumpet the massive transfer of wealth from the permanent bureaucracy back into the hands of the American people. This is wealth that was being destroyed by regulation, not even having a chance to pass through the taxable economy. These actions, pushed hard by President Trump, unlike any other modern Republican president, are especially advantageous to small businesses, and so to women, minorities, and lower-income whites with a dream of business success.
President Trump has done more for racial harmony and more for minority economic empowerment than any other modern president, as he has ruthlessly pushed for real job creation and real wage growth for those in the lower-income quintiles. This has been cutting the legs out from under the racial resentment industry, including the white racial grifters. TruCons like Ben Shapiro conveniently flip their arguments from claiming, with evidence, that Latin American immigrants vote overwhelmingly for Democrats, to claiming, without evidence, that patterns of immigration have no predictable effect on our electoral and then constitutional system. Yet, it is President Trump, who they find so personally offensive, who is actually, consciously, carrying out a program of programs to shift voting patterns, by listening and responding to needs rather than talking down to people without the right graduate school diplomas. If Latino, African American, and Asian voters really change their voting patterns, it will be thanks to President Trump, and not at all thanks to the Paul Ryan, Chamber of Commerce, AEI, National Review crews.
In the same manner, President Trump, a man whose faith has seemed mostly of the civic religion, basic respect for country, version, has done more to actually fulfill promises to "social conservatives" made by Reagan and every Republican presidential and Congressional leader since. See his very careful selection of judges at every level. See his administrative defunding of Planned Parenthood. See his aggressive promotion of religious liberty in every agency, led by Attorney General Barr's eloquent defense of our history and liberty. See his relocation of our embassy to the actual capital of the state of Israel. See his personal promotion of protection for religious minorities around the world.
Closely connected with the defense of the first clause of the First Amendment, President Trump's appointees in the Departments of Justice and Education have also pushed back hard against leftists suppressing conservative speech and assembly in public educational institutions. The Department of Justice revoked all the lawless "dear colleague" letters and ordered all agencies to refrain from any more avoidance of the formal, public, rulemaking process. Just this week, Justice intervened in a court case involving outrageous prior restraint on speech at Jones County Junior College. The statement of interest is devastating, as is the 9 December DOJ press statement:
"The United States of America is not a police state," said Assistant Attorney General Eric Dreiband for the Civil Rights Division. "Repressive speech codes are the indecent hallmark of despotic, totalitarian regimes. They have absolutely no place in our country, and the First Amendment outlaws all tyrannical policies, practices, and acts that abridge the freedom of speech."

"Unconstitutional restrictions on our first freedoms to speak and assemble directly threaten our liberty as Americans," said U.S. Attorney Mike Hurst for the Southern District of Mississippi. "While some may disagree with the content of one's speech, we should all be fighting for everyone's Constitutional right to speak. I pray JCJC will do the right thing, change its policies to comply with the U.S. Constitution, and encourage its students to speak and assemble throughout our free state."
President Trump is aggressively selling the product of promises made, promises kept, most recently at the Israeli-American Council's national summit, in Florida, while Vice President Pence drove the points home hard to faith leaders in Kalamazoo, Michigan. We have a real choice, so what will you do about 2020?
— Dan Scavino (@DanScavino) November 13, 2019
Published in Politics