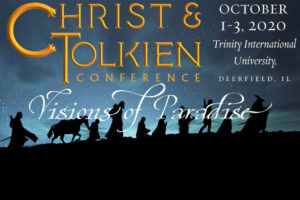 Ricochet has many Tolkien fans and many Christians, so I thought you might want to pencil in a new conference. Aptly titled Christ and Tolkien, it will be held Oct. 1-3, 2020, in Deerfield, IL, just north of Chicago.
Tolkien's works present many Christian themes, though not quite as obvious as those of his dear friend C.S. Lewis. JRR's defense of the faith helped CS abandon atheism and embrace Christianity. The two went on to found the Inklings, a famous literary discussion group held at the Eagle and Child pub near the University of Oxford. (Full disclosure: I stole the name "Inkling" for my college graphic design business.)
The Christ and Tolkien Conference will discuss and celebrate the author's works from all traditional Christian points of view, be they Eastern Orthodox, Catholic, or Protestant. It's a chance for Tolkien fans and scholars to engage more deeply with his writings and each other.
Speakers announced so far include Bradley J. Birzer, Ph.D. (Russell Amos Kirk Chair in American Studies and Professor of History, Hillsdale College); Lisa Coutras, Ph.D. (author of Tolkien's Theology of Beauty: Majesty, Splendor, and Transcendence in Middle-earth); and Gary Jenkins, Ph.D. (Director of the St. Basil Center for Orthodox Thought and Culture at Eastern University). The conference is sponsored by Ancient Faith Ministries, the only podcasting outlet that consumes nearly as much of my time as the Ricochet Audio Network itself.
So if you're in striking distance of Chicago or can get there next October, give it a look!
Published in Literature, Religion & Philosophy