The military used to be one of the most highly respected organizations of our federal government. Over time, however, it has suffered from the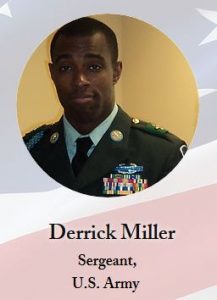 criticism of a Progressive society. Barack Obama made some of the most drastic changes to the military and in so doing exacerbated the negative perceptions of society toward the military:
A curious thing happened in the second half of the Obama era: The commander-in-chief began viewing the military less as an entity designed to destroy enemies but a tool with which to achieve progressive goals. Warriors were turned into social-justice warriors. Men and women with risible-to-nonexistent military records were made heads of the services. Navy Secretary Ray Mabus (who had logged all of two years' service as a junior officer) named ships after Cesar Chavez and Harvey Milk.
Instead of celebrating the military's role in protecting our country, they were enlisted in the Progressive movement; fighting real wars became an inconvenient necessity. And members of the military were viewed with suspicion and derision.
When we look back at that period, we can understand why providing justice to men and women who were seen as just "killing machines" was considered unfair to the Progressive cause. If foreigners were killed on their watch, then our military must have been to blame, and military prosecutors acted accordingly. One man was not willing to stand by and watch this disparagement unfold, even before President Obama took office:
In November 2005, retired Marine Corps Major Bill Donahue saw eight Marines accused of killing Iraqi civilians being treated like convicted felons before they were even tried. The images of them in hand and leg irons, prior to any finding of guilt, saddened and offended the Major, who had seen combat, and was awarded the Purple Heart, more than once during his service in Vietnam.

Maj. Donahue decided right then and there he would do something to ensure the Haditha Marines had the best legal representation accessible. Of course, the accused enjoyed free legal counsel from uniformed Marine and/or Naval Judge Advocates, however, given the severe penalties at stake and the fact that these allegations occurred during the 'fog of war,' Maj. Donahue believed the Marines deserved legal counsel with more experience than the six to eight years of exclusive military justice experience a uniformed Judge Advocate could bring to the fight.
By June 2008, six defendants had their cases dropped, a seventh was found not guilty and eventually an eighth was convicted only of a single count of dereliction of duty. Maj. Donahue's decision resulted in the formation of United American Patriots (UAP).
UAP's mission is to protect soldiers, sailors, and marines from prosecutors who abuse the system. They are dedicated to ensuring that warriors rights are protected, including the 5th and 6th Amendments of the Constitution; ensuring that juries receive the evidence they are entitled to, including exculpatory evidence and other information deemed, "mitigating factors" and "extenuating circumstances" by prosecutors; and ensuring that prosecutors do not prevent, ignore or deny forensic evidence, as well as bringing in witnesses that might not have been included by prosecutors.
As a result of the fine work of UAP, Rep. Duncan Hunter and Rep. Louis Gohmert formed the House Congressional Justice for Warriors caucus. They visited 1Lt. Clint Lorance, Chief Petty Officer Eddie Gallagher, and Maj. Matt Golsteyn at Fort Leavenworth, and wrote follow-up letters to President Trump on November 6:
Yesterday, the Congressional Justice for Warriors Caucus (CJWC) delivered a letter to President Donald J. Trump praising his consideration of the cases of 1Lt. Clint Lorance, Chief Petty Officer Eddie Gallagher and Maj. Matt Golsteyn for action as soon as November 11, 2019, on Veterans Day.

Pursuing justice for these warriors has been of paramount importance to the CJWC, which has worked diligently on their behalf.

The caucus also requested review of two additional cases: Sgt. Derrick Miller and 1Sgt. John Hatley.
I was moved to write this post after hearing the podcast of Larry O'Connor where he interviewed Derrick Miller, one of the soldiers who was unjustly prosecuted. I am relieved to know that we now have the Justice for Warriors caucus, as well as the United American Patriots to help ensure that justice is done. Rep. Duncan Hunter reflects my views well:
Thank God for President Trump, who had the courage to stand up to a military bureaucracy that wanted to maintain the status quo. Unfortunately, a Presidential action to right the wrongs of our military justice system shouldn't have been necessary. Common sense and justice should have prevailed in these cases. Instead, bureaucracy and politics got in the way, and cost our warriors years of their lives that they cannot get back. We owe it to these men to fix our broken military justice system and ensure that history does not repeat itself. Together, with the Congressional Justice for Warriors Caucus, that is what I will do.
May justice be served for those who have served this country.
Published in Military