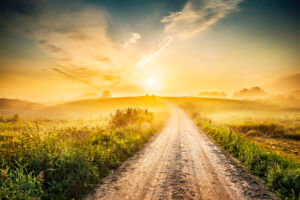 I'm tired of people describing their spiritual lives as "spiritual but not religious." I have little respect for people who wear the spiritual label to show how enlightened they are, and how they have freed themselves from the archaic practices of religion.
I know there are many people who have had painful experiences with religion and thus have chosen this narrow journey of spirituality. Many people have had difficult, emotionally wounding experiences with organized religion. They have been betrayed by a spiritual leader or were taught as a child a fearful or hateful version of religions. They were expected to follow rituals they didn't understand or resented. All in all, early experiences left them empty, without filling their hearts and souls. Even my own mother felt rejected; she had wanted to join a synagogue, but we had limited funds. She left hurt and embarrassed after visiting the synagogue, when they told her they couldn't adjust the fees for her poor financial situation.
There are also many people who, for one reason or another, never felt connected to their religion. A plethora of people and entities could be blamed for this lack of fulfillment. In many cases, parents didn't know how to communicate the depth and meaning of the religion; often they themselves had been poorly educated, so that the religious observation was a perplexing combination of ritual, holy days, and practices to which they couldn't relate. The mix of observances just seemed to interfere with everyday life and didn't seem to provide a meaningful purpose.
And yet there are many people who have felt that "something was missing" in their lives; it didn't occur to them that their earlier experiences had to do not just with particular churches or synagogues, or with certain religious leaders, or even with their families, and that their generalizations about religion might be incomplete. Instead, they may have asked themselves why they should go back to something that had already failed them. And there are others who feel moved to "try something" outside of religion. I describe those efforts as "dabbling," "trial efforts," or "just spiritual," or a mixture of all three.
"Dabbling" describes" trying out different practices they've heard of or read about. These efforts are often superficial, like trying on a new dress to see how it fits. When a woman dabbles in clothing styles, she often puts a value on whether the color suits her, whether the outfit complements her body type, or whether it's a practical addition to her wardrobe. If she doesn't like it, she can always return it. Unfortunately, that's how some people explore religion: what looks good, which things "feel" right, which make the fewest demands. They move in and out of belief systems as if they are changing outfits. They may assume that they may find something that suits them, but underneath, they are too reticent, too wounded, or too disillusioned to take a risk to make a serious religious commitment. So they spend a lifetime dabbling and call it spiritual.
Trial efforts are made by people who aren't quite satisfied with their lives but feel they are willing to try something else; this description described me at one time, although at the time, I didn't see it as a trial effort. I had never deeply connected to Judaism and I liked Zen Buddhism, liked many of the teachings, appreciated meditation and even enjoyed most of the rituals. I felt that it deepened my spiritual life, especially since I felt it brought me closer to G-d. I didn't go into Zen with that intention, since Zen is not a theistic practice, but it doesn't forbid believing in G-d; ironically I felt G-d's presence more deeply when I practiced Zen, and I know that meditation contributed to my experience.
But life was determined to move me away from Zen and in some ways, I sabotaged my own practice. Left bereft with no religious framework and no community, I questioned where to go next. Eventually, as many of you know, I returned to and embraced my original faith of Judaism.
Others who engage in "trial efforts" often try more than one faith. This decision is deeper than dabbling, but it often is fairly limited in the way it works upon the soul of an individual. That result could be due to the ambivalence of the practitioner, or due to a mismatch with a religion, or due to the person expecting the perfect practice and finding problems with it over time. When disillusionment sets in, a person can muddle along indefinitely, or move on to a new religion.
Finally, there are those who want to be "just spiritual." They've had little exposure to formal religion, and what they've learned has been critical of religion. They've been told that people of faith just believe in a "big man in the sky," and they perceive religion as primitive and restrictive.
People who want to be just spiritual often don't even dabble They experience spirituality through a beautiful landscape, brilliant sunset or some other part of nature. They see no need for ritual, for a framework of values and beliefs to build on. They want to be free to be spiritual when the moment moves them.
* * * * *
It's occurred to me that one of the greatest barriers to others embracing a religion is that it is often filled with paradoxes. How do those of us who are religious explain that the deepest experiences can come from the limits we set in our lives? How do we describe the freedom and satisfaction that comes from following a belief system that seems to restrict us and is even difficult? How do we show people that we grow through spiritual questioning and examination? How do we demonstrate that believing in and opening ourselves up to a divine being can be some of the most intimate and rewarding times of our lives?
* * * * *
The spiritual choices that people reject or embrace not only affect themselves, but affect their families, their communities, even this country. Unless they transcend their self-centered views, they will have restricted their own lives and their ability to influence this country in a wholesome, positive way. Everyone loses.
* * * * *
To understand these factors is more than an intellectual exercise; these are not ideas you can read about in a book to determine that they are true. Study is invaluable, but study without experience will rarely fulfill one's spiritual hopes. But if one studies religion, asks oneself the toughest questions and requests divine guidance, practices with devotion, and an open heart, all things are possible.
Published in Religion & Philosophy