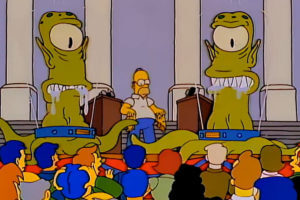 I have long suspected that Beto O'Rourke is an alien, and not the kind that merely comes from another country, but one who may not even be from this solar system. His presidential campaign, after all, is a strange and almost parodical pastiche of exactly how conservatives have parodied the extremes of liberalism for years. It's as though all he knows of being an "Authentic American" came from a battered bootleg copy of Jack Kerouac, and all he knows of campaigning is what he learned some 20 light-years out as the faint broadcast signals of the late 90s reached his starship, and the only one he could pick up cleanly was Rush Limbaugh's brief TV run. Plus an early Simpson's Halloween special that he misunderstood as a training video for his species.
How else does one explain Beto's outbursts and truly bizarre proclamations? They're not the sort of thing a sane and rational Democrat would actually say out loud and in public even in these crazy times (even if they were thinking them). Most politicians have at least some inner-monologue filter that prevents them from appearing honest or emotional, and they normally only disable that filter if they think nobody is listening (which is a foolish assumption anymore because somebody is always listening, somebody always has a voice recorder and video camera handy in the form of a phone). Romney's "47 percent," remark, Hillary's "Basket of Deplorables," Obama's "Bitter Clingers," and ¡Jeb!'s entire primary bid was all well-remembered political gaffes, not political triumphs, but one suspects Beto does not quite understand the context, and thus misses the lesson.
Already Beto bears an uncanny resemblance to Otto, from A Fish Called Wanda (Link here, language warning), reading the news and the signs of the times, but not understanding any of it. And so it was that after decades of the Democrat Party insisting that its drive for gun control and registration was only about safety, and would never ever pinkie-swear lead to confiscation, what does Beto say?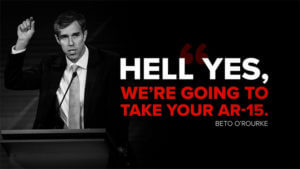 He wasn't supposed to say that out loud! You never say anything like that out loud! You don't say that unless you're hoping to lose, and lose bigly. And if you're hoping to take out a few others in your party too. I can imagine that after that debate the burly guys in white coats were waiting with the happy juice, but (since Beto is not actually human) it did not take. One would think that angering gun owners (about as single-issue a voting block as Pro-Lifers, and always tetchy since leftists are always singling them out) is something the Democrats want to avoid doing in a national election, given how motivated they are as voters. But not Beto. The filter is missing, and so is the understanding. About what one would suspect if he were either a fool or (as I am now convinced) a space alien.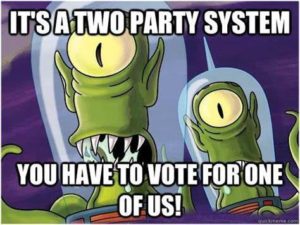 After all, for his next act, Beto had to take a swipe another rather tetchy and under-siege voting group: Christians. One of the most overused arguments against religious objections to Same-Sex Marriage and the militant expansion of trans-rights everywhere was that such objections were unwarranted. Just as the Democrats have always sworn that they weren't really going to come after gun owners, so too had they sworn that they would never ever pinkie-swear come ofter religious organizations, and certainly not ever after churches. Obama, of course, went and did just that, but at least had the courtesy to try to claim that schools, hospitals, and charity organizations were not valid (and therefore protected) religious expressions because they were not actual churches. Beto (aka Kang) has no such subtlety or filter.
Every one of my progressive friends: Nobody wants to do that

Beto: Hell yes we're going to do that. https://t.co/Ncix2Vl0Jk

— Michael Brendan Dougherty (@michaelbd) October 11, 2019
Yes, Kang has flat-out demanded that religious institutions toe the political line or lose their tax status as non-profit institutions. At that same town hall, other candidates only hinted that they would demand churches to share their politics, and Beto, being a space alien, instead just blurted it out.
Beto O'Rourke on religious institutions losing tax-exempt status for opposing same-sex marriage: "There can be no reward, no benefit, no tax break for anyone … that denies the full human rights and the full civil rights of every single one of us" #EqualityTownHall pic.twitter.com/tjwVGqv5h0

— CNN (@CNN) October 11, 2019
I am convinced that Beto cannot actually be human. No human Democrat candidate would say this aloud. But a space alien would. In the 1996 Treehouse of Horror episode of The Simpsons, the final short story, called Citizen Kang, showed space aliens kidnapping Bill Clinton and Bob Dole, then the presidential candidates, and assuming their identities in a bid to take over and enslave the earth. Kang, in disguise as Bob Dole on the campaign trail, blurts out:
Only a space alien would think first to say "abortions for all", and so I'm expecting that to be Beto's next act. After all, only a space alien would also have clearly said "Hell yes, we're going to take your AR-15", and only a space alien would say out loud that churches had to voice a totalitarian party line or else be treated as a mere business (remember: the Dems don't think businesses have any speech rights). It's either that, or Beto just doesn't want to be the Dem nominee. But I think he desperately wants it. After all, Citizen Kang is a training video:
So if (God forbid) he gets the nomination, or (even worse) wins the elections, don't blame me. I'm voting for Kodos. After all, it is a 2 party system.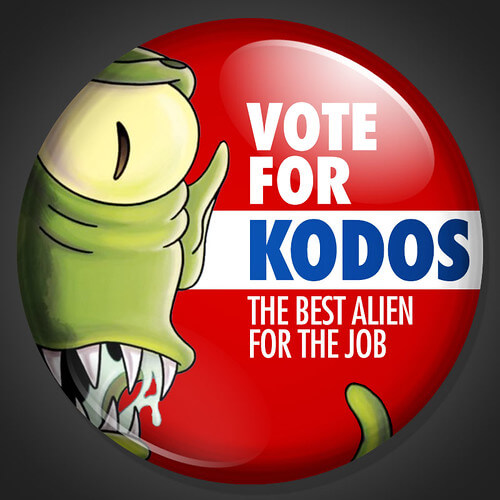 Published in Elections