This chart has been floating around Farcebook and other sociopathic media for awhile. I finally saw it a couple of hours ago.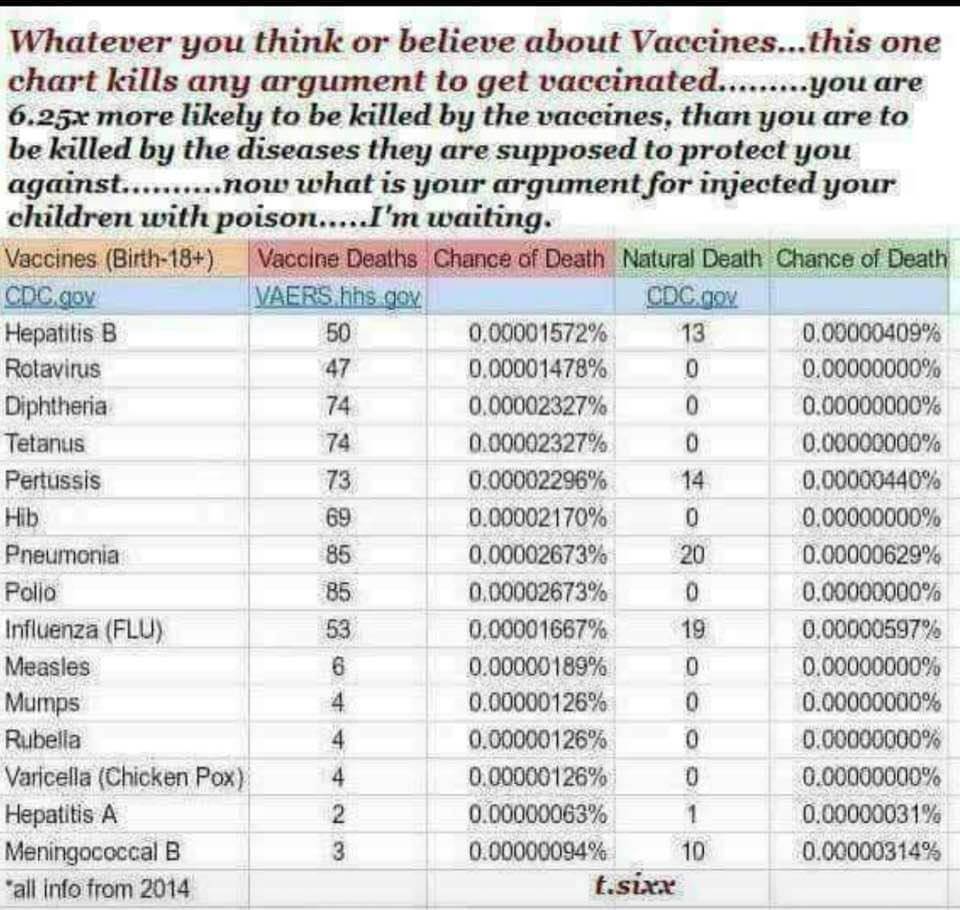 "Hmm," I said, "that doesn't look right."
Let's do some research, using the same websites that "t. sixx" purports to get his data from: The Vaccine Adverse Events Reporting System (VAERS) and the Centers for Disease Control and Prevention (CDC).
I've been kicking around pediatric medicine for a year or two, so I immediately noticed a couple of anomalies. Very few people are just vaccinated for Mumps or Measles or Rubella. The grand majority, well over 90%, are given a combo vaccine called MMR. The same goes for Diphtheria, Tetanus and Pertussis. Since that's the case, how do you know which portion of the combo was the cause of death? Also, look at all the coincidences. Mumps, Rubella and Varicella vaccines all caused four deaths each. Well, deaths from those three appear to be incredibly rare, so that number is not out of the realm of possibility. But Diphtheria and Tetanus? Exactly 72 each? Pneumonia and Polio, 85 each? Really?
Well, maybe so. After all, incredible coincidences do happen. So I went to the VAERS database, the same source that "t. sixx" gets his/her/their/it's data from, and plugged in every combination of Mumps, Measles and Rubella vaccines for 2014. "t. sixx" says those three caused 14 deaths. The VAERS database says three. Well, that's only off by 79%; maybe "t. sixx" hit the wrong key. Anyone can make a mistake. How about Diphtheria, Tetanus, and Pertussis? "t. sixx" says those three vaccines caused 221 deaths. The actual number, again from the database that "t. sixx" claims as a source, is 36. Just a little bit off.
How about the other column? "t. sixx" claims that the CDC says that only 19 people died of the flu in 2014. Hallelujah! We've conquered the flu!!! Oopsy, that's just a bit off. The CDC actually says that flu deaths in 2014 were estimated to be 51,376. That's not even close enough for government work. Well, maybe he was just talking about children? 803 deaths in 2014 according to the source "cited" by "t. sixx." Children under four years old? 396 deaths from the flu in 2014, still off by a factor of 20 to 1.
I did find one thing right: 13 people died of Hepatitis B in 2014. Unfortunately, according to VAERS, there were six deaths from the vaccine for Hep B that year, not 50.
And even supposing that every line on that chart is true, the reason that there are so few deaths from these diseases is because most people have been vaccinated. Does anyone really think that there would be still no deaths from Tetanus if we stopped vaccinating?
So this is the same as all anti-vax propaganda: Blatant lies to fool the gullible. And they obviously know they are lying. As Derek Hunter says about Adam Schiff, "If the truth was on their side, they wouldn't have to lie."
Published in Healthcare