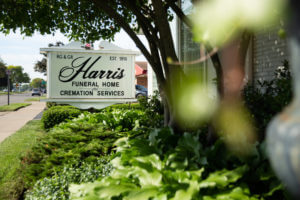 "Am I next?" That's the question that should come to your mind when you think of G.R. & R.G. Harris Funeral Homes v. Equal Opportunity Employment Commission, which the US Supreme Court is set to hear Tuesday, Oct. 8.
And no, that's not a reference to funeral homes in general—along the lines of "ask not for whom the bell tolls"—but whether or not Americans can rely on what the law says. If the ACLU has its way and defeats Harris Funeral Homes, everyday Americans will face punishment for violating laws that unelected officials have changed out from under them.
That's at the heart of Harris. Ignoring almost a half-century of precedent—and more importantly, the text of federal law itself—a federal court of appeals effectively redefined "sex" to include "gender identity" to punish a funeral homeowner who was depending on the law to run his fifth-generation family business.
Now that the case is before the court, the ACLU is leading the charge, inviting the nation's high court to uphold that decision. If it succeeds in redefining "sex" to include "gender identity," the ACLU will not only create chaos for business owners and other Americans, but also unleash a whole host of unfair situations for women and girls whose opportunities and privacy are currently protected under federal law.
Among other things, swapping out a biologically based understanding of "sex"—which even the ACLU agrees was the publicly understood meaning when Congress enacted the Civil Rights Act of 1964—could undermine the opportunities available to female athletes.
Since 2017, Connecticut has allowed two high school boys who identify as female to compete in girls track and swipe over 50 chances for girls to be named state-level first place champions or advance to the next level of competition in track events throughout the state. Together, the two boys now boast 13 individual meet records in the state that were previously held by 12 individual girls.
In Alaska, an Anchorage commission used this same tactic to try to force a faith-based women's shelter to allow a man who claims a female identity to sleep three feet away from women who have been raped, trafficked, and abused.
Beyond these two crucial arenas, parental rights and even free speech itself come into play when "gender identity" is shoehorned in under the definition of "sex." The ACLU's end game causes serious, massive problems in American life.
In the Harris case itself, the funeral home hired a male funeral director in 2007. Funeral directors are the face of the company, which has served thousands of Detroit-area families since 1910. In 2013, the male funeral director gave a letter to Tom Rost, the owner of the funeral home. The letter informed Tom that the employee planned to begin dressing and presenting as a woman at work while interacting with grieving families in violation of the funeral home's sex-specific dress code.
Rost had to consider how this would affect his employees — including an 80-year-old woman named Dolly, who would be forced to share the location's only women's restroom with the male funeral director. He also had to think of the clients who come to Harris Funeral Homes and are grieving the loss of a loved one.
Rost ultimately decided that he could not agree to the funeral director's proposal to violate the dress code. Although sex discrimination has always meant treating one sex less favorably than the other because of sex, a federal court of appeals redefined the law to include different treatment based on transgender status, punishing Rost and prompting his appeal to the Supreme Court.
Regardless of what you think of Rost's decision, the simple fact is that he should have been allowed to rely on what the law said. That's what Rost did, and yet he finds himself down to his last plea.
And we should be asking ourselves, "Am I next?"
Published in Law