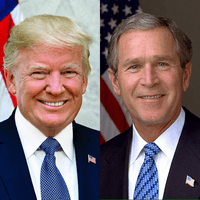 Evidence is mounting that President Trump is sticking closer to his 2015 Second Amendment pledges. Pot-stirring accounts from the left and right point to President Trump settling back towards his campaign positions.
The Atlantic tries stirring Trump family trouble by characterizing Ivanka as bending her father's ear and seeking to manipulate him into supporting gun-grabbing. RedState seeks similar stirring by posing Donald Jr. as the one bending daddy's ear to support gun rights. Both publications are operating from ignorance, but both offer some basic truth. These stories reinforce the thrust of his language in his characteristic outdoor departure press line comments.
The Atlantic writers naturally wish Trump and his voters ill and seek to stir trouble in the administration. In this telling, Ivanka Trump sought to manipulate her daddy into selling out those icky gun nuts by putting together a big Rose Garden ceremony, where he could do something by signing something. This was supposed to be a big ego play.
But the prospect of a Rose Garden ceremony, his daughter thought, where Trump could sign a document and call it "historic" and "unprecedented"—and receive positive media attention—might be the best chance of yielding real change.

For a moment, it looked like it just might work. "He loved it. He was all spun up about it," said a former senior White House official who, like others interviewed for this story, spoke with me on the condition of anonymity in order to share private conversations. On August 7, the president picked up the phone to discuss the idea with Wayne LaPierre, chief executive of the National Rifle Association. "It's going to be great, Wayne," Trump said, according to both a former senior White House official and an NRA official briefed on the call. "They will love us." And if they—meaning the roughly 5 million people who make up the NRA's active membership, and some of Trump's electoral base—didn't, Trump reportedly assured LaPierre, "I'll give you cover." (The White House did not return a request for comment for this story.)
But, in this telling the villains at the NRA, led by the evil Wayne LaPierre (cue boos, hisses, and scary music), talked President Trump out of any legislation gun grabbers want and sending Ivanka and Jared off in defeat:
Three NRA officials told me they've focused their efforts in the past week on walking Trump through nearly 40 mass shootings in which the gunmen obtained their firearms legally. "Once he understood" that universal background checks would not have prevented many of these massacres, according to the first former senior White House official, "the temperature changed."

…By the middle of last week, she and her family had decamped for a vacation in Wyoming, seemingly putting the issue on the back burner, and last night she appeared at House Minority Leader Kevin McCarthy's donor retreat in Jackson Hole. According to Axios, Ivanka told the audience in Wyoming that the White House is still focused on background checks. Less than 24 hours later, her father reportedly assured LaPierre of the opposite. (A spokesperson for Ivanka Trump did not return a request for comment.)
RedState tells a similar tale, from the opposite end. In their telling, the hero is Don, Jr., who bends daddy's ear and steers the unsteady old man back on track. RedState quotes, in part, a Wall Street Journal story:
Donald Trump Jr., the president's son who often speaks with his father about his views on gun laws, has raised concerns about both red-flag legislation and about tightening background checks, according to people familiar with the matter.
Streiff reinforces this narrative with the conclusion:
If, at any time, he hears that siren song of bipartisan agreement on commonsense gun laws, Donald Trump, Jr., will be there to pull him back to reality.
So, both left and right want to make the story about inside sources and palace intrigue. Yet, the straightforward account, consistent with Donald Trump's lifetime record, is that he encourages conflicting, competing advisors around him. While this is, of course, spun as dysfunctional, some of us are old enough to remember that presidencies with strong staff leadership and people rowing in the same direction are also attacked, if they are Republican.
Remember how Dick Cheney was supposed to be the evil genius manipulating the dolt George W. Bush? Remember how several Reagan staff leaders, and even his wife, were portrayed as manipulating him, a not-so-bright B-movie actor?
Beyond this line of attack, does "groupthink" ring a bell? Have we not been warned that we could be dragged to the edge of nuclear Armageddon by a staff that puts too much focus on consensus? So, dissent is supposed to be necessary for success.
All of the organizational theory and past partisan narratives must be discarded as unhelpful in the political war to remove Trump and his voters from influence in the body politics. If we just sift through the screeds and smoke screens, sometimes some consistent truths come through. In this case, a left and a right account tell us the underlying truth.
As The Atlantic concludes:
But sources close to this president told me that Trump's eventual siding with the NRA was never in question. "Trump always knew where he had to end up," a GOP operative in constant contact with the White House told me.
In the same vein, Streiff at RedState notes:
While Trump has manifest weaknesses, one he doesn't have, and one which ran riot inside the Bush White House, is a willingness to sell out his supporters to try to curry favor with people who will always hate him.
We know that President Trump values his adult children's advice, and that he wants conflicting voices around him to inform his eventual decisions. Sounds like it is working out that way, again. Sounds like he may actually press the Congress on the mental health crisis.
Published in General