Someone at Facebook decided that paying to promote a post on your favorite internet destination is verboten. Carol Roth, host of The Roth Effect here at the Ricochet Audio Network, wanted to promote her latest episode, an interview with best-seller author Brad Thor, but was told she needed to get "authorized" to run ads about "social issues, elections or politics." So what triggered the rejection? Was it her name, the name of her guest, Brad Thor, or was it the destination?
Here's the ad she tried to buy: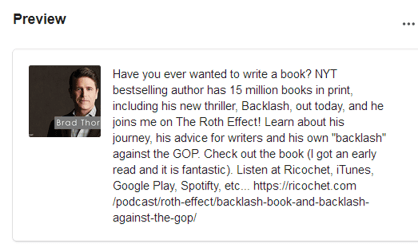 You'd think the words "'backlash' against the GOP" would be a Facebook selling point.
(Full disclosure: I produce Carol's show but have no editorial input.)
Published in Politics