Laila Anderson is an 11-year old St. Louis Blues hockey fan. When her parents took her to games she would make her way to the tunnel leading back to the home dressing room and fist-bump the players on their way in. She became such a fixture the players started to notice her.
Two years ago she was diagnosed with HLH, or Hemophagocytic Lymphohistiocystosis, a disease so rare only 15 children in the United States are known to have it. Simply put, it makes your white blood cells attack other cells in your body, deeply compromising your immune system.
She has become the team's inspiration. She has had to spend months in isolation as she received bone marrow transplants. And she's become good friends with Blues defenseman Colton Parayko. He told the St. Louis Post-Dispatch, "We might lose a hockey game and we're so frustrated and go home upset, but people are out there trying to battle for their lives. That's the way she is. The thing she taught me is — just be a warrior. It's meant a lot, because she continues to battle, yet she's always happy."
When Laila underwent her last treatment the Blues were dead last in the National Hockey League. As she battled, they battled. All the way to the Stanley Cup Finals.
When the Blues lost Game 6 of The Finals on Sunday, it set up a winner-take-all Game 7 on Wednesday night. The Blues could not go to Boston without her. With clearance from her doctors, Laila was in the stands as the Blues captured the franchise's first championship in their 52-year history.
And then she made her way down to the ice. Tonight, Laila Anderson upheld one of the grandest traditions in sports. Tonight Laila Anderson kissed Lord Stanley's Cup.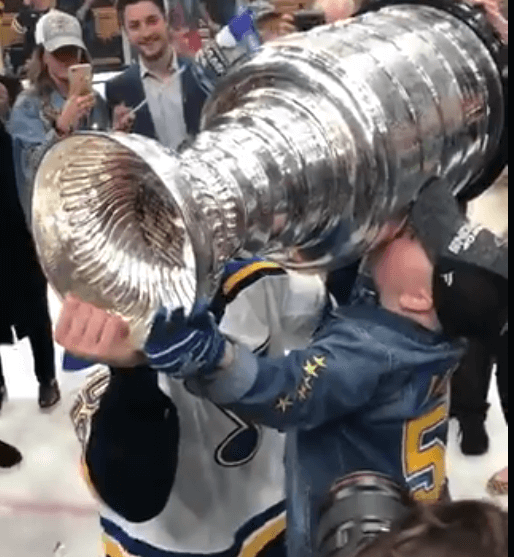 Published in General, Sports