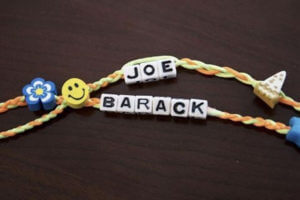 Politicians love fighting the last battle. Every four years, we see a slew of candidates relitigating the last presidential race, often using the same strategy that lost the previous time.
This trend is dominant in 2019 with the rise of Biden's candidacy and the continuing rear-guard battle by anti-Trump Republicans. Joe's main message is a return to the supposed normalcy of 2008-2016. "Know what I was most proud of?" Joe said Wednesday, "For eight years, there wasn't one single hint of a scandal or a lie."
Hey, there's a lie right there. Has it never occurred to him that the Obama years are what created Trump?
Meanwhile, a handful of institutional Republicans are pushing their own return to normalcy. Maryland Gov. Larry Hogan or former Massachusetts Gov. Bill Weld will save the GOP with center-left branding and Acela-approved personalities.
Washington sophisticates, and the DC press corps in particular, are deeply parochial. Trump didn't create worldwide skepticism about globalism, resentment of sinecured elites, or frustration with an out-of-touch cultural vanguard. He merely rode them to power.
Politicians and pundits can disagree with this populist trend, but it's electorally suicidal to ignore it. As I note in USA Today, one look around the globe shows that, in many ways, Trump is the new normal.
Five months before Trump's election, UK voters chose to leave the European Union, leaving London's political class as alarmed as D.C.'s was that November. The British government still hasn't gotten around to implementing Brexit, but instead insulted the "short-sighted" polity for daring to cross their betters.

In retaliation, voters returned to the polls last month for the European Parliamentary elections. Nigel Farage's brand-new Brexit Party won the most seats, dominating all of Wales and England, with the notable exception of London itself. Two years of posh elites ridiculing Brexiteers (and a month of dumping milkshakes on Farage) backfired badly.

Less than a week before the UK election, Australians snubbed their own elites. Polls pointed to an easy Labor victory, and the political class derided conservative prime minister Scott Morrison for being an out-of-the-closet Pentecostal Christian.

The characterization of Morrison and his supporters as racist, homophobic, anti-science snake-handlers backfired just as Hillary's "deplorables" crack did in the U.S. Morrison's party gained seats in Parliament, leaving him in a stronger position than ever…

Brazilian voters chose conservative gadfly Jair Bolsonaro to clean up the endemic corruption in Brasilia and the violence in Rio de Janeiro and São Paulo.

Philippine President Rodrigo Duterte won his election promising – and delivering – a brutal war against drug dealers and users.

Viktor Orbán in Hungary and the Law and Justice party in Poland continue their nations' rightward push seasoned with a strong dose of Christian traditionalism.

Paris has been consumed with chaotic "Gilets Jaunes" protests due to a planned fuel tax, as Marine Le Pen's nationalist party took the lion's share of last week's EU votes.

The far-right in Italy did the same with the anti-immigration Lega Party winning the same percentage of votes that the Brexit Party did in the UK.
Simply put, there is no going back to the way things were. Biden can't recreate the frustration with the Iraq War and housing bubble collapse of 2008 that elected Obama.
Likewise, GOP voices (notably championed by The Bulwark) can't drag the party back to the post-Clinton consensus. Their strategy of naming and shaming pro-Trump conservatives intends to recreate a dead gatekeeper role for allowable political conversation. They're propping up a gate when the fence around it was torn down years ago.
If anyone wants to oust Trump in 2020 or his heirs in 2024, they first have to address why voters are furious at their supposed betters and create a better solution. Mocking the electorate will only fuel the resentment and ensure more Brexits and Morrisons and Trumps.
Not that they'll learn. It's more fun to toss milkshakes and inflate giant Trump balloons than to listen.
Published in Elections, Politics