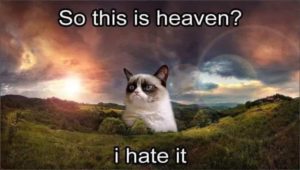 Tardar Sauce, known more popularly by her stage name of "Grumpy Cat," has died all too soon at the age of 7. The official cause of death has been ruled by her coroner veterinarian as a "urinary tract infection." According to the report:
"Besides being our baby and a cherished member of the family, Grumpy Cat has helped millions of people smile all around the world – even when times were tough," Grumpy Cat's owners wrote. "Her spirit will continue to live on through her fans everywhere."
But, sadly, there's always a darker side of a sudden rise to fame and fortune. Grumpy, it seems, was also a 'nip-nose.
Jock Tiddlesworth, her original manager (a Manx Coon cat with a gravelly meow, suggesting a hard life), began his sad tale in a phone interview. "Grumpy was really cheerful, you know? Nothing like what she looked like. Always happy to lick anyone's ears, but her sudden rise to fame just exhausted her." Jock described the long hours in the studio with photographers, the early morning daily groomings, and jet-set lifestyle of supermodels. "After six months, she was just exhausted, worn out. She loved to chase rubber mice to relax (her handlers wouldn't let her near the real ones), and I knew this club near to our hotel in Phoenix, where we were staying for a photoshoot for Cat Fancy. What I had forgotten was that Arizona had recently legalized catnip, and this club had put in a catnip lounge. That's where she had her first taste."
Club owner Mrs. Mimsey, a neutered orange tiger cat with a strange falsetto mew, picks up the story. "Most moggies that come to the club have had had a bit of the weed on the side before, or some peppermint, and know their limits. But that poor innocent, I just choke up thinking about her…" Mimsey had to put down the phone to sob, and hurk up a hairball, "Musta been her first time. I've seen it before. One sniff, one taste, and she was just gone for the next five hours. Just started rolling around on the floor and whining, eyes rolled back in her head…"
Jock described how she started planning photo shoots and book signings around locations with catnip bars. "You know, she'd be OK for the first hour or so of any even, then would start to get this twitch in her paws, and be scoutin' round for the exit. Even clawed a fan once, and that took some prompt work and snuggles from her lawyer, Bounder, a really talented calico, to squelch. Most of the time I could deal with her, but one time she got out and vanished for 3 whole days. When the cops called us, they'd picked her up out of trash bin just stinking of mice and mint. She couldn't even remember her name till she'd come back to earth."
When the cravings got so bad that her right eye started to blink during photoshoots, Jock and Bounder finally organized an intervention and got her into rehab. Grumpy vanished for the next six months "Spending more time with her family" as the official press releases put it. Bounder said of that time "She was normal then, and seemed happy with life. She had even taken to licking ears again, and trying to sleep on her owner's face at night, just like before. But Jock started pressuring her to get back to work, probably before she was ready, and they had a really big fight. Probably the only time I actually saw her truly grumpy while sober. She fired Jock. Nearly fired me too. But she was vulnerable, and that's when Miggens pounced on her." Miggens, a huge white Persian, was Grumpy's second and final manager, and refused all interview requests.
Said Bounder, "Miggens had her touring again, and before long Miggens was even her weed dealer. I think Miggens may have been using the weed to manipulate Grumpy, promising to let her get stoned if only she'd do another calendar shoot. I know I caught Miggens once with an entire cage of black-market white mice once, and I could smell how they'd been rolled in peppermint oil. I put a stop to that, but who knows what else got through? I knew it wouldn't last. When Grumpy was taken to an emergency vet for that UTI, I knew it was near the end."
"She had real talent and such a generous heart," said Jock. "The world is a smaller place without her. But I hope her fans learn the price of catnip addiction – she was too young to die."
RIP Grumpy Cat
(This is satire. A really tasteless satire, I'll admit, but a parody nonetheless).
Published in Humor