Four years ago a cartoon contest was held in Garland, Texas. Organizers encouraged contestants to draw political cartoons in response to a terrorist attack by Islamic supremacists on the offices of Charlie Hebdo, a Parisian newspaper, in January of 2015, in which a dozen people, including the newspaper's publishing director Stéphane Charbonnier, were murdered.
This is the winning cartoon, drawn by a fellow named Bosch Fawstin.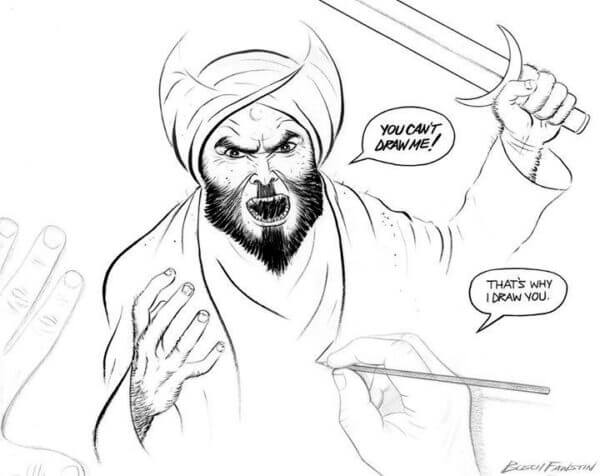 On May 7, 2015, I posted the cartoon on Facebook, and added the following comment:
This was the winning drawing from the Garland, TX cartoon contest.

Bosch Fawstin, an ex-Muslim, drew the cartoon. As the cartoon suggests, and as Mr. Fawstin said, "I do it because we have been told we can't."

Having survived one Islamic supremacist attack, Mr. Fawstin has now gone into hiding.

* * * * *

I encourage everyone to quietly, and even politely, repost pictures of Mohammed. And I think they should do so with a note saying, in effect: "I really don't care about Islam. I really don't want to offend Muslims. But too many Muslims have asserted a right to tell me what I can and cannot say about Islam. That is unacceptable to me. It is part of our culture and heritage that we are free to say whatever we like about any faith, any ideology, any idea. And I am not willing to surrender that right, just to avoid offending Muslims. Or Buddhists. Or Hindus. Or Christians. Or even atheists. I am posting this picture to tell Islam that I do not consider it special, and to deny that it has any authority over me."
Today I received a notification from Facebook. It read as follows:
An important message about your photo
Due to local legal restrictions, we limited access to your photo in Pakistan.
To which I replied, in what will be my last post on Facebook:
Facebook today has a market capitalization of just over half a trillion dollars. If they would rather censor Americans than risk offending the illiberal Islamist regime in Pakistan, then to hell with them. I'm glad I left.
Published in Culture