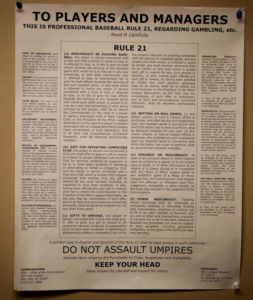 It hangs in every clubhouse from the low minors to the major leagues — a giant poster with the headline:
TO PLAYERS AND MANAGERS
THIS IS PROFESSIONAL BASEBALL RULE 21, REGARDING GAMBLING, etc.
Boiled down to its essence is the first sentence, "Any player, umpire, or club or league official or employee, who shall bet any sum whatsoever upon any baseball game in connection with which the bettor has a duty to perform shall be declared permanently ineligible."
It is the rule that was instituted with the Black Sox scandal in 1920 and the one so infamously violated by Pete Rose.
Since the Supreme Court struck down the Federal prohibition against sports betting last May, both state legislatures and the leagues themselves have been exploring the best way to use sports betting as a way to raise revenues but not cast aspersions on the integrity of the games themselves.
Three of the leagues, the NBA, the NHL, and MLB have inked deals with MGM Resorts to become "official" gaming partners. In exchange for this status, the leagues will get cash and MGM will get access to deeper analytical stats that the leagues currently only provide to their member clubs.
The bigger questions remain:
Will there be betting parlors in stadiums and arenas?
What kind of bets will be accepted?
Will the leagues be forced to expand who is prohibited from placing bets to include family members and agents?
As states legalize sports books, or possibly choose to operate them on their own via their existing lottery commissions, expect that gaming will be authorized in some manner inside the venues. It could take the form of full-blown parlors or kiosks in the concourses. Betting through smartphone apps is another possibility. But to prevent violating federal wire transaction laws, stadiums could force bettors to be connected to their wi-fi networks to access betting sites.
What will be permitted? Straight win or loss bets? Will there be over/unders? Point spreads? And perhaps more importantly will there be "prop" bets?
"Prop" is short for "proposition." It's not necessarily tied to winning and losing but the proposition that something will happen in the course of a game. Will Player X strike out? Who will hit the first 3-Pt FG in a basketball game? Will Player Y rush for 100+ yards today? And if you can place "prop" bets must they always be of a positive nature?
The stories of professional athletes that have frittered away their big-money contracts are legion. A 2009 study by Sports Illustrated claimed that 78% of NFL players are either bankrupt or under financial stress within two years of retirement and 60% of NBA players reach that five years after leaving their game. While these figures have been disputed, players in all sports are vulnerable to bad decisions draining away their salaries. Sometimes it's a bad investment (Jack Clark, Curt Shilling), sometimes it's a bad marriage (Michael Jordan) or sometimes it's sexual stupidity (Shawn Kemp, aka "The Father of Our Country") and those things can all happen while the athlete is still playing. And that makes them vulnerable to using proxies to place now-legal bets on their activities as a way to alleviate those financial pressures.
Major League Baseball has hired the UK firm Genius Sports to keep a real-time eye on betting trends. They flag unusual upticks of activity around a team or player and report that back to MLB investigators. But could smaller bets spread among proxy bettors be enough to fool the system?
While the professional leagues steer their ships into the choppy waters of legal gambling, what will become of the NCAA? While the pros can hope big, on-going salaries to athletes will contribute to keeping their sports clean, what of the amateur athlete? Not only do they watch their universities cash in on television contracts and merchandise sales, will they now be able watch them cash in on their individual efforts?
The states, the teams, the leagues and the players all have one thing in common: Many of them are facing their own mountain of debt. Gambling is increasingly becoming the siren song, a way to escape or delay financial disaster. One wrong decision and the disaster will be accelerated instead of delayed. Then all the posters in all the locker rooms won't be enough to save them. And Judge Kenesaw Mountain Landis is dead, too.
Published in Sports