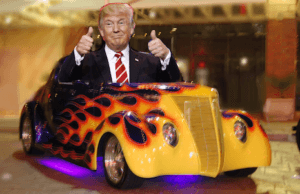 President Trump is putting Nevada in play for the 2020 election. The Yucca Mountain nuclear waste storage project has always been a political hot potato and a hole in the ground into which Congress pours money. Senator Dean Heller, like Senator Reid before him, is opposed to the Yucca Mountain project, and there are likely not the votes to force the issue. Now the story in important Las Vegas news outlets is President Trump is on Nevada's side.
Nevada, I hear you on Yucca Mountain and my Administration will RESPECT you! Congress and previous Administrations have long failed to find lasting solutions – my Administration is committed to exploring innovative approaches – I'm confident we can get it done!

— Donald J. Trump (@realDonaldTrump) February 6, 2020
This is very savvy. Presidents, Congress, and bureaucrats have been talking but never actually acting to use Yucca Mountain. Over decades, surely smarter answers have emerged than transporting and concentrating high-level nuclear waste in one location.
Now we have a president throwing the bovine scat flag on the old game, enabling real solutions to surface for serious consideration. Yet another win for America on many levels.
Nevada wins, gets what people demand.
Nuclear power wins if real waste management emerges, removing waste as obstacle to construction.
Environment wins with waste management and more non-greenhouse gas energy.
Homes, businesses get more megawatts of reliable and truly "green" power at affordable prices.
More nuclear power means more ability to power more electric motors, fill more batteries.
Published in Science & Technology