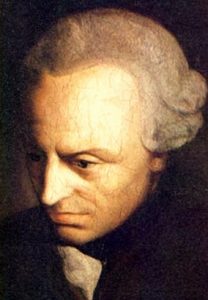 I've decided to start writing in hopes to take a journey of understanding to delve into why progressives hate conservatives and, evidently, the idea of America. I don't have all the answers yet, but I hope some on this site with take the journey with me.
When I was a kid in the '80s, I often heard the prayer, the hope, and the goal of "World Peace" repeated. I believe that most, if not all of the progressive efforts of the last century and a quarter are aimed at achieving this goal. If we can understand the underlying reasons for this, we can better understand what progressives hope to accomplish and why they hate us.
Why?
Its roots probably start with Pax Romana or even before, but the modern desire probably traces back to the wars of imperial expansion that marked the 18th and 19th centuries. This led Immanuel Kant to write Perpetual Peace: A Philosophical Sketch late in the 18th century. Others began to embrace the idea, such as Theodore Roosevelt, and various thought leaders in Europe got behind the idea of banding governments together to fight bad actors.
After the Great War that would end all wars, the desire increased and led to the formation of the League of Nations, discussed later. When the second world war ravaged Europe, Asia, and Africa, progressives knew that peace must be achieved and that the means were not terribly important.
How?
Globalism or One World Government is the best way progressives can imagine ushering world peace. The 20th century is an epic account of various efforts at a global government. The League of Nations made an early and failed attempt, but it led eventually to the United Nations. The European Union, the North Atlantic Treaty Organization, and the rise of expansionist Communism were all efforts to address an end to war through the defeat of nation-states.
All the other "isms" that come from the left can trace their roots back to the desire for world peace. Ask yourself any question about motivation and you can track the answer back to this central desire. The main one is, what about Socialism and the injustice movement? Socialism is a means to achieve globalism by seducing the majority of the population that things will be better if the government is given control. Global government needs a lot of control. What else? Overpopulation? It's hard to control a lot of people. Corporatism? It's easier to govern a few big companies than millions of small ones. Immigration? If populations mix all over the world, national identity is watered down.
So, what about America? Why is it so bad? The answer is that America is the main thing that stands in the way of global government. Why do progressives hate Reagan still? His approach was pretty solidly vindicated. Saving America and keeping it great ruined the rise of Socialism across the globe. Guns? Americans will never submit to a global government if they can rise up and defend themselves. The concept of American exceptionalism is counter to the very idea of a one-world government.
One begins to understand why progressives seem to hate America while also claiming to love it. America is the main obstacle to a global government, so whatever can bring it down is deemed good.
So, how's it working out?
You can see the issues with the European Union. If it were all about a single currency and providing for the common defense, it might have worked, but big governments can't help but flex their muscles. They ask for more control and do their best to further the globalist goals.
Free markets keep working out better than anyone ever expects, and so state-enforced socialism never stood a chance.
Where do we go from here?
I don't have an easy answer. As I said, I am starting a study on this subject and I'll write about what I'm learning. However, I will say this: the goals of the peace movement are similar to many of our own. None of us wants war. We just think it is sometimes necessary. Would we like global prosperity? Yes, but it's not something a government can mandate or legislate. I think we ought to focus on what the problems are that progressives hope to solve and agree that we see them as problems too. It may still irk them that we don't go about solving problems the way they want (like our reduction in greenhouse gases), but we may be able to get back to disagreement and away from hatred.
Published in History