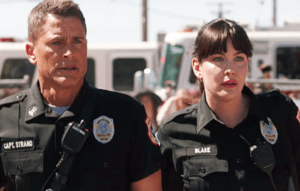 This is RightAngles, TV Reporter, here to save you some time. Do not bother to watch the new Fox show 9-1-1 Lone Star unless you want to end up throwing things at your TV. I admit I may have been predisposed to disliking this show because in the trailer they flew the Texas flag upside-down, but I think my initial gut reaction proved to be correct. So without further ado, here is my reaction to this over-the-top mishmash of SJW causes.
My first clue was when with the opening credits barely finished, we learn that New York Fire Capt. Rob Lowe's son, also a fireman, is gay. I mean they just could not wait to stick that in there. Lowe is sent to Austin to repopulate a firehouse where everyone died in an explosion, and they tell him diversity is paramount (what?). As a result, we see him interviewing a paramedic in a hijab (he hires her even though she has 11 reprimands on her record), a black trans person (a twofer!), a basic Brown Guy who has failed the written exam four times (he hires him too), gay men, etc., etc. I mean is this the Fire Department or the SJW Cavalcade?
I don't know about you, but if my house is on fire I want a 120-pound woman in a hijab with a record of not following orders and whose scarf is blowing around getting in her eyes and a trans person who's checking to see if I'm a bigot before saving me.
One woman calls 911 because her Mexican neighbors were making some kind of disturbance, and the firefighters arrest her (citizen's arrest) for being a racist. (No idea why they sent the fire department for a noisy piñata party) She starts having breathing trouble so they think she's having a heart attack (who could blame her?). Before helping her, a fireman says "I should tell you I'm gay" (why?), and she recoils a little so the trans one bends down to help and says "And I'm trans." When the woman is in respiratory distress! Excuse me?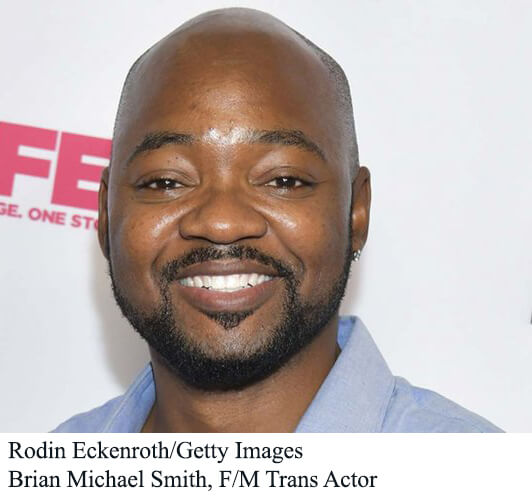 In one pilot, they managed to pack in all that plus an opioid overdose, a learning disability, PTSD, and an illegal Mexican kid with asthma who is saved in the street by paramedic Liv Tyler, whose face is so puffed up with fillers that she looks like an alien. She tells the dad he needs an inhaler, and the dad says no insurance because he's afraid of being deported, so she gives him her card and says she's "with a group who doesn't ask questions." Why aren't we mad at the irresponsible dad who put the kid in this situation?
And did I mention Lowe's character is a metrosexual? In a locker room scene with all the firemen wearing only towels, he stands in front of the mirror and lets them all in on his skincare secrets, including the importance of exfoliating and moisturizing. Begone, Toxic Masculinity! He also goes for regular hair treatments so he won't go bald. Oh, and he has cancer due to being a 911 first responder, and he tells his doctor he's not sure if he wants this new cancer treatment that can prolong his life because he'll lose his hair. "This is my look," he says to her. Priorities, I tells ya!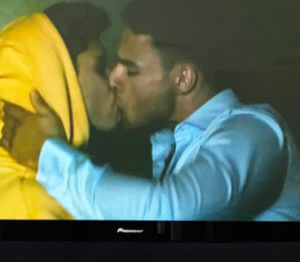 Obviously we also have two men kissing. And this does not mean I have animosity toward gay people. I don't. I have animosity toward sanctimonious TV writers who think they're more sophisticated and intelligent than I am so they have to shove every social cause down my throat until I vote Democrat. We also have of course the requisite interracial couple, which is usually a white man with a black wife because the other way around makes black women mad.
Well, you know what, this whole stupid show made me mad, and a spinoff from the already woke enough 9-1-1 was not necessary. I want to be entertained, not yelled at.
For these reasons and for flying the Texas flag upside-down (which may have been on purpose. "Look at us! Stickin' it to The Man!" but it may have been just ignorance), Two Thumbs Down.

Published in Entertainment