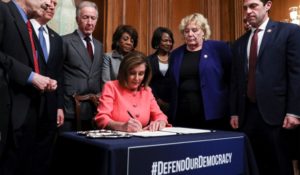 It's "time," as Speaker Pelosi might prayerfully suggest, to get answers to these perplexing questions.
On Joe Biden and the impeachment:
Question 1: How, in an extended Senate impeachment trial, will continued daylight directed at the various Biden family entrepreneurial activities help ol' Joe politically?
Question 2: If the impeachment gambit does not knock out Trump, can Joe Biden's reputation ever recover?
Question 3. Regarding question 2, does anyone (even he) really care?
Question 4: Or is Biden (or any other Democrat ticket leader) so pathetic and weak that the only possible winning strategy is to impeach Trump, then impeach Pence and then elevate Nancy (it may well be her "time") to the White House?
On Speaker Nancy Pelosi:
Question 1: Does she speak in some sort of secret code that only Democrats can decipher?
Question 2: In her discourse "on time," why did she fail to mention the Stones' "Time Is On My Side", one of my favorite all-"time" songs?
On the impeachment:
Question 1: If the aid appropriated for Ukraine was paid before the designated statuary deadline, how, again, was it delayed? Is this another "time" thing, like a shift or wrinkle or something?
Question 2: Can there be a pro quo if there is no quid?
Question 3: What is a quid?
Question 4: My neighbor's cousin's former college roommate told me that she heard that President Trump was actually an alien. Should I file a whistleblower complaint?
On the Democrat candidates:
Question 1: In a smackdown, who would win, Joe, Bernie or Liz?
Question 2: Could the winner, above, take RBG?
Question 3: If Tom Steyer met Michael Bloomberg for lunch, who would ignore the check?
Question 4: If the lunch above took place in Seattle, would brownies be served for dessert?
Question 5: How does one stop eating Seattle brownies? Do you just eventually pass out?
Other issues:
Question 1: If Bernie wins the primary, will the states he wins have to be renamed the "Red" states?
Question 2: If so, can the states Trump wins be the Orange states?
Question 3: Please? Pretty please?
As I know how incredibly smart the Ricochetti are, I look forward to your answers to these, the most pressing questions, of our (yet another nod to Speaker Pelosi) time.
Published in Humor