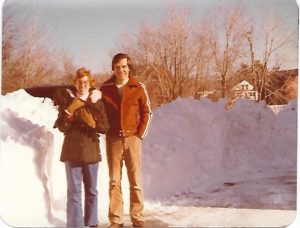 It was the most catastrophic storm to hit Massachusetts in over 200 years. And I was caught smack-dab in the middle of it.
To provide a little background, my husband and I moved to MA in 1977. I grew up in California, so although I could visit snow in the mountains, I'd never lived in a snowy locale.
On this particular day, February 5, 1978, I headed to work down Route 9 from Framingham, the sun shining, expecting a routine day at the savings bank I worked at in Chestnut Hill. Except for a couple of turns early in my journey, it was a straight shot to work. That would be a great benefit to me on my drive home.
The snow began falling in the afternoon. We had no idea what was coming. By the time I left work, the snow had coated everything. I had never driven in a blizzard; you could say that my naivete nearly killed me.
As I turned onto Route 9, there were still cars on the road. But the visibility was nearly down to zero. I figured, hey, I'll just take my time and follow the lane lines. It wasn't too long until I realized that the lane lines had disappeared and so had my visibility. I was afraid to pull over because I couldn't see cars behind me or locate the side of the road. Now and then I'd see car brake lights which told me I was still on the correct side of the road. So I just kept going.
Two hours and one flat tire later (the ride normally took 35 minutes) I miraculously found my driveway. I have no idea how I got there. It was one of the most terrifying experiences of my life.
My husband's company let employees go home early. He took the bus from Boston to a shopping center near our home where he picked up his car. I had no way to tell him I was on my way, although it would have made no difference. I was on my own.
We went to bed early assuming from the news that everything would be shut down the next day. The authorities hadn't yet declared a bank holiday but the decision was imminent. So we slept in. Imagine my surprise when the bank president called early in the morning to ask if I could open up our branch because the branch manager hadn't made it home. It's a good thing I was half asleep because I don't remember my response but I doubt that our Code of Conduct would allow me to include it here. The bank holiday was declared shortly thereafter.
Highlights of the week ahead:
Everything was shut down for a week, including driving on local roads.
We decided to walk to the local mini-mart, knowing the shelves would probably be empty. They were.
We saw a front-end loader from the city clearing our own street. My husband and our neighbor bribed, er, paid him to clear out our driveways. We had no snow thrower at the time, so we would have needed weeks to move the snow.
How bad was it? Boston received 27.1 inches, which was a record at the time. (We had at least 5-8" more in the suburbs.) The storm killed approximately 100 people in the Northeast and injured around 4,500.
Did I mention that we had forest fires in Orange County when we left CA for MA? And when we left MA, we moved to Parker, CO, in 1980. In 1982, we had the Denver blizzard:
The official tally by the National Oceanic & Atmospheric Administration (NOAA) was 23.8 inches. Some areas received a good deal more, closer to 29 inches. Does it really matter how much? Life in the city was seriously disrupted. Roads were impassable. No one could get to work. Those who were at work didn't make it home.
Fortunately, we were at home that day. No sweat.
Now we live in central Florida. We only get hurricanes and tornadoes here.
Published in General