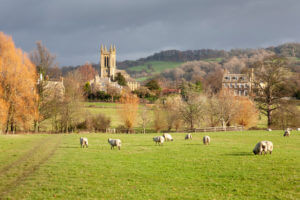 If the 20th century was a slum, the 21st may turn out to be a slough of despond.
Many members of my young generation are basketcases — ever teetering on the edge of breakdown, strangely aware and unaware of their own condition. Some seek redemption in politics; some immerse themselves in subcultures and fandom; some wallow in their self-loathing. Most simply drift through life, shrugging and LOLing and YOLOing in that familiar digital way.
Because I'm more than willing to be sucked into the black hole of Millennial despair, I've spent a bit of time, in recent months, lurking in the post-liberal-right universe. It's been instructive. Among young traditionalists, the prevailing nostalgia is not quite the same sense of longing that produced the Trump voter — not a nostalgia for the postwar suburb, but a nostalgia for life in a thriving market town circa 1880. These people, by and large, don't yearn for "good factory jobs" or blame the world's problems on immigration and outsourcing. They yearn for the shire, and they believe that economic processes have homogenized the meaning out of life. They see capitalism as a Faustian bargain — all the objects a person could want (and then some), acquired at the cost of community, family, and meaningful work. Such people decry the suburbs, the decadence and vulgarity of popular culture, the unpredictability and unreliability of service jobs, and the virtual necessity of two-income households. They even decry the average American Christian's way of life, which they find uninspired and isolating. They say they want families, but that they don't have the time or support to raise them. They say they want love, but that they don't know where to find it. And so on and so forth — ennui for pages and pages.
I've also spent some time talking to self-proclaimed socialists. (I am at a university, so what choice do I have?) Oddly enough, these socialists claim to be enemies of centralization. The centralization they lament is not the political kind — not the administrative state we right-wingers love to bash. Instead, they direct their ire at the economic order, which they, like the Christian traditionalists, perceive to be impersonal and alienating. They speak wistfully of "workers' cooperatives" in much the way arch-Catholics speak wistfully of the close-knit, Latin-mass parishes of yore. The post-liberal right and radical left have a strange sort of symmetry.
Brooding and uneasy young person that I am, I'm inclined to agree with some of these complaints. But I part ways in the move from hand-wringing to policy-making. Even if our economic system is to blame for our miseries (and I'm not convinced it is), it doesn't follow that jettisoning that economic system will bring the old institutions roaring back. Perhaps our pre-industrial forebears really were happier, but in seeking to emulate them, we overlook one crucial fact: they knew nothing else. As Aristotle noted, all humans are creatures of habit and expectation; and our habits and expectations are those of a liberal and capitalist society. Depriving unhappy people of material prosperity won't make them happy; it'll make them unhappy and poor. This is because happiness emerges from proper habituation (or virtue, if I may use that un-PC word) — something most modern people have gone without. Breaking up Amazon won't change that.
What to do, then? Nothing. I don't think anything can be done. Marco Rubio and the First Things crowd can suggest all the industrial policies they want. They can throw out as many proposals as they desire, comforting themselves with the thought of "doing something." In the end, it'll amount to little more than nibbling around the edges.
All we can do is reflect on our peculiar situation as victims of our own success.
Published in Culture