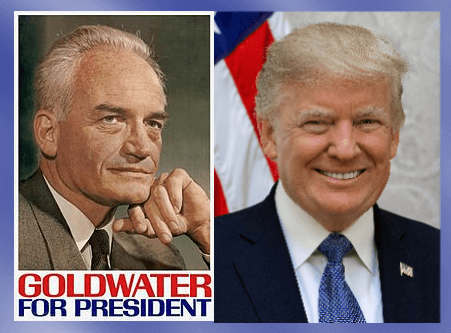 This is shaping up to be another very instructive week, as more people who most Americans used to take somewhat seriously dash their reputations on the rocks of reality. Consider the really important, consequential stuff that happened in London this week, laid out in "'Interagency Consensus DIME' Not Worth a Plugged Nickel on NATO" and "Real Leadership, Real Statesmanship: President Trump at NATO." Contrast the actual, on camera, behavior and results of President Donald J. Trump with the fevered fantasy of credentialed quacks; "mental health professionals" who used the Goldwater Rule for kindling on the bonfire of their hate for us and our president:
In an email forwarded to PJ Media, three psychiatrists with the coalition ask other psychiatrists to sign on to a petition to the House of Representatives Judiciary Committee to include a statement on Trump's supposed mental instability into the official record of the impeachment inquiry.
Now, pay very close attention to the ringleaders' affiliations [emphasis added]:
Dr. Bandy Lee, a forensic psychiatrist at Yale School of Medicine; Dr. Jerrold Post, a psychiatrist and political psychologist who founded the CIA's Center for Analysis of Personality and Political Behavior; and Dr. John Zinner, a clinical professor in the Psychiatry Department of the George Washington University School of Medicine, wrote the petition and statement condemning Trump.

"We are American psychiatrists, psychologists, and other mental health professionals who have come together at this critical time in our nation's history," the petition begins. "We believe there are important mental health issues that need to be understood and addressed with regard to the president, whom we believe poses unique dangers to the country and the world."

The pro-impeachment statement is one in a long line of psychiatric attacks on Trump, the petition explains. "A group of us first outlined our concerns at a conference at Yale School of Medicine in April 2017, when the majority of the public believed the president was 'settling in.' This was followed by a public-service book, The Dangerous Case of Donald Trump: 37 Psychiatrists and Mental Health Experts Assess a President, which many say predicted the course of this presidency. Thousands of others joined us to form a professional association known as the World Mental Health Coalition."
As Paul Hinderaker notes in "Trump Derangement Syndrome Breeds Professional Malpractice":
These people have never met the president, and have no basis to offer a "diagnosis" of his mental health. I believe they are violating recognized standards in their profession by issuing groundless opinions of this sort.

Moreover, they have a hard time keeping their story straight. Is Trump a warmonger, or a Putin stooge who will let Russia rampage over Eastern Europe? Or is he neither, but an America-first president who wants to end long-term conflicts in places like Afghanistan? If Trump is "unstable," why has he hewed consistently to such a coherent, and successful, set of policy preferences? If he is a threat to the Republic, why has his administration ushered in unprecedented levels of employment and income, and especially benefited minority populations, while maintaining peace abroad?
The American Psychiatric Association explains the origin of the Goldwater Rule:
"Do you believe Barry Goldwater is psychologically fit to serve as President of the United States?" the editors of Fact magazine asked 12,356 psychiatrists during the 1964 presidential campaign between Goldwater and Lyndon Johnson.

The responses set off a wave of reaction that resonated again most recently after media speculation about the mental status of the current Republican presidential candidate.

Fact published numerous comments questioning Sen. Barry Goldwater's psychological capacity for office, which ultimately led to the creation of APA's "Goldwater Rule" in 1973.

This explanation was excerpted from a longer article, "Goldwater Rule's Origins Based on Long-Ago Controversy," published August 2016, as leftists panicked about the nomination of Donald J. Trump, who clearly was not going to play the part of good-natured loser in their campaign to complete the fundamental transformation of American society. The APA itself stood firm against such dangerous deception by fake diagnosis.
"On occasion psychiatrists are asked for an opinion about an individual who is in the light of public attention or who has disclosed information about himself/herself through public media. In such circumstances, a psychiatrist may share with the public his or her expertise about psychiatric issues in general. However, it is unethical for a psychiatrist to offer a professional opinion unless he or she has conducted an examination and has been granted proper authorization for such a statement."

— Section 7.3, American Psychiatric Association, The Principles of Medical Ethics: With Annotations Especially Applicable to Psychiatry
The January 9, 2018, APA public statement reads in part [emphasis added]:
Today, the American Psychiatric Association (APA) reiterates its continued and unwavering commitment to the ethical principle known as "The Goldwater Rule." We at the APA call for an end to psychiatrists providing professional opinions in the media about public figures whom they have not examined, whether it be on cable news appearances, books, or in social media. Armchair psychiatry or the use of psychiatry as a political tool is the misuse of psychiatry and is unacceptable and unethical.

The ethical principle, in place since 1973, guides physician members of the APA to refrain from publicly issuing professional medical opinions about individuals that they have not personally evaluated in a professional setting or context. Doing otherwise undermines the credibility and integrity of the profession and the physician-patient relationship. Although APA's ethical guidelines can only be enforced against APA members, we urge all psychiatrists, regardless of membership, to abide by this guidance in respect of our patients and our profession.

A proper psychiatric evaluation requires more than a review of television appearances, tweets, and public comments. Psychiatrists are medical doctors; evaluating mental illness is no less thorough than diagnosing diabetes or heart disease. The standards in our profession require review of medical and psychiatric history and records and a complete examination of mental status. Often collateral information from family members or individuals who know the person well is included, with permission from the patient.
There is, indeed a mental health crisis, and it is in the psychiatric profession. Thankfully, the actual organization has not surrendered to rabid leftists. The list of official statements on the APA Goldwater Rule page, shown above, illustrates consistent stability in the organization's position. Whatever their partisan ideology, APA leaders still understand the danger to their profession of naked fraud for political ends.
Now it is time for formal ethics complaints and public by-name denunciations of the quacks by APA leaders. It is time for concerned members of the profession to file complaints before licensing boards in the appropriate states. Concerned students, who perhaps feel "unsafe" because professors at their university are implying that their political beliefs are signs of mental illness, should publicly and loudly register formal complaints, seeking the administrative correction or even firing of these professors. Oh, but isn't this "cancel culture?"
No. It is the appropriate response to truly dangerous ideas. One major political party is courting the votes of socialists and advocating socialist policies, even proposing to gut the Constitution to achieve socialism by nominally democratic means. Psychiatry was weaponized by the Communist Party in Russia.* These lab-coat leftists seek the same role here, and are signaling their willingness to do to you what their Soviet comrades did to others well within living memory.
---
For an excellent overview and research entry point to the Soviet political weaponization of psychiatry, see the exceptionally well-written and extensive Wikipedia article "Political abuse of psychiatry in the Soviet Union."
Consider this excerpt from a 1983 hearing before the House Subcommittee on Human Rights and International Organizations:
ABUSE OF PSYCHIATRY IN THE SOVIET UNION

TUESDAY, SEPTEMBER 20, 1983

[…]

Mr. Lantos. Last January, I led a congressional delegation to the Soviet Union. We again had firsthand opportunity to talk to a group of Soviet citizens in connection with the abuse of psychiatry as a weapon of punishment meted out to Soviet citizens.

I suspect those of us, Mr. Chairman, who have been following human rights violations in the Soviet Union for many years, via the psychiatric route or in other ways, were probably less surprised by the most recent Soviet brutality as exemplified in the shooting down of the Korean civilian airliner with 269 dead.

We are looking at a country which over its history has killed in cold blood millions of innocent human beings. But there are probably no more outrageous human rights violations in the long and ugly and dark history of the Soviet Union than the human rights abuses which relate to the use of highly trained, highly skilled physicians who are persuaded or cajoled or forced to pervert their scientific training, their training as physicians for the use of torturing people who see the Soviet Union in its true light.

[…]

STATEMENT OF CHARLES H. FAIRBANKS, JR., DEPUTY ASSIST ANT SECRETARY OF STATE FOR HUMAN RIGHTS AND HUMANI TARIAN AFFAIRS

Mr. Fairbanks. Thank you very much, Mr. Chairman. You have my prepared statement, and we have many experts present, so I will cover only certain issues right now. I am very grateful for this opportunity to testify before the members of the committee on the subject of psychiatric abuse.

Most human rights violations occur around the world, in many diverse countries. Psychiatric abuse is distinctive in that it is centered in the Soviet Union. There have been reports that some dissidents have undergone compulsory hospitalization for mental ill ness—sane dissidents that is—in a few other countries, but only in the Soviet Union has the misuse of psychiatry become widespread and systematic. For this reason, I would like to explore this after noon the significance of this appalling human rights violation in the Soviet Union.

By psychiatric abuse, we mean the diagnosis of sane dissenters as mentally ill, and their punishment by incarceration in psychiatric hospitals. This particular human rights violation is a distinctive feature of the current stage of Soviet history. During the 1930's, of course, the Soviet Union carried out what Leszek Kolakowski called "probably the most massive warlike operation ever conducted by a state against its own citizens."

A modest estimate of Stalin's victims would be 6.5 million, a far more likely estimate is 20 million citizens of the Soviet Union. The overwhelming majority of these victims were either murdered by Soviet security personnel, usually after a nominal trial, or consigned to a slow death in slave labor camps.

After the death of Stalin, and particularly after 1956, conditions became vastly better in the Soviet Union. There was no longer mass terror against the population, and the law began to be administered in a less arbitrary way. A dissident subculture grew up within the Soviet Union which was able to pursue opinions independent of the regime within narrow limits.

But, ironically, it is only in the post-Stalin era, when successive Soviet Governments have sought to convince the rest of the world that they brought an end to the Stalin heritage and were no longer holding political prisoners, that psychiatric abuse became a major instrument of repression.

From the regime's point of view, psychiatric commitment is a very convenient instrument of policy. It enables Soviet authorities to substitute judgments of psychiatrists for sentencing in a trial, or to avoid trial altogether. It enables the government to keep dissidents incarcerated an indefinite length of time and, of course, it en ables the regime to claim that Soviet citizens who express dissatisfaction with the system are simply mentally ill.

These advantages of psychiatric abuse for the Soviet leadership are worth somewhat further examination, particularly its effects on the rule of law, which is the last barrier against arbitrary despotism.

The U.S.S.R. has laws against dissidents which the regime can rule rather freely, for instance, the law against anti-Soviet agitation and propaganda, but even totalitarian laws are a restriction on autocratic rule.

On the other hand, sentences on obviously political charges are an embarrassment to the regime which no longer wishes to appear Stalinist. In these circumstances, a method of dispensing with normal trials is very attractive, and sending dissidents to psychiatric hospitals achieves this end.

Moreover, since confinement in mental hospitals is not limited to a definite term, this technique enables Soviet officials to move into a realm of almost unlimited administrative discretion or whim, to evade the rule of law. Psychiatric abuse is a technique that perverts medicine in order to destroy law.
Published in Domestic Policy