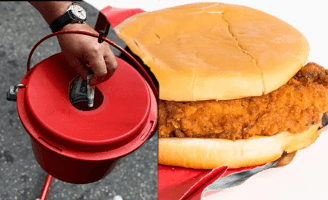 It took less than a generation for the corporate leadership of Chick-fil-A to turn on and spit in the face of its founder, S. Truett Cathy. The fast-food restaurant chain has thrived on the wallets of Bible-believing Christians who responded to the secular supremacist left's boycott with a buycott that crushed and exposed the real economic weakness of the radical left. Now, however, the non-Truett family president and COO has attacked the core customer base to score social credit with his business elite peers, funding luxury beliefs at the direct expense of the least, the last, the poorest among us. Every Bible-believing Christian, and everyone of goodwill, should respond with a new kind of buycott. Starting this Friday, and running until Christmas Day, the Nativity of Christ, don't be chikin, give to the Salvation Army.
John Hinderaker, of PowerLine, explains Chick-fil-A's cave to the Christian-hating left:
The Salvation Army is probably the purest force for good in the U.S. The idea that it is "anti-LGBT" is false; the Army serves all comers. Of course, as a Christian organization, it does not subscribe to the radical LGBT agenda. But so what? Is kowtowing to demands of the most extreme elements of a tiny minority now a prerequisite for being allowed to do business?

[…]

It's too bad: it isn't as though the dimwitted left-wing Chick-fil-A boycotts hurt sales. On the contrary, Chick-fil-A is America's fastest-growing restaurant chain. So the company's caving in to the far Left wasn't, apparently, an economic decision. Maybe it is another instance of corporate executives caring more about their standing within their peer group than about the well-being of the organization they lead, a phenomenon that Glenn Reynolds has described many times.
The economic and cultural elite, now infesting Chick-fil-A, are directly harming the poorest, the truly vulnerable, in America. They are going directly after every church and biblically faithful organization, whether for-profit or non-profit. Now the real bigots have Chick-fil-A's leadership on their side, pronouncing the Salvation Army a hate group to be cut off until it grovels and denounces the true Gospel. Rob Henderson explains the underlying phenomenon of luxury beliefs at Quillette [emphasis added]:
I was bewildered when I encountered a new social class at Yale four years ago: the luxury belief class. My confusion wasn't surprising given my unusual background. When I was two years old, my mother was addicted to drugs and my father abandoned us. I grew up in multiple foster homes, was then adopted into a series of broken homes, and then experienced a series of family tragedies. Later, after a few years in the military, I went to Yale on the GI Bill. On campus, I realized that luxury beliefs have become fashionable status symbols. Luxury beliefs are ideas and opinions that confer status on the rich at very little cost, while taking a toll on the lower class.
Mind you, this is not a tiny sexual minority somehow wagging the culture. No. This is Hugh Hefner's "psycho-social" sexual revolution finally fully weaponized, with "sexual minorities" as the excuse for corporate boards, government agencies, and black-robed tyrants to not only silence but compel renunciation and denunciation of the God they hate, the Word that confronts and judges all human appetites. "Hypocrite" was thrown for centuries but had no legal power. "Hater, bigot" does have enormous potential power under state and federal law. "If it feels good, do it" leads to "this will make you feel good; buy it." So it is that our economic and cultural elites have found common cause in the anticipated final assault on the First Amendment.
The Salvation Army is squarely in the economic and cultural elites' crosshairs because of what the Salvation Army dares to proclaim:
The Salvation Army Mission Statement

The Salvation Army, an international movement, is an evangelical part of the universal Christian Church. Its message is based on the Bible. Its ministry is motivated by the love of God. Its mission is to preach the gospel of Jesus Christ and to meet human needs in His name without discrimination.
We all know how this works now: "Chick-fil-A To Stop Donations To Charities With Anti-LGBT Views."
In an interview with Bisnow, Chick-fil-A President and Chief Operating Officer Tim Tassopoulos announced that the famous fried chicken chain plans to make significant changes in which charities it donates to, in part because "as we go into new markets, we need to be clear about who we are." Amid continued boycotts of the highly popular and successful chain over its donations to supposed "anti-LGBT" groups and causes, Tassopoulos revealed that the company's foundation will no longer donate to some high-profile Christian organizations.
So, Chick-fil-a COO Tim Tassopoulos, nominally an Orthodox Christian, stepped up to the front of the kitchen, made sure the customers were looking, loudly cleared his throat and spat on your sandwich, then he spat again on the grave of S. Truett Cathy, a "bigot" supported by "anti-LGBT" bigots. Tassopoulos smiled, set the top of the bun firmly on the sandwich and called out "order up" with a big smile. Are you going to eat it and tell everyone the special sauce made the sandwich better?
There is a direction to history, and the real haters lose. Even in the shorter run, there is no inevitability to political or social trends. Just as Mike Huckabee sparked the last defeat of the radical sexual fascist left, so he or others should immediately drive a new buycott. The Orthodox Church begins the Advent fast (not feast, but fast), this Friday, 22 November 2019. The Advent fast is broken on Christmas day.
Orthodox fasts are not starvation fasts but periods of self-discipline in which most flavorful, fancy foods are set aside for a very plain fare. Sounds familiar? Tasty chicken sandwiches? Not only not kosher, also not orthodox for fasts.
Here is what all of us should do, starting Friday and perhaps ending on Christmas Day: refrain from Chick-fil-a and donate on our smartphones, tablets, or computers to the Red Kettle Campaign. For each trip you usually plan to Chick-fil-A, give those dollars instead to the Salvation Army. That might be weekly or as much as daily, depending on your habit. If your car's steering develops a problem near Chick-fil-A, just stop in the parking lot and make the donation before safely driving away. Please don't demonstrate in the drive-through lane. The harm intended by current Chick-fil-A leadership, which can and should be changed, will be completely thwarted and turned to real good for the poorest among us. Plus, you'll save a bunch of calories and maybe a belt-notch or so before Christmas or New Year feasting.
#DontBeChickin #FillRedKettles
If you need some help with cravings, engage others in competing "copycat Chick-fil-A recipes."
Published in General