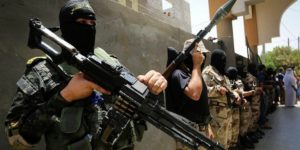 Here we go again: rockets fired into Israel from Gaza; Israel retaliates; and the story continues. But it is a different and more ominous story, and we should all be concerned.
At the moment, there is a ceasefire between Gaza and Israel, facilitated by Egypt. It is sure to be violated, and will probably collapse. In one sense, this story is an old one. But the aggressors have changed, and Israel will not sit back and be victimized by the new guns in town: Palestinian Islamic Jihad (PIJ).
This is one description of the current violence:
Over the past three days, our closest ally in the Middle East has endured a barrage of rockets from its Islamic jihadist neighbors in Gaza, resulting in the closing of Tel Aviv schools for the first time since 1990. In the early hours of Tuesday morning in Shajaiyah in Gaza City, the Israeli Defense Forces (IDF) assassinated Baha Abu al-Ata, a top commander of the Gaza terror group Palestinian Islamic Jihad (PIJ), a strike which has resulted in violent retaliatory measures against Israel on the part of the PIJ.

Though Hamas is the terrorist organization currently exercising political control over Gaza, their absolute hold over the region has been more tenuous in recent years. And the Iran-backed PIJ has capitalized on this weakening of power, rising to fill the resulting power vacuum from Hamas' decline.
This latest foray began in May 2019, when PIJ stepped up its attacks. Although Hamas has governed Gaza, PIJ is challenging its authority. PIJ has a significantly larger arsenal and is backed by Iran. Hamas claims that they are not responsible for PIJ's actions; we don't know, however, whether they have no influence over PIJ (which is likely) or whether they are lying about their own role. Either way, Iran continues its support of PIJ and as always, has Israel in its crosshairs. Hamas' stability as the ruling authority is also threatened.
Hamas and Israel are trying to maintain a delicate balancing act in this situation to offset the growing strength of PIJ:
PIJ wishes to position itself as the 'authentic' jihadist organization in the Strip at the expense of Hamas, which unlike PIJ has to balance out its considerations as a government with its commitment to armed conflict and terrorism.

As part of efforts to prevent war, Israel is ensuring that 600 to 700 trucks per day containing international assistance enter the Hamas-run enclave.

Hamas's nightmare scenario is a popular revolt by Gazans who lose patience with their regime's dead-end policies and economic failures. Unrest in Lebanon and Iraq could fuel such protests at any time. As a result, Hamas is holding out for the results of negotiations it is holding with Egypt and the United Nations aimed at preventing an economic collapse in the coastal enclave.
The prospect of PIJ emerging as a powerhouse with the backing of Iran jeopardizes the shaky balance of power in that part of the world.
While this disruption is unfolding in the Middle East, the Democrat presidential candidates are mostly silent:
Yet, despite the hundreds of rockets launched at civilian centers throughout the southern part of Israel, only four of the top 10 2020 Democratic contenders bothered to comment—former Vice President Joe Biden, Sen. Kamala Harris (who commented only when approached), Mayor Pete Buttigieg, and Sen. Amy Klobuchar. Notably absent were frontrunners Sen. Elizabeth Warren (D-MA) and Sen. Bernie Sanders (D-VT). The irony of this silence from top primary contenders such as Sen. Bernie Sanders, D-VT., and Sen. Elizabeth Warren, D-MA., is that they have no problem rustling up commentary on Israel when it is to lecture Israel on its immigration policy or to challenge Israel's understanding of its own territorial claims.
The current conditions should set off alarm bells at an international level. Iran continues to violate the current nuclear agreement as it also expands its power bases, including in Gaza. PIJ is not only ramping up its attacks but is enlisting the more radical, impatient actors of Hamas. PIJ is likely to improve its ability to attack civilians in Israel with Iran's support. The Iron Dome has a high success rate, but 10 percent of the Israeli population is at risk. And Democrat support in our own government is lukewarm and disintegrating over time.
My heart, of course, is with Israel. With PIJ, Fatah (in the West Bank), Hamas and Iran all focused on Israel's destruction, we need to watch carefully how events unfold.
We also need to let Israel know that we earnestly back them up against these evil forces.
Published in Foreign Policy