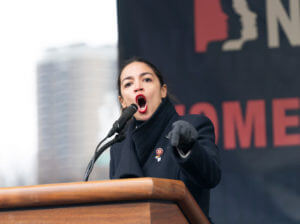 Demonstrating once again her laser-like focus on representing the interests of her constituents in Queens, AOC flew to Denmark recently on an airplane that burned an enormous amount of fossil fuels. This no doubt thrilled those who live in her congressional district, who have plenty of time to follow their congressperson's heroic exploits closely because they don't work at an Amazon distribution center. AOC believes that it's all about her constituents – it's not about her, as you can tell from her statements to those assembled in Copenhagen:
"I speak to you not as an elected official or a public figure, but I speak to you as a human being," the freshman congresswoman told a climate summit in Copenhagen. "A woman whose dreams of motherhood now taste bittersweet, because of what I know about our children's future," she added, apparently choking back tears.
Thankfully, she valiantly choked back her tears sufficiently to continue to heroically represent her constituents in Queens, NY, which is not far from Puerto Rico:
"I speak to you as daughter and descendant of colonized peoples who have already begun to suffer. Just two years ago one of the deadliest disasters in the United States struck in the form of Hurricane Maria," she said. "The climate change-powered storm killed over 3,000 Puerto Ricans, American citizens — my own grandfather died in the aftermath — all because they were living under colonial rule, which contributed to the dire conditions and lack of recovery."
So AOC is reluctant to have children because of the threat of climate change. A threat that is very real, especially to Queens residents who live under colonial rule, because her grandfather was killed by climate change two years ago. Strangely, she neglected to give his actual cause of death (drowning? heat stroke? not sure…). But he was killed by climate change. And colonial rule. So there you go.
But the good people of Queens can rest easy because they have a selfless hero in AOC who is willing to sacrifice everything – even her unborn children! – to save them from the type of selfish egomaniacs who would fly to Denmark on an airplane that burns an enormous amount of fossil fuels to attend a conference in person, rather than use Facetime or something.
It's easy to see why the good people of Queens were so excited when AOC flew to Denmark on an airplane that burns an enormous amount of fossil fuels, although it's also easy to understand how disappointed they'll be when she flies back, on another airplane that burns an enormous amount of fossil fuels. Talk about choking back tears.
But AOC will lift them to a higher plane, as she bestrides the, um, ah…
Eh, whatever.
---
You know, my heart really isn't in this. I think it's because AOC's heart really isn't in it, either. Neither is Al Gore's, Harrison Ford's, Leonardo DiCaprio's, or any of the rest of them.
They've given up hope for some sign of catastrophe. Like the crazed loons who believe the world is ending next Thursday afternoon, their life seems sort of empty on Friday morning. They've been praying for disaster for a long time. "The Population Bomb" came out in 1968. The ice age in the 1970's didn't work out. Neither did global warming in the 1980s. Baby seals. Polar bears. Whales. And so on and so forth. Everything seems to be going pretty well. You can imagine how disappointed they must feel. What a letdown.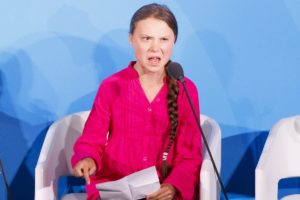 So rather than have scientists pretend to present evidence that doesn't exist, they have actors pound the podium and act angry, and they have an autistic high school sophomore lecture us about things she doesn't understand.
It all seems sort of empty and pointless, like screaming at a cloud, which is sort of what they're doing, I suppose. It might even be sort of funny, although I'd feel a little guilty about laughing at such unhappy people. But it's not funny, because these people are using their climate change act to gain power. And if you think Donald Trump is not well suited to be in a position of power, imagine just ANY of these people in charge. Actually, don't imagine. Just read about the actions of the EPA these days.
I was going to write a really funny post about this. But whatever. There's no sport in it. Or maybe I'm just tired.
Anyone who wants to pick this up and do something better with it, here's the news story that inspired my half-hearted attempt at humor. Before I got bored.
That's really the problem, I think. These people are boring. I'd rather hang out with someone else.
And every election, millions of people vote for them. Absolutely astounding.
And they're closer to complete control than you think. Which will make dying of climate change under colonial rule sound pretty good.
I can't decide if I drink too much or not enough.
Published in General