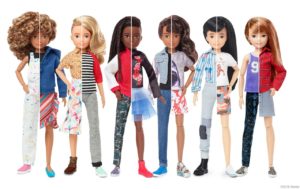 Move over, Barbie, the new face of Mattel has arrived. Ze may not be as shapely and enduring as their predecessor, but according to a glowing feature in TIME magazine, ve might be headed for a holiday-neutral pine tree near you this December.
Billing their latest product as "a doll for everyone," Mattel becomes the latest Fortune 500 corporation to go all-in on gender identity with its androgynous "Creatable World" doll, which follows closely on the heels of its decision last year to nix its respective boys and girls toy divisions.
So with yet another multi-billion-dollar company toeing the line and perhaps the world's most recognizable toy brand going woke, perhaps there is more incentive for parents and other responsible adults to sit up and take notice.
With all the gusto of a paid advertisement, Time introduces the scene of a little boy opening a box with a new doll inside. In an apparent contradiction in terms, Time identifies the boy as an eight-year-old "who considers himself gender fluid." Although he—yes, Time stumbles here and uses the correct sex-specific pronoun—sometimes says black is his favorite color, he sometimes opts for pink. Yes, and sometimes he plays with his younger sister's dolls, though he often complains that said dolls are "girly, princess stuff."
This, we're led to believe, is what it means to be "gender fluid." Not "favorite-color fluid." Not "favorite-toy questioning." Without question, "gender fluid." Hence the need for a doll that, again according to the article, "can be a boy, a girl, neither, or both."
Here's where the article gets interesting—and still more concerning for parents: TIME delves into the uniformly confused and unsure reactions of parents selected to test out the toy. One mom asks, "Is it transgender? How am I supposed to have a conversation with my kid about that?" Another mom says forthrightly, "I don't think my son should be playing with dolls." The only dad in the group was said to have shrugged and said, "I used to be against that type of thing, but now I'm O.K. with it."
"After the session," Time writes, "[Mattel's consumer insights chief Monica] Dreger analyzed the parental response. 'Adults get so tied up in the descriptions and definitions,' she said. 'They jump to this idea of sexuality. They make themselves more anxious about it. For kids, it's much more intuitive.'"
In other words, it doesn't matter to Mattel what concerns parents—it's more important that the company shape the thoughts, feelings, and self-perceptions of parents to conform to the company's relentlessly "progressive" agenda. Dreger says as much elsewhere: "So we're maybe behind where kids are, ahead of where parents are, and that's exactly where we need to be."
Make no mistake, Mattel is not alone in its cavalier dismissal of parental concerns. The corporation is part of a much larger, much more destructive trend. As a father named Jay Keck wrote at USA Today, his daughter was a high-school girl diagnosed with autism, when her best friend adopted a male identity. Soon, Jay's daughter was following her friend's example at school. Ignoring her mental health condition, the school not only tried to hide what was going on from Jay and his wife, but then encouraged her to run away from home.
Meanwhile, another group of parents has expressed similar concerns under condition of anonymity, and a six-year-old's perceived gender became central to a custody battle. An entire network of parents has formed to provide mutual support after their children adopted new gender identities—almost always acting in opposition to their parents, but in concert with influential adults.
In perhaps the most shocking case to date, Ohio parents lost custody of their teenager when a court overruled their parental rights because they objected to their child undergoing dangerous cross-sex hormone treatment.
Yet, while activist groups, public school officials, and toy manufacturers continue to pressure children and teenagers to abandon their biological sex in favor of "gender fluidity" or identifying as the opposite sex, one key factor continues to go unnoticed. It's a big one.
Up to 97 percent of boys and 88 percent of girls, if left to themselves—or better, treated for related and underlying mental health conditions—will outgrow their sense of gender-related discomfort by the time they reach adulthood. And gender identity advocates know that: it's published in the pro-gender identity American Psychiatric Association's "Diagnostic and Statistical Manual of Mental Disorders" (DSM-V).
Children and adults experiencing confusion about their gender need compassionate support. But it's neither compassionate nor responsible to answer a child's questions about his or her gender by "affirming" them as the opposite sex. In fact, research points in the opposite direction, showing, for example, vastly increased rates of mental health problems and suicide following gender reassignment surgery.
In its second-to-last paragraph, Time wraps up its agitprop by speculating that, "This debate will spin out into sociopolitical questions about whether the types of toys children play with effect their sense of identity and gender."
Clearly, that's Mattel's aim with its "Creatable World" doll. What else could it be? Parents would be wise to size up this toymaker's agenda and shop accordingly.
Published in Culture