When Marie and I sat down in the doggie greeting room at the Portland Humane Society, a little light-brown mutt with short legs and a smile on his face trotted in and adopted us.
Bob the dog had been just a few days from being euthanized in a shelter in Fresno, California, when the Portland Humane Society, a no-kill shelter, told Fresno that it would take in a few of their dogs. Bob was in that lucky lot.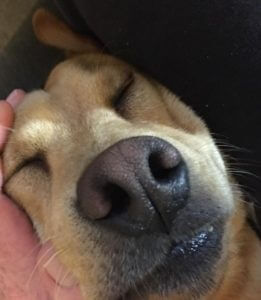 Here's what Fresno Bob looked like when we got him home on that first day. I think he knew, somehow or another, that he was safe now and had found a forever home.
I've never met a creature, animal or human, who has loved me more than Bob does. He overlooks all my foibles and vices. (Marie doesn't let a single one slide by unacknowledged.) I'm pretty sure that I could even vote for a Democrat and Bob would forgive that transgression. Naturally, Bob is a Republican. (Marie claims, quite unfairly I think, that I attribute human characteristics to Bob.)
I'm not particularly lovable, but Bob thinks I am. (That old maxim comes to mind here: May I be the kind of person my dog thinks I am.) When I plop down in my easy chair, Bob hears that sound and trots in from wherever he is to sit at my feet. He stays curled up there until I get up. Bob is a good dog, yes he is.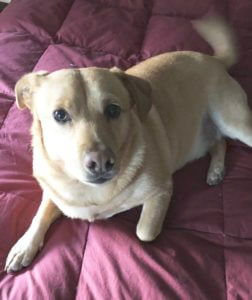 Right now, Marie is visiting the Oregon coast with friends for three days. That means that Bob gets to sleep in our bed with me. Marie disapproves. Bob leaves hairs on the bed. I'll pick them up with one of those sticky rollers before she gets home.
About 10 o'clock, I say, "Bob, let's go to bed." Before I can take three steps, Bob has raced up the stairs to the second floor and has jumped onto the bed. When I arrive, Bob is curled up, his little legs moving wildly, seeming beyond his control, his tail thumping the bed. (See photo for blurred tail.) Sleeping in our bed is the greatest thing in the world for Bob.
When I crawl under the covers, he tries to lick my face for a while. Then he turns over so that he is facing away from me; we're now configured like a nested-spoon couple. I drape my arm over his torso, just as I do with Marie, and we drift off to sleep.
Mutts like Bob are the best, aren't they? All those thousand-buck dogs with papers can suck eggs. Now that I think of it, America is a nation full of mutts. We left all of those inbred and effete aristocrats behind in Europe. If we weren't already mutts before we arrived, it wasn't long before we were Spanglish Americans, Scotwegian Americans, Mexirish Americans, or whatever. I myself am a bit Scot, a tad Irish, a smattering of English, and a soupçon of Choctaw Indian. (I've had my DNA tested.)
Bob is half-chihuahua, part American bulldog, and some other stuff. Bob and I are total mutts. Maybe that's why we get along so well.
For my birthday, Marie bought me a pair of socks with Bob's face on them. Not a generic dog's face. Photos of Bob's actual face. Each sock contains nine little Bob faces looking up at me. Cutest thing I've ever seen. I've never owned such a meaningful pair of socks.
I could go on with Bob tales, but I'm afraid I've already tested your patience, especially if you're a cat person like Gossamer Cat, Front Seat Cat, and of course Arahant the cat man. (Sad.) But before I go, let me leave you with one more photo of Bob, this one taken in our front lawn
Postscript: I think I've shown admirable restraint in never once referring to Bob as my fur baby. But he is, you know.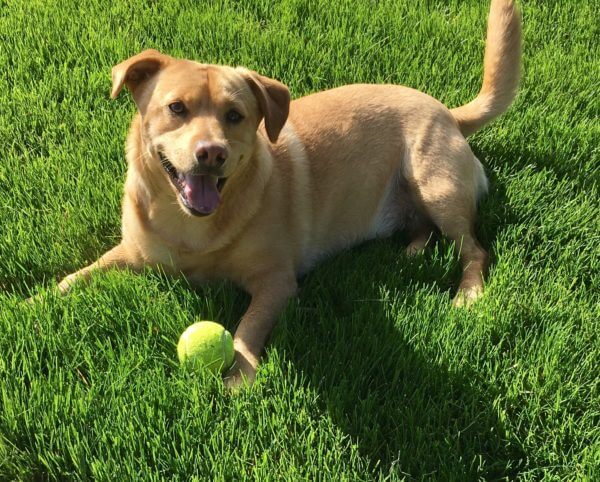 Published in General