At least someone has decided to stand up to Ilhan Omar and Rashida Tlaib's anti-Semitic and anti-Israel agenda. It's clear that our Congress will not.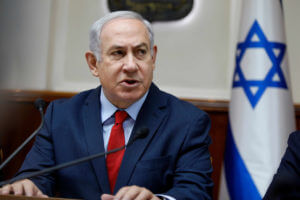 Last month, a visit to Israel by these two lawmakers had been approved. Just two days before the trip, however, both women announced that they planned to use the trip to promote the Boycott-Divest-Sanction (BDS) movement, an international effort to cripple the Israeli economy and delegitimize the Jewish state. When their agenda became clear, Israel enforced a law passed in 2017 which prohibits entry to those who promote boycotting the country. Foreign Minister Israel Katz spoke out supporting the ban–referring to their support of BDS, terrorism and minimizing the Holocaust:
'Furthermore, the planned visit they have prepared is entirely aimed at provocation and incitement against the State of Israel, and not to study the State of Israel's activities,' he said. 'A self-respecting state does not allow those who undermine its existence to enter its borders and continue incitement.'
Our Ambassador to Israel, David Friedman released a statement, which said in part:
The United States supports and respects the decision of the Government of Israel to deny entry to the Tlaib/Omar Delegation.
The Boycott, Divestment and Sanctions (BDS) movement against Israel is not free speech. Rather, it is no less than economic warfare designed to delegitimize and ultimately destroy the Jewish State. Israel properly has enacted laws to bar entry of BDS activists under the circumstances present here, and it has every right to protect its borders against those activists in the same manner as it would bar entrants with more conventional weapons.
Needless to say, Omar was not happy:
'It is an affront that Israeli Prime Minister Netanyahu, under pressure from President Trump, would deny entry to representatives of the U.S. government,' she said in a statement. 'Sadly, this is not a surprise given the public positions of Prime Minister Netanyahu, who has consistently resisted peace efforts, restricted the freedom of movement of Palestinians, limited public knowledge of the brutal realities of the occupation and aligned himself with Islamophobes like Donald Trump.'
In response to Israel's offer to Rashida Tlaib for a humanitarian visa so that she could visit her family, she made this statement:
'Visiting my grandmother under these oppressive conditions meant to humiliate me would break my grandmother's heart,' she said in a statement. 'Silencing me with treatment to make me feel less-than is not what she wants for me — it would kill a piece of me that always stands up against racism and injustice.'
Rep. Eliot Engel, D-N.Y, who supports Israel, said that this action would damage public opinion toward Israel:
'If Israel's government hopes to win the support of American lawmakers across the political spectrum, then this visit could have been an opportunity to share views and make a case for why American support for Israel is so important,' Engel said. 'Instead, refusing entry to members of Congress looks like Israel closing itself off to criticism and dialogue. This decision will only strengthen the anti-Israel movements and arguments many of us find so troubling, further politicize support for Israel in the United States and ultimately play right into the hands of Israel's enemies.'
This statement is ludicrous for many reasons. First, the Left in Congress has already been demonstrating its unhappiness with Israel and has only made lukewarm protests against Omar and Tlaib's anti-Semitic and anti-Israel comments. Second, suggesting that Omar or Tlaib were the slightest bit interested in a dialogue with Israelis is delusional. Finally, Israel's enemies will not be influenced one way or the other; they already condemn Israel.
* * * *
I applaud Netanyahu's decision for several reasons.
He is demonstrating to the world that Israel will resist terrorism and its supporters in any form.
Israel is prepared to deny entry to anyone who supports the BDS movement.
Israel will resist the pressures from other countries that will criticize its actions.
Finally, the world should observe that those who condemn Israel and the Jews will not be ignored.
Maybe the members of Congress should note what it means to take a courageous stand.
Published in Politics