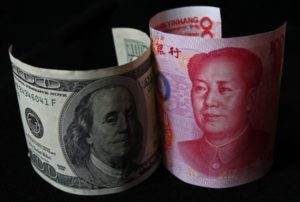 As that great and learned scholar Vizzini once noted, one of two classic blunders is getting involved in a land war in Asia. But trade wars might also qualify. "Donald Trump's trade battle with China is starting to look like a forever war — a quagmire with no end in sight, no clear path to a resolution and more potential land mines for an already weakening global economy," Bloomberg's Shawn Donnan argues.
At the very least, President Trump's "trade wars are good and easy to win" axiom isn't playing out. Not only did the president say he's imposing 10% tariffs on another $300 billion of Chinese goods starting Sept. 1, but Beijing looks like it's not expecting a resolution any time soon as it lets the renminbi weaken, or "crack seven" in traders parlance. The Financial Times calls the move "a clear sign that Beijing is prepared to use the currency as a weapon and let the trade war drag on."
And drag on and on and on to where, exactly? Neil Shearing of Capital Economics sees…
a significant risk that the current trade war between the US and China represents the start of a wider backlash to globalisation that ultimately leads to the disintegration of the liberal rules-based system that has governed the cross-border flow of goods, capital, and labor over the past 70 years. It's even possible that this might lead to an eventual Balkanisation of the global economy, with US- and China-led spheres of influence, each with separate payment systems, regulatory standards, and technological platforms. It goes without saying that this would have much graver economic and market consequences.
One thing making that dire scenario a plausible one is that whatever Trump's goals — maybe as straightforward as getting a "good deal" but maybe not — Donnan notes that China hawks in Washington see "tariffs as an essential tool in forcing a relocation of supply chains." Meanwhile, Trump thinks China, rather than American consumers, is bearing the costs of the tariffs. He's even suggested the tariffs are boosting American economic growth. So let the trade war roll on!
But there's forever and then there's forever. I've been at least modestly skeptical that US vs. China turns into Cold War 2.0. or a Tech Cold War. As I recently wrote for The Week:
The Cold War was a multi-decade effort of economic, military, and ideological dimensions — given force and vitality by intellectuals and politicians across the political spectrum — where the benefits and costs were clearly spelled out to the American people. And America was not fighting alone: Global institutions, including NATO, were critical for victory, which the cold warriors always knew would be the case. The Reagan administration's famous 1982 national security strategy memo stressed the value in "strengthening existing alliances" and promoting "a well-functioning international economic system with minimal distortions to trade and investment and broadly agreed and respected rules."

Beyond its nostalgic moniker, the tech cold war lacks almost all the critical aspects of the successful original. For starters, it's unclear whether the current American president views the Huawei ban or follow-up restrictions on other Chinese firms as anything more than a short-term tactic to get a better trade deal with Beijing. . . . Even assuming Trump has signed on to fighting on this new front, any sort of sustained economic conflict requires serious explanation to the American public. They should understand the broad strategy, the clear goals, and the potential costs. . . . And while the U.S. attempts to work less with China, plenty of nations might deepen their ties. . . . The more you look at the idea of a tech cold war — from the lack of serious planning to the problems in disentangling the two ecosystems, the more fanciful it seems.
All that said, I'm not sure how exactly the current war of attrition ends even as the trade conflict turns into a currency conflict, too.
Published in Economics