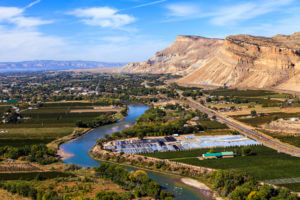 One reason DC is so swampy is that so many federal agencies are located there. A mid-level bureaucrat can move from HUD to State to Agriculture, spreading bureaucratic groupthink and red-tape-induced sclerosis as they go. A great way to break this paper-pushing cartel is to spread agencies around the nation, preferably closer to the citizens they claim to serve.
On Monday, Sen. Cory Gardner (R-CO) announced a positive development on that front. The Bureau of Land Management will relocate its headquarters to Grand Junction, CO.
Today is a historic day for our nation's public lands, western states, and the people of Colorado. Relocating the Bureau of Land Management to the Western Slope of Colorado will bring the bureau's decision makers closer to the people they serve and the public lands they manage. The problem with Washington is too many policy makers are far removed from the people they are there to serve. Ninety-nine percent of the land the BLM manages is West of the Mississippi River, and so should be the BLM headquarters. This is a victory for local communities, advocates for public lands, and proponents for a more responsible and accountable federal government.
I wrote about a similar effort last month in the Arizona Republic. When Ag Secretary Sonny Perdue decided to relocate 547 employees from the Beltway to Kansas City, workers protested, standing with their backs to their boss. Just imagine, agricultural regulators were forced to associate with farmers. Eww.
This is a tiny step in the right direction, but most of our federal agencies should be moved out of the Beltway. Leave the departments of State, Defense and Treasury in Washington; those are the only three outlined in the Constitution to begin with. If we aren't going to consolidate or eliminate the other agencies, at least move them closer to their mission.

The Department of the Interior should be, well, in the interior. As an Arizonan, I'm biased, but relocate it to the Grand Canyon State. After all, the federal government already owns nearly 39% of our state. Gila Bend is nice this time of year.

Shouldn't Housing and Urban Development focus on a city that needs some help? Downtown Detroit is a perfect fit.

The U.S. News and World Report lists Alabama as the worst state for education. Why doesn't Betsy DeVos move her thousands of employees to Birmingham? Perhaps they could expand their impact by volunteering for a few hours to tutor in local schools.

Six of America's wealthiest counties surround Washington, D.C. Not only would these moves save taxpayers millions, they would alleviate income inequality by spreading the government's borrowed wealth. Why should the perpetual economic boom be limited to our capital?
Thanks to Sen. Gardner, who shepherded this BLM move for years, and congratulations to Grand Junction. This is sure to energize the economy in the less populated, far west of the state. And, hopefully, result in the hiring of many Coloradans who understand land management better than apartment-dwellers in the Beltway.
Published in Environment