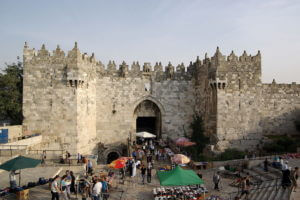 I think we should take the Palestinians at their word: they are saying "no" to peace and prosperity; we should say "no" to providing them any more help.
Jared Kushner and Jason Greenblatt should pack up their portfolios, hand-outs, graphs, easels, and charts and come home. The U.S. has spent far too much time trying to assuage a people that hates us, that is corrupt, and that holds the world hostage to their threats of violence and hand-wringing. It's time for the U.S. to stop beating its head against the proverbial wall and let the Arab countries figure out what to do with the Palestinian people.
I'm serious. How long do we try to maintain the masquerade that there is any chance of bringing peace to the Middle East? The Palestinians refuse to acknowledge Israel's right to exist. They refuse to negotiate territory. They refuse to be accountable for the billions of dollars they squander away. They continue to pay support for families whose members died as terrorists.
In spite of their refusal to attend the Bahrain conference, and stating that any Arab country that does attend is a traitor, they've asked Arabs to give them $100 million per month to resist "pressures" from Israel and the U.S. And they have no desire for peace or resolution to the conflict:
Since rejecting the suggested partitioning, the 1937 Peel Commission, Arab leaders have thwarted the creation of an Arab state west of the Jordan River more than six times depending on whether one considers refusal to talk to mean refusing the possibility of a state. Thus, if anything is to be gleaned from the Bahrain conference boycott, it is that the Palestinian leadership does not have a genuine interest in bettering the lives of their own people—and perhaps that they are quite unprepared for actual statehood.
I suggest the Middle East countries and the U.S. take a whole different approach. Any money that they are prepared to pledge to the Palestinians should be used to defend Israel against the Palestinian terrorists. Saudi Arabia, Jordan, Egypt, Morocco, the United Arab Emirates, and Qatar—all countries who have agreed to come to the Bahrain conference—should create a defense organization that demands that the Palestinians stand down. Terrorist attacks by Hamas and Fatah will undergo retribution from these countries, who will act in concert with Israel. The U.S. will not send our men, but we will provide whatever support we can.
At the same time, Caroline Glick's ideas regarding the one-state solution can be used as a starting point for finding a way to integrate the Palestinians into Israel, or assisting them to immigrate to other countries. (Much data supports the premise that the Jewish population is growing more rapidly than the Palestinian population.)
It is time to demand an end to useless negotiations and support Israel in its efforts to bring peace and stability. Israel will more than likely experience violence, but if given the chance, I hope they would agree it's time that they're able to fully embrace their statehood
No means no.
Published in Foreign Policy