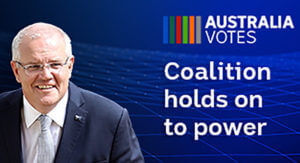 G'day from your friendly neighborhood Yank Down Under.
Australia went to the polls yesterday, and the result has the pundits in shock this morning. A Labor Party victory was widely expected after polls had indicated for well over a year that the country had soured on the right-leaning Liberal Party (yes, we're talking classical liberalism Down Under) coalition. Conventional wisdom seemed to have coalesced around the idea that this was a change election. Not so much, it turned out.
Incumbent Prime Minister Scott Morrison was also thought to be burdened by the collective disgust of voters tired of the constant drama of leadership "spills" which had produced six different prime ministers since 2007, and most recently last August when Morrison emerged from the Liberal tussle that saw previous PM Malcolm Turnbull pushed aside by a party nervous about this very election. While it is true most Australians are embarrassed about these palace coups, it is also true that once the deed was done, "ScoMo" pulled out the upset.
So here's what the shocked pundits are saying this morning: Labor went too hard after "change", including climate change, which was a big issue for them. Liberals were able to cast Labor's agenda into a threat to jobs and pocketbooks. While urban Australians are quite progressive on many social and environmental issues (they overwhelming chose to allow same-sex marriage in a 2017 national referendum, for example), Australia's economy has been very much dependent on the export of raw materials. They are therefore put in the strange situation of feeling queasy about using their own fossil fuels and minerals, but accepting that they need to keep digging big mines and shipping coal and iron ore off to China.
So the bottom line is that Australia will continue to have a center-right government led by an Evangelical conservative, and the pundits and pollsters will spend the next three years trying to figure out how they missed it.
Published in Elections