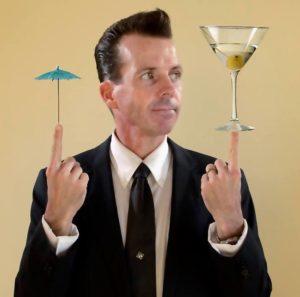 I was consulting with a neurologist regarding the recent difficulties I'd been having with my right arm. It had, quite suddenly, stopped doing what my brain told it to do, at least when I told it to toss something underhanded, as when playing horseshoes or juggling. Instead, my hand would pronate or rotate counterclockwise, ultimately hitting me in the rib cage if I fought hard enough against it. 
The neurologist tried to reassure me that the problem manifests itself quite subtlely and that if I weren't a professional juggler I probably wouldn't even notice it. 
The thing is, I was a professional juggler.
In a sense, of course, he was right: I was fortunate in that my symptom was quite literally limited to making an underarm throwing motion. There was no pain, no balance or proprioception issues, no headaches. Just clients to please and audiences to entertain and the question of how I would go about it with my greatly diminished juggling ability. 
What I did was get to work. With the help of friends, I collaborated on a new act as a kind of workaround. Instead of juggling five balls, for example, I substituted throwing an olive into the air and catching it on a toothpick clenched between my teeth. Instead of juggling clubs, I learned to roll an apple down my back and pierce it between my legs with a fork. And, of course, I learned to fill every corner of it with comedy, comedy, comedy. 
My injury lead to the best thing that has happened to me professionally. No longer did I have to worry what anyone else was doing on the bill; my act was truly one of a kind. 
Instead of "juggler" on my business cards, I put "unnatural acts".
Then one day, more than two decades after my problem manifested itself, I was drying dishes by hand when I noticed that I was putting a kind of flourish into the action of putting utensils away in the drawer. I made a mental note of it and before long I began noticing other problems. Picking up a coffee cup would cause my hand to curl slightly inward as my torso would make way. I began spreading butter, chopping fruits and vegetables and performing numerous other tasks left-handed. My right hand began to grow restless: reading a book while holding a cup of coffee became an impossibility. Writing longhand became extraordinarily difficult, if not impossible. Credit purchases became stressful as made an ungainly effort to replicate the signature on the back of my credit card. Shaking hands? Awkward. 
Then a watershed moment: during a show in Bonn, Germany, I discovered I was unable to hold a microphone with my right hand. Even before Bonn, I had been making adaptations to accommodate my "little problem". As my right hand became increasingly useless, I began to rely on it more and more for the one task for which it was still competent: holding a microphone. My left hand would become responsible for the yeoman work of gesturing, something which was becoming increasingly awkward with my right hand. 
Some fixes were easy: I moved my glass of water to my left side, obviating the need to lift a glass of water with my right hand. By learning to get comfortable with the microphone in the mic stand (something I never bothered with before) I am still able to gesture with my left hand while leaving my right hand to rest in my pocket. But even this had a downside: as my left hand undertakes tasks formerly the responsibility of my right hand, it frees the latter to go off into its own world.) The point is, I try to focus on what I'm doing and instead I focus on what my right hand is up to. Not a good place. 
I had given numerous talks to various organizations about my arm but always given in tandem with my show. Now I began to sense that the problem was so overt that rather than a talk at the end of the show what is required is a kind of disclaimer at the beginning of the show, lest my right arm distract audiences from, you know, the jokes. But without so much as a diagnosis, how would I begin such a disclaimer? I felt I needed at least a cursory diagnosis before casually informing the audience to ignore whatever the hell my right arm was up to.
Well, a diagnosis is what I have. A soft diagnosis, at least. With help from my wife, I managed to get an appointment with a doctor here in Germany who's best guess is that I suffer from focal dystonia, about which little is known. (That's the thing with neurology: for its abundance of "fascinating" case studies, it has relatively few treatments, let alone cures.) Focal dystonia, when it is focused on the hand, is commonly known as writers' or musicians' cramp. (According to Wikipedia, "Focal dystonia most typically affects people who rely on fine motor skills – musicians, writers, surgeons, etc. It is thought that the excessive motor training those skills require may contribute to the development of dystonia as their cortical maps become enlarged and begin to overlap. Focal dystonia is generally "task-specific," meaning that it is only problematic during certain activities." 
So in that sense, the neurologist I visited more than two decades ago was right: my problem is task specific. Now the question is, "What is my task?" 
That's what I'm endeavoring to find out.
Published in Entertainment