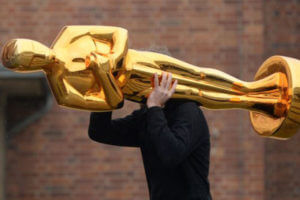 "My name is Oscarmandias, King of Entertainment;
Look on my Works, ye Mighty, and despair!"

Nothing beside remains. Round the decay
Of that colossal Wreck, boundless and bare
The lone and level sands stretch far away.
After months of searching for a host then chasing off the only person willing to try, the Academy has thrown in the gold lamé towelette. For the first time in the past three decades of The Oscars, the event will go hostless. From Variety:
Producers will select a crop of A-listers to introduce various segments instead of relying on one marquee name to kick things off in a monologue filled with Trump zingers, said the insiders. The producers and the Academy of Motion Picture Arts and Sciences, the group behind the Oscars, are scrambling to line up top talent needed to carry the telecast, which is just six weeks from airing live — on Feb. 24 — from Hollywood's Dolby Theatre. Hand-wringing at the Academy has been palpable.
Oh, good — "Trump zingers."
When comedian Kevin Hart was announced as the host last month, the woke mob attacked him over decade-old jokes now deemed homophobic. Hart had repeatedly apologized for these past sins, but the Academy insisted on another round of public groveling. Instead, he quit. Not every entertainer is willing to bend the knee to the comedy police.
Who would be your choice to host the Oscars? If he or she was chosen, would you even watch?
Published in Entertainment