A line taken from my favorite uneducated crafter of words goes: "it has taken me so long, but now I know I believe; all that I do or say is all I ever will be." Words and Actions. I would like briefly to turn attention to four individuals who have not only authored magnificent words but backed them with lifetime action, examples to us all of human strength, reasoned insight and a keen understanding of the American vision. There are American to the core.
I find it more than timely that a man who is known for having few publicly spoken words but who has (in my limited opinion) written the very best, deepest and most poetic Supreme Court opinions of the last several decades has decided to offer up a straight-forward narration of his remarkable life's journey in the recently released film CREATED EQUAL. Clarence Thomas has gifted us with his story before in his memoir My Grandfather's Son. But this film not only adds the visual to that compelling story but also the direct and sincere voice of the man who lived it. There are individuals whose stories greatly help us to become not just better citizens and Americans but human beings also. Thomas's story and character are both examples of this.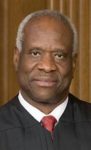 Justice Thomas is just one of those four individuals I am taking this pause for. I will fall back almost two centuries to find the next one and then return to Thomas' generation to round out the field.
One of the very best written pictures of what Americanism should look like in the life of an individual came from a man who went from a defiant slave to one of the leading intellectual leaders of his, or any other, age. It covers less than forty pages. It was actually a lecture that Frederick Douglass first gave in 1859. He would give it again and again over the next half-century with only slight edits over the years. I consider it one of the great works of American literature. Anyone not versed in Douglass' Self-Made Men has an incomplete education.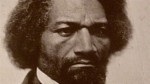 Thomas Sowell was born in the rural South in 1930 but grew up in Harlem. His father died before his birth and he already had four siblings ahead of him. So, he was "farmed out" to a great-aunt who had two grown daughters. He was in Harlem by his ninth birthday and although an excellent student he dropped out of school to help support the family. When he was drafted into service in 1951, he was assigned to the Marine Corps. It was after that service in the Korean War that he was able to complete his education and begin his career as one of America's foremost economic minds.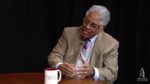 Walter E. Williams is Sowell's junior by six years. He was from Philadelphia and raised in the housing projects there. He left Philly to live with his father in California and it was there where he too was drafted. While in the service he was independent enough to have a court-martial filed against him and sharp enough (and brave enough) to argue his own case and win an acquittal. Williams also was able to continue his education after the service and it was at UCLA where he was pressed "to look at the evidence" by a professor with whom he disagreed. He had begun to reshape some ideas when he also first met Thomas Sowell who was a visiting professor. They are still fast friends.
Between the two of them, Sowell and Williams have written just south of sixty books. No, I haven't read them all. Or half of them, yet. If anyone is asked to suggest the best title to start with, the short answer would be any of them. And then start another as soon as possible.
The four voices of Douglass, Sowell, Williams, and Thomas are among the clearest and authoritative on the human benefits of simple liberty. They all express a profound understanding of the role of the American Constitution in the delivery of that liberty to humankind.
As great as the words and thoughts of these men are, they are still just men. They were not born with these words. They came to them through a life of challenge and struggle. That is the path of man. There was a time in each of these lives when the men felt differently. But their native intelligence and independence of thought helped them to turn the weight of their experience into insight and understanding.
As a young slave Douglass had survived the hardship of having to steal food to barely make it as well being sent to the notorious slave-breaker Edward Covey to have the "boldness" driven from him to finally escaping from Maryland to "free territory". A dynamic speaker, this self-educated former slave became an important member of William Lloyd Garrison's abolitionist movement. Garrison was hostile to the United States Constitution and bitterly denounced it. Douglass naturally took this viewpoint early on. He had experienced the whip of slavery first hand. It was during this period when Douglass told someone, "That is not my constitution".
It is from this period that some lift Douglass quotes without consideration of what he spent the last fifty or more years saying. Over time, and a relatively short time, Douglass' own intellect begins to tell him that the Constitution was, in fact, the clear path to abolition of slavery. It was actually constructed for just that. For more than a half-century it was very much Frederick Douglass' Constitution.
Thomas Sowell has observed that he leaned strongly toward Marxism when in his early 20s. It was in the summer of 1960 working as a government intern that he first greatly questioned public policy such as a minimum wage because he was complying the numbers which proved beyond a doubt it actually harmed the poorest and benefitted few except the unions.
Walter Williams will tell you that during that same "early 20s" stage of life he was "more sympathetic to Malcolm X than Martin Luther King". Through an honest and intelligent "look at the evidence" and a clear mind determined to seek its own understandings, Williams became the gift to us all that he is today.
Justice Thomas also speaks of being that same angry young man himself. Among those bedrock things which he fell back on during this period were the love and examples of the grandfather who gave him a roof and an ordered life to the young Thomas and those Irish nuns who taught him. And there was his faith.
The phrases "clouded by anger" and "redeemed by faith" used by Thomas to describe the direction of his early life should be digested by us all. The young Thomas prayed to have the anger lifted from his heart and promised if it was he would never hate again. His ability to reach that goal should be a guiding light not just in individual lives but to the whole of humankind.
These four lives, and their words, could be discussed almost endlessly. My abilities and my words are far too limited to do them justice. But we can stop to observe that despite a harsh start in life's travels, they refused to be victims. They threw off the mantle of victimhood or refused it outright to take charge of their own destiny. They chose to shape their own character with their own reasoned mind and the universal, constant truths it revealed to them. They were not shaped by injustice and so they refused to turn injustice back on the world.
In their wisdom, they realized that every human endeavor has had injustice in it to some degree. We are imperfect men. It is our lot to determinedly strive toward perfection, hopefully moving closer and closer to it without reaching it, at least in this world. But with each baby step taken we become more of what we are made to be.
These four came to understand that the founding of this nation had at its core the mission of limiting that injustice and constantly moving ever closer to eliminating it. Our Constitution is the single more important secular instrument for that purpose. Our Declaration of Independence is the clearest statement of that mission written by man's hand.
These four understood, with Madison, that men were not angels and would never be ruled by angels in this secular world. That means that principles have to be held above opinions if a free civil society is to exist. In fact, opinions should be the result of principles. For those principles to be just they should be mined from the wisdom and experience of the ages, proven to be constant and universal; an extension of "Nature and Nature's God." That wisdom of the universe is there for us to continually seek and learn from, not for us to invent to suit the purpose or feelings of the moment. That is how we move toward that elusive perfection.
Those founding documents and those four men remind us that for one to do injustice to another they must have the power to do it. Those who would do injustice (intentionally or not) would much rather ask "victims" for power (with the impossible promise to fix it) than to ask free men for power. Both the documents and men realize what Dr. Williams describes as "the moral superiority of personal liberty".
It is this type of inner strength that allows men to endure injustice while fighting it with an open heart. It is that strength, that intelligent strength, that allowed Justice Thomas to quietly but firmly face an unjust and harsh confirmation and when asked if he wanted to withdraw to reply, "I would rather die than withdraw from the process". He took the "bullets" to place himself in a position so that his words and the profound thoughts behind them could defend ordered liberty for all of us in what is now 600 masterfully written opinions of the Court.
Douglass survived Covey's whip to be the clearest voice of conscience not only during emancipation but for the decades of struggle that would follow it. Sowell and Williams continue to feed a nation's mind with books, lectures, and columns with a clarity that belies their eight-plus decades of life. They all have given more than great words to guide our own growth and knowledge but they have lived those words in a way that proves the value of an independent mind planted in a free individual blessed with a society focused on human liberty.
Published in General