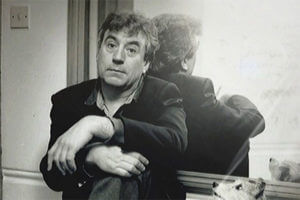 The death this week of Monty Python member Terry Jones brought back an unforgettable memory of our one meeting.
As I commented here recently, for eight seasons I hosted an eponymous interview show in Silicon Valley that was syndicated to PBS stations around the country. Over the course of 300-odd shows I had a number of memorable experiences: holding Jane Goodall's hands to keep them warm on a freezing hotel rooftop shoot, drinking wine with Julia Child while talking about the OSS, listening to Dizzy Gillespie tell how he stabbed Cab Calloway in the butt … and scores more.
But the craziest experience I ever had on the show took place on the very last episode of the series. Our home studio was in San Jose, but we often traveled up to San Francisco to shoot in a hotel room. This time, we were on the mezzanine, over a Wolfgang Puck restaurant, in a boutique hotel near Union Square. And my guests were Terry Jones and Douglas (Hitchhikers Guide to the Galaxy) Adams. They were touring together, promoting their new software game featuring a Titanic-like spaceship (if I remember correctly).
I waited for them alone in a large meeting room, sitting on a straight-backed chair, hardwired to my microphone, surrounded by lights (already lit) and cameras. The crew and the director were off doing something — and I liked to sit on-set beforehand to get my eyes adjusted to the lights and to study my briefing document and the questions I'd already prepared.
Then, as I sat there, I was startled by a loud explosion over my head and behind me. I turned to see the dying glow of one of the lights, whose expensive hi-wattage bulb had just burned out. I'd never seen that before, but not a big deal.
What I hadn't realized was the popped bulb had sent a superheated blast of air upwards . . . right into a fire sprinkler sprayer. Two seconds later the entire ceiling erupted with spraying water — black, sulfur-smelling water that had likely been in the roof tank for a decade or more. I sprang out of my chair and started for the door … forgetting that I was hardwired up through my dress shirt and tie. I managed to get about ten feet before the wire yo-yoed me back onto my chair. And into the shower.
At that moment, all the lights in the hotel shorted out, leaving me in pitch darkness getting drenched. Mercifully, a moment later a single emergency lights went on, casting a lurid light through what looked like a rain squall. Beneath my feet, the carpet was already covered with an inch of the smelly water. Finally, the real lights went on again — and as I extricated myself from the mic wire, the door burst open and in ran both my crew and the waiters from the Puck restaurant below. They carried arms full of white towels and quickly started blotting the carpet.
Apparently, they had been rushed upstairs because smelly water had penetrated the floor/ceiling and was now running down the light fixtures and dripping on the plates of the customers. In the distance, I could hear the siren of a fire truck.
Needless to say, everything was chaos. That's when I looked up to see, standing in the doorway and grinning, Terry Jones and Douglas Adams. I forced a smile, shrugged and said, "Gentlemen, the shoot's off. Let me buy you a drink."
As it happened, this hotel had a tiny bar near its entrance and we retired to a booth there. Adams, at 6'5″, and Jones, at about 5'4″, were funny just sitting beside each other. They were also the best of friends. They had about 90 minutes before the limousine picked them up for a book signing in Berkeley. And my producer was driving me home. So I decided it was a good time to introduce the two Brits to the wonders of draft Anchor Steam Beer.
They loved it: the second pitcher even more than the first. None of us had eaten, so we were getting pretty wrecked pretty fast. All the while, the two told hilarious anecdotes about shooting The Life of Brian a decade before (Jones had directed, Adams had hung out with the guys) in Tunisia.
This went on for about 45 minutes — as far as I was concerned, I would have listened for hours. Then, suddenly, my director popped into the bar and announced, "They've given us another room. We're setting up. We'll shoot in ten minutes," then raced off. She didn't seem to notice that the three of us were now bombed. Terry, Douglas, and I looked at each other in disbelief and shrugged.
Needless to say, the shoot quickly went off the rails. I remember the three of us sitting there like mischievous schoolboys trying not giggle as they did a sound and white-balance camera check. I got the "we're rolling" sign from the director and did my best to read the introduction seriously and in a sober, adult voice.
I didn't make it. About two sentences in, Terry started interrupting everything I said — and continued to do so for the next half-hour. It wasn't long before, the cameras still running, the two were chattering among themselves, denouncing the show, going off on long rambling, incoherent monologues or giggling over inside jokes. I remember asking Terry if, after his Mr. Creosote character in The Meaning of Life, he minded being remembered best for projectile vomiting. "Not a bit," he replied — and announced that he was already developing a television series about vomit. He then found that so funny that he fell out his chair to the floor. Adams dragged him back into his seat. Unfazed, they returned to chattering random drunken gibberish.
I also remember that, having lost complete control of my own show, at one point I theatrically stood up as if I was going to storm off the set … only to have Jones grab me by the seat of my pants and yank me back down into my chair. I don't remember much after that, other than it was sheer madness, with three grown men yelling at each other at the top of their lungs and laughing uproariously.
When I finally poured Jones and Adams into their limo, I remember thinking: "this is either the greatest show ever, or the worst." Unfortunately, it was the latter. When it premiered a few weeks later, the most common comment I got was, "Wow, it sure looked like you guys were having a great time. But frankly, I couldn't understand a single word you all were saying."
Oh, well. Still, for me it was the perfect ending to the series. Now, a quarter-century later, both men are gone — Adams way too early. ut I still cherish my own private Monty Python moment.
Published in Entertainment